Posted by Cass Art on 26th Nov 2019
So here we are, after weeks of wonderful paintings, tight decisions and nail biting moments the three semi-finalist winners are on their way to the final of Sky Arts Landscape Artist of the Year. The judges location pitted the man-made and the natural, with the artists having four hours to depict the Firth of Cromarty in the Highlands. At least the weather held up slightly better than some of the heats this year! We caught up with the three finalists to delve into their experience of the semi final and talk to them about their work beyond the show.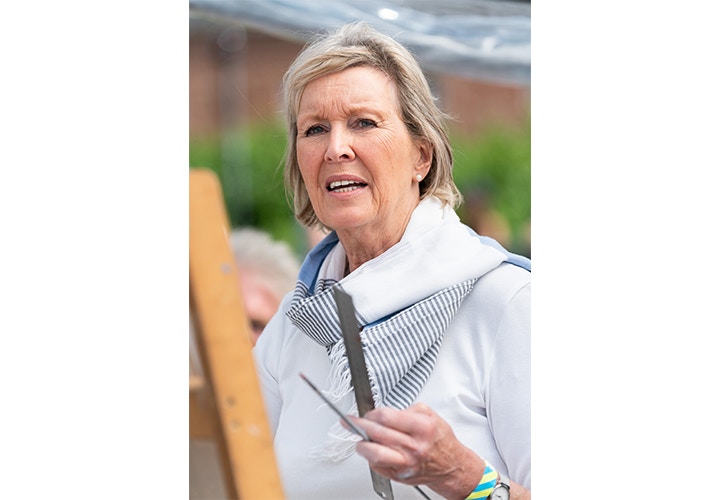 PATSY MOORE
---
How did you find the semi-final, were you able to block out the pressure about being so close to the final three?
As we approached the location for the semi-finals, I was intrigued and pleased with the subject, although the morning began with such a drizzly mist, most of the view was nowhere to be seen! I do enjoy painting structure and reflections, so I felt it was made for me. By now we all knew the procedure, so I was relaxed about my plans for the day – until we began our painting. I instantly felt the pressure, partly knowing that we were all heat winners and therefore the competition might be too strong for me, partly because I felt I had so much to play for – or lose – but mostly because the two guys in the pods on each side of me went off with their paintings like rockets and I spent a long time still trying to decide and ultimately panicking about which size and shape of canvas I was planning to use!
You reinvented your way of painting between the heat and the semi-final, very brave! What was it that inspired this change?
I had learned at the heat that the painting I produced didn't necessarily have to be 'finished' in the four hours. What was perhaps more important was how I approached the subject and what I had to say about it. There was a story to be told about the strong and huge structures of the oil rigs marching across the view of the gentle and beautiful landscape of the highlands and I found myself immersed in the dialogue of the painting. I did have a conversation with Kathleen Soriano about the need I now have to be less 'representational' and obvious with my painting, but to add more of 'me' and my feelings about a subject. She suggested this was brave – and maybe difficult? I did say I thought it was supposed to be difficult at the semi-finals!
Tai described you as a fascinating and extraordinary colourist. In our previous blog you discussed your use of a coloured ground in your paintings. Could you now go into more detail about your use of colour on the surface, and how you seem to find the 'hidden' colour in a scene?
That was very flattering of Tai - I'll take that as a huge compliment! My colour palette is not generally of high-key primary colours. I enjoy the subtlety of slightly 'off-key' colour. I'm more interested in light and tone in my paintings than colour, to be honest. I tend to use 'warm' colours and 'cool' colours to create depth and atmosphere and these are often broken over a warm or cool ground, so that the underlying temperature of the painting can show through. I like to make my neutral colours by using complimentary colour mixes, which I often like to mix and blend on the canvas (or paper).
And how did it feel when the judges called your name?
I was shocked to hear my name called by the judges as a finalist! It was a brilliant feeling. I honestly felt we were all finalists really. The standard was pretty high, so it could have been any of us going through to the final stage. The day had been absolutely brilliant. Everyone in the production team, judges, presenters, had gone out of their way to look after us all and make this a fun, wonderful experience – despite the pressure!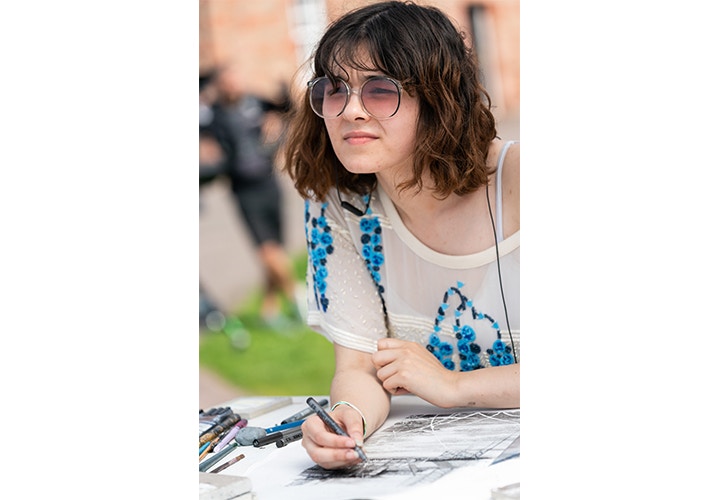 FUJIKO ROSE
---
How did you find the semi-final, were you able to block out the pressure about being so close to the final three?
The semi-final was a lot of fun and the location was something of a pleasant surprise as I had been practicing open lakes and rolling hills without great success, so the oil rigs were very much welcome. I've sort of brainwashed myself to have a 'hope for the best expect the worse' mindset and I think that definitely helped keep my from getting to nervous about what might or might not come next.
Tai loved your mark making and said that he had never seen any work like it! How do you approach different methods of mark making on the surface?
Ink can seem quite a simple medium but there's still so many ways I would love to experiment with. In printmaking there is so much wonderful mark making, etchings, engravings woodcut, mono prints are examples of what I frequently look to when trying to get inspiration for techniques.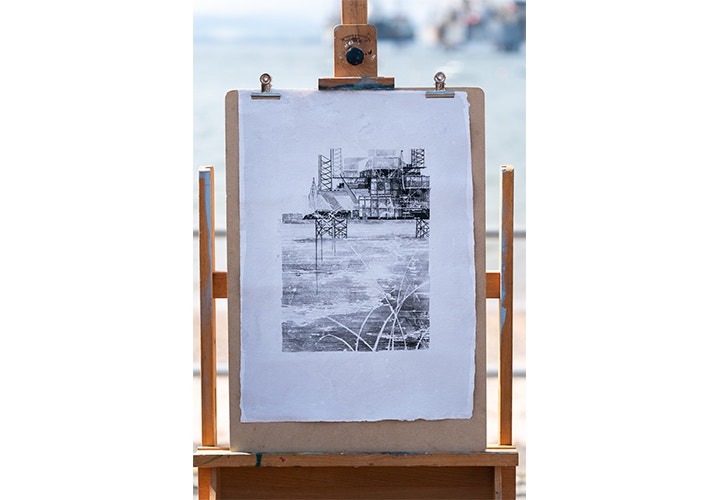 You use a lot of masking fluid in your drawings, in this case you changed the position of our view point by masking off the grasses and putting our view behind the shoots. Could you talk about this masking technique?
I only recently discovered the wonders of masking fluid and prior to the semi-finals i had only used it a few times before, but it's another part of the whole experiment with mark making and allows for numerous effects, but it essentially mask an area of paper blocking the ink. The water was inspired by engravings and how something flat and so linear could become soft flowing water, it's a technique that could allow the water to have movement and various tones but still keep in the lines and structure that I like.
The reasons for the shoots in the composition is that I didn't want the oil rig and water to look like I had simply stacked the rig onto the water, by imagining I'm looking from a low view through the shoots, the weeds are enlarged and can importantly cut across the picture.
And how did it feel when the judges called your name?
I made the trek to Scotland alone so after it was announced I was though to the finals I got to make the loveliest call back home. I was very excited but it took quite a while for the scale of what had happened to sink in.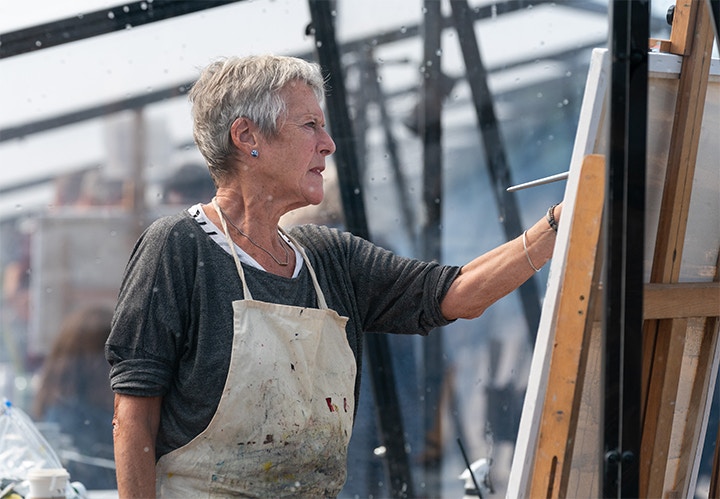 SUE ENGLAND
---
How did you find the semi-final, were you able to block out the pressure about being so close to the final three?
Being so surprised at being chosen as the wild card winner, I was determined to enjoy the rest of the experience.
The semi-final day started in much the same way as the wild card heat - pouring rain, cold, but this time with the addition of thunder and lightning and wall to wall mist! When we arrived in Cromarty you could barely see the oil rigs which was obviously what we were supposed to be painting. But as we started, the mist lifted a bit and the rigs gradually emerged in a beautiful, ghostly way. I couldn't wait to get 'stuck in'. I need to really focus when I paint so honestly, didn't feel much pressure about it being the semi-final. The other semi-finalists were all such good painters and printers/draftswomen that I still didn't really think I had a chance of getting further.
Your journey to the final has had even more hurdles than the other two, coming from wildcard artist to finalist! How does it feel to have come so far already in the competition?
A privilege. When I watch all the episodes now, there are so many great painters who have been involved, that I still feel I was extremely lucky to keep getting through. It is such a boost to think that other people who really know what they are talking about seem to like what I do and appreciate my approach to painting.
The judges loved your use of texture, and inventive way of painting, particularly the way in which you conveyed the energy of the currents in your brush marks. Is it important for you to channel the sense of energy and movement into your paintings?
Yes, there is always some kind of pathway in a landscape and the sense of moving through the space is something which seems to occur in my work. A friend said there is always a 'zig - zig' going on! But using the brush and direction of brush strokes is a useful way of expressing energy and I have learnt to trust that and be confident in those strokes. The problem occurs when you start messing about with that!
And how did it feel when the judges called your name?
Any artist will tell you that 4-6 hours of intensive concentration and painting can leave you suddenly drained and then the energy slips away.
We had to wait quite a while for the judges' decisions, which gave us an opportunity to talk among ourselves and in my case get to know the other competitors a bit better, but I think we were all tired. A great bunch by the way with diverse talents. I was the third one to be named as going through to the final and as Fujiko and Patsy were both women (!) I thought 'well, they'll never have an all women final' so really was amazed when they called out my name. It takes a while for it all to sink in and I was told almost immediately that I would be moving on to my assignment piece the next day - no pressure then! So as a concise answer, surprised, elated, and tired.