Posted by Cass Art on 7th Apr 2020
Our staff are artists! We want to support artists in everything we do at Cass Art, and one of the ways we do this is fill our stores with artists. While our doors may temporarily be closed we want to bring our Staff Artists to your screens! We caught up with one of our Staff Artists from Cass Art Birmingham, Bethany Dartell's practice is inspired by the cities and buildings that surround her.
Firstly could you tell us about your creative journey so far?
I graduated in 2015 from Coventry University, where I studied Fine Art. It was there that I discovered my love for Architecture and my City, Birmingham. From the start of University until now my practice had explored the buildings around me. I discovered Psychogeography, which is the effect of location on that person's emotions, and everything really started to click from there. Since university, I've switched my practice has grown a lot and I have become more comfortable within it. I've switched from being predominantly a printmaker to practising more of a mixed media of drawing and painting. I've also had the opportunity to exhibit in some fantastic shows and then to also sell in the Etsy Made Local event in Birmingham. The only thing that hasn't changed, and probably won't ever, is my love for architecture.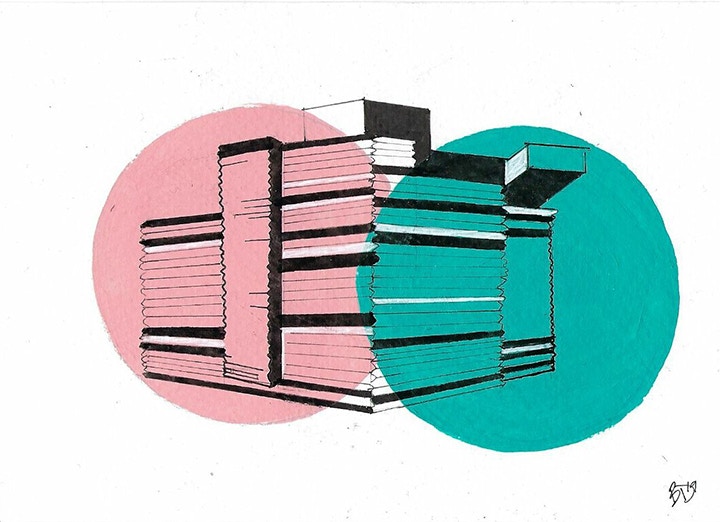 Bethany Dartnell, Signal Box
Could you tell us a bit about your latest series of work – you're very influenced by brutalist architecture, what is it about brutalism that interests you so much?
My more recent work has been about me branching out of Birmingham and viewing more and more buildings across the world that come under the umbrella of Brutalism. For inktober 2019 I set myself the challenge of drawing a different building every day outside of Birmingham and every building except one was a Brutalist build. Brutalist architecture is definitely a lot like Marmite, it's loved or hated, but like Marmite I absolutely adore it. There is a simplicity about Brutalism that is so beautiful. Very modular designs, with almost unfinished like qualities due to exposed features such as water tanks on the outside. Brutalist architecture was quite commonly used for public housing, schools and libraries – which is why my artwork normally includes quite a few tower blocks.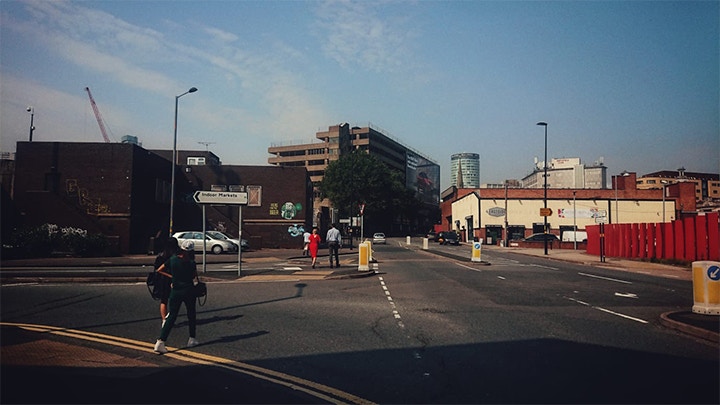 Birmingham City Centre
You seem to have a very defined and consistent style of work, how do you approach a new piece of work?
Whether I get a Commission or I am drawing for myself, the first thing I do is visit the building, if it's physically possible for me too. Psychogeography comes into play here as the biggest thing that my work needs is for me to feel an attachment when drawing the building – most of the time I find it very hard to draw buildings that I don't like or haven't visited. I am also a keen Urban Sketcher, so sitting in front of a building for a few hours is the norm for me by now. Recently my work has been incorporating colour and I've been using Acrylic Gouache to create circles which I then draw on. These colours tend to match the vibe of what the building gives to me. For example, the Barbican Estate always feels like a building that works well with oranges, whereas when I've drawn Birmingham Central Library it's always greys in the background. First, I'll do a few sketches on tracing paper just so I can get all the perspective right first, and once that's done, I'm ready for the final piece. I layer fine liners over the circles of acrylic gouache and then I am all done!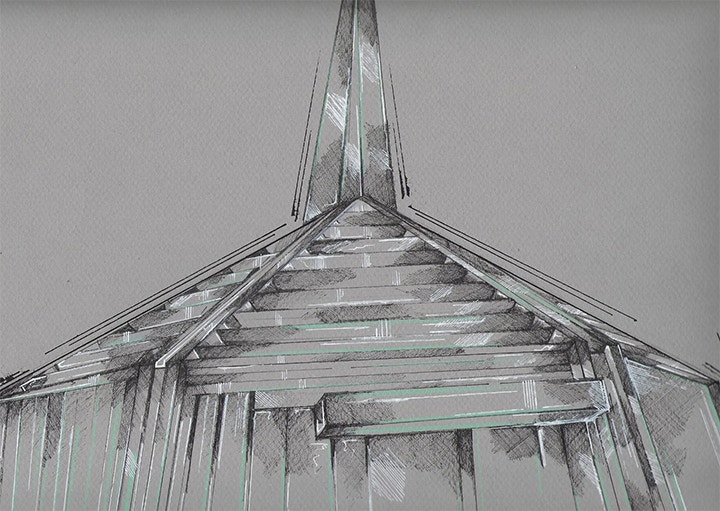 Bethany Dartnell, St Thomas More
As many artists also have jobs to support their practice, how have you managed to balance working at Cass Art and continuing your practice? Have you found it beneficial to your work?
Working at Cass Art for me is ideal. I work full-time as a Supervisor so I not only get to get inspiration from all the staff I work with 5 days a week but also the customers I serve day to day. Every generation has something new to offer, a new perspective on art and what they class as such. It's fantastic as I get to hear about other peoples projects and ideas or even see their artwork and then think 'how could I use that material?' Sometimes the balance between working, earning and creating can be quite hard, especially if I have a few commissions on. However,
coming into work sets a routine for me. Before and after work I can be creative, and during work I get to help people to be creative. It helps keep me sane, as I get time to step away from things and the come back to it later with a fresh pair of eyes.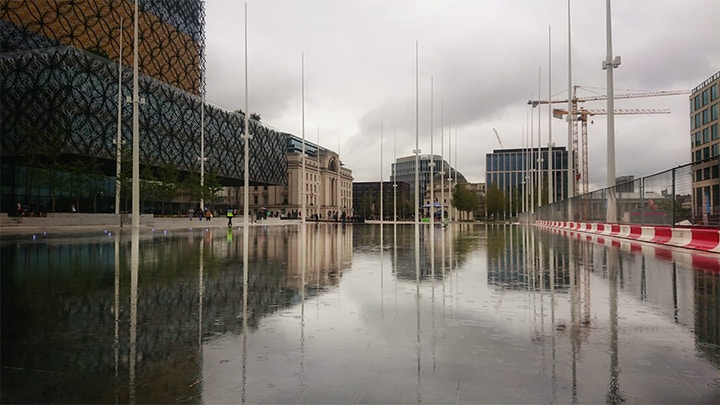 Birmingham City Centre
What are your favourite brands to use and why?
I have always been a sucker for surface, the main brands I use are Khadi & Cass Art. I only really work on watercolour paper, and those two brands offer great ranges for me to work on. For just pen work and watercolour work, I'll always use Cass. Their hot press is my favourite as it's the best value, I stock up on the 50 sheet pads whenever I can! Whereas if I am working with paint too, I'll use Khadi's natural rag papers. The paper loves Acrylic Gouache, and when framed it looks lovely! As for paint, it would have to be Liquitex. Since they came out, I haven't been able to stop using the Acrylic Gouache, I use it for my circles on the Khadi Paper. I have also used it as a base on the keyrings I made for the Etsy Fair, the opportunities are endless. It was definitely my favourite product we started selling last year by far! Then pen wise it is always going to be Sakura Pigma Micron fine liners as they go down to a 0.03 and 0.05. No other brand has come close for me in terms of a permanent black liner that's waterproof and smudge-proof.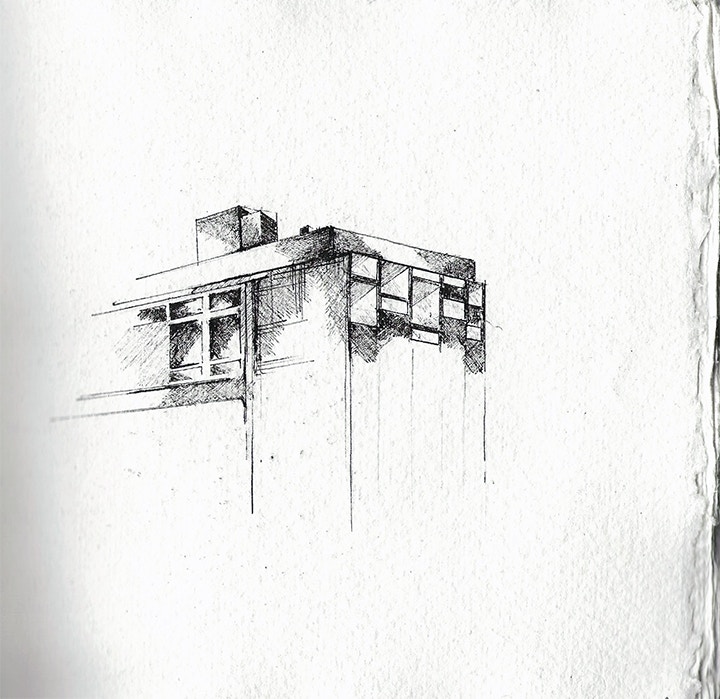 Bethany Dartnell, Inktober - Unite d'Habitation
It was International Women's day on March 8th. Who is your favourite female artists at the moment?
Rachel Whiteread is the first that springs to mind, especially the piece 'House'. Of course, the use of concrete was the first thing that attracted me to it but also the theme of it. The loss of one person's housing to make way for something that may 'look better' to the people looking from the outside in. Also, the architect Alison Smithson who was part of the architectural due to Alison & Peter Smithson – the creators of one of my favourite buildings Robin Hood Gardens. This building has been a huge influence on my practice within the last year, and as such it made me look past the surface layer and more into why it was built and who is impacted when these buildings are knocked down. Also, Eileen Grey who was an Irish Architect and furniture designer. She should be a staple for anyone loving Art Deco / Bauhaus style furniture as she was huge inspiration for it.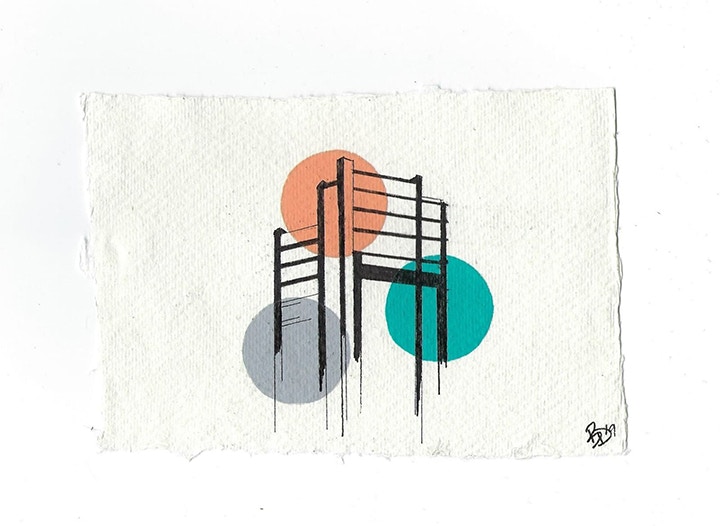 Bethany Dartnell, Barbican
And lastly, what's up next?
Next is scale, I think. I work mostly on the small side (A5 downwards) so I think for 2020 I really want to focus on that. Really trying to push myself out of my comfort zone. I've just moved and have gained a better space for a studio so I have no excuse now to say 'I don't have the space'. I think my first step might be to start working on larger canvas boards and doing a series relating to Robin Hood Gardens. I've been photographing it every time I go to London for the last 3 years due to it being demolished, so a gradual timeline of it disappearing might be an interesting way to break my fear of larger work. I also think that I might focus on breaking my limited colour palette too. I'm mostly all greys, greens and blues but I think it might be time for some brighter colours to play a larger part in my practice! Onwards and upwards from here on out!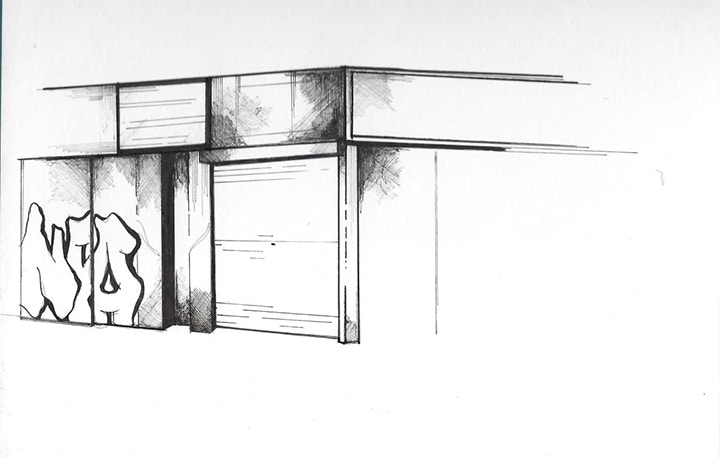 Bethany Dartnell, Urban Sketching
Feeling Inspired?
---
You can chat to Bethany about her work and get her advice on your own creative ideas in our Cass Art Birmingham store - see more of her work on her Instagram