Posted by Cass Art on 29th Apr 2014
At Cass Art, we love to support the UK's emerging student artists by showcasing some of their incredible work through our Student Spotlight series. For this installment, we spoke with second year Bath Spa Fine Art student, Anna Kenneally, about art school, inspiration and why she loves oil painting.
What are the main themes and sources of inspiration behind your work?
Figures, interior spaces and references to textile design often sit alongside eachother in my work. I love to reference Old Masters' compositional designs, but juxtapose this alongside a contemporary portrayal of the figure, and I'm particularly interested in updating existing paintings. I recently created a piece which mirrored the layout of a Klimt painting, and plan to re-imagine and modernise a section of Botticelli's 'Primavera' by dressing the three graces in the Chloe SS16 campaign. Subtle elements like this also allow me to express my separate interest in fashion, without it becoming an overwhelming feature of my work.
I've always had an interest in the unique characteristics and ever-changing appearance of natural forms, so exotic plants recur as a motif throughout much of my work. David Hockney is a massive inspiration for me. His use of colour to describe form is perfectly balanced with descriptive mark-making. I'm also interested in the impact that photography has on contemporary painting, something which Hockney tackles in his own work.
Ultimately, my aim is to create environments and situations that have a potential for narrative.
Why do you choose to work in oil paint? Do you have a favourite brand of paint to work with?
I love to work in oils because of their versatile nature- for me they can achieve much more than any other medium. Michael Harding is my preferred brand for oils, particularly the shades Permanent Orange and Indian Yellow. I work very quickly so I tend to get through a lot of paint, so really whatever I can get my hands on is fine. I first used oils when I was 15 and have barely used anything else since.
Due to the large scale of my work I often use acrylic to cover large areas or for an initial ground. My favourite brand for acrylic is Liquitex. Sometimes I combine oil and acrylic on the same surface, creating an interesting resist effect, which is almost like a pattern. I like the way the acrylic unevenly collects over the oil.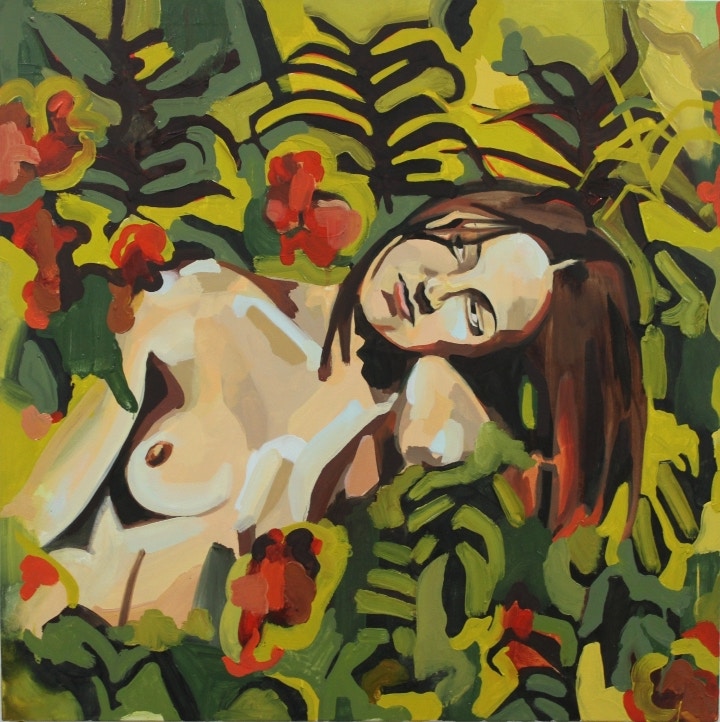 How do you plan your pieces?
Photography plays a key role in the construction of my pieces. I begin by creating handmade or computer-aided collages, which stitch together a selection of imagery that interests to me. Using these tools I am able to test scale, colour and composition, before making a single mark on the canvas. That being said, the outcome of my work always differs from the original idea, which is really the beauty of painting.
Observational drawing is equally important within my work, as I feel photography can sometimes rob us of the integral skill-set of describing form by hand.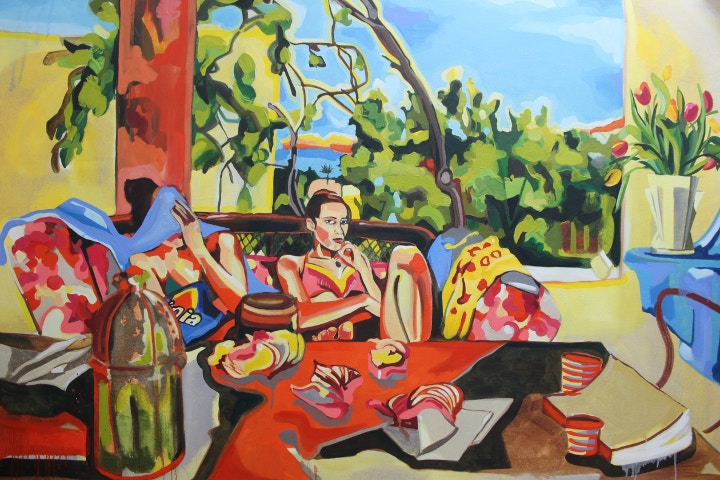 Your paintings are very vibrant- what role does colour play in your work?
I enjoy using bright, vibrant colours, partly because they serve to separate the paintings from the photographs that inspired the work. Simultaneously, I choose to work in monochrome in elements of my pieces, to show that the imagery derives from a variety of sources, and subtly link them back to the initial photographic image. I'm really drawn to highly-saturated or contrasting source imagery, and the surface quality of my work seeks to mirror the flat aesthetic of a photograph. This again alerts the viewer to the fact that the painting originated through the camera lens.
What drove you to attend art school and what are your plans for after graduation?
I've been painting ever since I can remember, so it was never a decision that needed much thought. My entire time at secondary school I felt like I was just waiting to get to art school.
After graduating I want to move back to London and secure a studio space. For me, visiting exhibitions and galleries is a massive part of what I do, so I need to be in close reach of that. I'm also open to the idea of doing an MA or painting course in the future. I hope to continue taking part in projects and exhibitions with other painters and carry on with commission-based work.
Feeling inspired?
Take a look at more work from Anna on her website and Instagram.
Shop for Michael Harding oils, Liquitex acrylics and more painting products online at Cass Art.