Posted by Cass Art on 7th Sep 2020
The Manchester School of Art Sketchbook Collective will be exhibiting alongside the 2020 Degree Show, a showcase of students, staff, schools, and teachers' sketchbooks in an exciting and dynamic virtual display. The Sketchbook Prize celebrates and accentuates processes undertaken by each individual in the show, it highlights the methodologies, innovative ideas, the importance of process, experimentation, discovery and development and aims to evoke further thoughts, possibilities and generate responses from visitors to the shows. Founded in 2017 by a collective of multi-disciplinary international MA students at Manchester School of Art, the Sketchbook Prize offers a creative platform for designers, artists, architects, and makers to display their thinking process.
We spoke with the 2020 collective to talk about the Sketchbook prize, what it's like to work with the support of a collective and why they think keeping a sketchbook is integeral to creativity!
Thanks for taking the time to talk! Firstly, for those that don't know could you introduce the Sketchbook Collective and also the Sketchbook prize?
The Sketchbook Collective is made up of a group of students from Manchester School of Art. In the past there have been teams working on a similar project called the Sketchbook Prize which aimed to celebrate the sketchbooks of the art school, including students and tutors.
This year we took the project online and we renamed our team as the Sketchbook Collective. Our aim was to celebrate and accentuate the diversity of the sketchbook. We held weekly sketchbook challenges on Instagram that were collated into a Collective Sketchbook. We also held an open call for sketchbook submissions which were shared in this year's Manchester School of Art online degree Showcase. This differed to previous years as we had 5 categories that separated practises rather than year groups. We hoped this would encourage submissions that were not limited to physical books.
The collective by Catherine Booth
This year our student members are:
Ella Welsby, a recent graduate of Three-Dimensional Design;
Cathy Croome, who recently completed the Art and Design Foundation Year; and
Martha Harris and Catherine Booth who are both recent graduates from Illustration with Animation.
The artist in Collective is not a new notion, artists have always supported one another – creatively or even monetarily. Through ideas generation, studio sharing and kindred ideological goals. How have you found being part of the collective, what do you think it brings to your creativity that would be harder to self-generate?
Martha: I think the collective has been a really positive source of inspiration, it's been tough both with lockdown and graduating as I have lost the sense of community you have in a shared studio. The Collective have talked weekly and requested help with challenges we have faced along the way. I genuinely don't think our project could have been accomplished to a professional standard we were all happy with without the team. We have also had the opportunity to discuss our own work, careers etc so it's been lovely to have a little group to turn too for help.
Catherine: I originally wanted to be part of the Collective to help boost my confidence working in a group, but with Lockdown halting all of our final year plans, the idea of a virtual Collective didn't just challenge my beliefs on being a student illustrator at home, but also provided me with a consistent and supportive group of creatives who were working through the same struggles as I was. Achieving this virtual collection seems to me to be proof that whatever obstacles this year has thrown up, with a determined and supportive group, anything is still possible.
Cathy Croom Self Portrait
As a collective you're able to support one another – do you have any advice for creatives that might still be feeling isolated at the moment?
Martha: I think feeling lonely or isolated is really easy to slip into at the moment. If you feel this way, talk to your friends or course mates, set up a little weekly group call where you chat and paint or draw. I know I've been enjoying this team catching up as well as weekly drawing catch ups with my friends while we watch a film or video.
If you don't have a creative community to call on then the internet is a great place to find people with similar interests. Have a look on Facebook groups or even Instagram pages that share interests with you. It can be quite intimidating putting yourself out there, I know I wasn't very confident coming into this group but once you start the first conversation it only goes uphill.Ella: We have basically been running this project a month before the UK was put into lockdown and our University suddenly closed, so we have actually done the majority of our work over Zoom and Slack, where we've been able to have a constant shared dialogue. Having a weekly zoom call gave me some routine and it was nice to see everyone's faces - that's what helped me, knowing that we would have a conversation every week digitally face to face. Since lockdown, my usual drive and creative energy has really dropped but it has been replaced by a new drive to want to take control of my future as I'm currently faced with things I can't control. As undesirable as it has been to finish university like this, surprisingly I've been able to discover new things I'm interested in doing with my degree and life in general after university.
Catherine: I don't think any of us have gone through Lockdown without feeling lonely or isolated at some point. I've definitely had my fair share. I think the first thing to remember is that you're definitely not alone. My advice would be to limit time on social media - as much as staying connected is important right now, if you're feeling down to begin with you don't want to be feeding that comparison monster. Talk to friends or family about your worries. Write a big old list of things you've been wanting to get done but haven't had the time and just pick one. Get enough rest, drink water and most importantly, be kind to yourself. It's okay not to feel okay.
Cathy: If you can, try to form some kind of group that meets semi-regularly online – the digital studio comradery helps with my motivation for creating so it may help you too.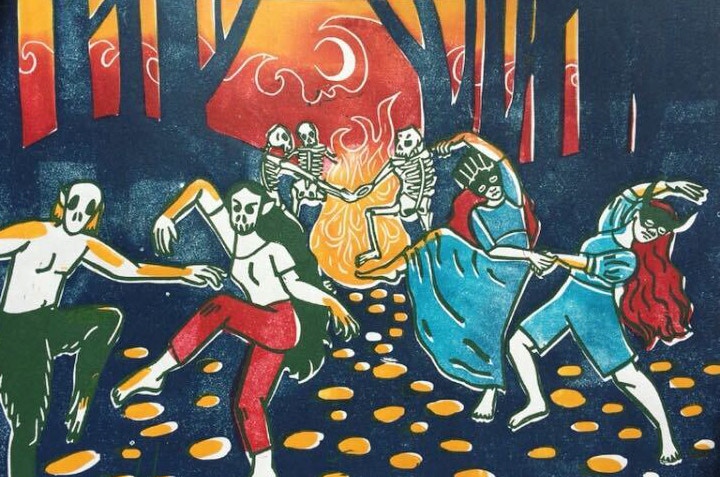 Print by Collective member Martha Harries
It's been an extraordinary time for the arts and art education. Away from our galleries, our studios, tutors and peers, art lovers and artists have had to find new avenues to share our practices and ideas with the world. How have you all adapted and found this period of art making?
Martha: I found it really difficult to work from home, I live with family and creating the right atmosphere to work was a real challenge. I found keeping my space tidy, using noise cancel headphones to concentrate and video calling course mates all helped get me into a studio routine. Some days I barely looked at my project and other days I was really productive, giving in to how I felt each day and just doing what I could helped me a lot. I also reminded myself that creating something made me feel better so I tried to make something small everyday and more importantly I didn't allow myself to be too critical of the days when I felt like I had 'failed'. Similar to Catherine, I have been looking at galleries and museums online, observational work can be a welcome creative distraction on the tougher days.
Catherine: I missed my studio space so much at the start of lockdown. I made a make-shift desk out of my dining room table and worked there for five months. It wasn't ideal, but I made do with what I had. Some people had more space at home, some a lot less. I think however limiting your resources are, you just have to push through and find innovative ways to work with what you have. I think creatives are amazing at thinking outside the box!
I have to say I've missed galleries and museums so much during this time! Thankfully I have illustrator friends who love the same sort of things, and we organised several virtual art days which prove that art in isolation is still possible! We did a themed life drawing session over Zoom, went on a virtual tour of the V&A, as well as film & sketch evenings, on days when we could only manage a few doodles. The idea is just to be creative; once you see past the virtual barrier, you'll find that a lot of the things you miss are still quite possible!
Cathy: When the studios closed on the Art and Design Foundation at Manchester School of Art this year (due to Covid-19) the tutors encouraged us to post daily on Instagram so we could have a kind of online studio space. It was really helpful during the course to have an online community of creatives working on the same timeline, however since the course has finished I've enjoyed taking a break from Instagram.
Ella: I live in a one bedroom flat and whilst my boyfriend took the desk in the living room, I dragged the awkwardly round kitchen table into the bedroom and there it stayed throughout lockdown. I would mostly write and sketch, but honestly most of my time was spent playing Animal Crossing as I had completely switched off from my uni work for quite a while. I was getting really bogged down with the idea that was being pushed around that "you have so much free time to learn something new or try something new!!". This was so overwhelming to me that I ended going the other way and just stopped creative work. I spent a lot of time being not very happy with myself as I felt like I had wasted time, but I had to keep reminding myself what a bizarre place the world was and my way of responding to the change was to stop and slow down.
On a more positive note, my course took matters into our own hands and decided to post a weekly prompt on our Instagram. Somebody would decide on a word that we would respond to, we had a few days to create something new. I was making the most out of my Adobe package and decided to focus on building my Illustrator skills. Here is the link to the page to see the submissions people created www.instagram.com/msoa_3ddesign/
Ella Welsby Self Portrait
What is it that you think makes the art of sketchbook keeping so integral to the creative process?
Martha: For me the sketchbook is just a way to get ideas out of my head and then record them. Sometimes this is neat, sometimes it's messy scribbles that I can barely decode but all of it shapes the projects I work on. I think it's universally important both as a physical book or as whichever alternative you work with because it can serve so many purposes. You can use it to record your personal thoughts and feelings or you can use it to record and develop a project. Being reflective on your process and having your success and errors documented allows you to be more reflective and improves how you tackle future work.
Catherine: As a children's book illustrator all of my planning process and research material is stored in my sketchbook. I wouldn't dream of starting a project without one! Sketchbooks are the places that no one else has to see. You can do your worst drawings in there and never have to show the world! They contain a raw visual language that only you understand, and dictate the narrative of your project. There's no pressure in a sketchbook - it's the place where you can really be yourself.
Cathy: I like the physicality of sketchbooks and drawing and using different types of paint, paper and pens but – and I probably shouldn't say this here – as a predominantly digital artist I don't think a sketchbook is entirely integral. I think the main thing is to have somewhere that you can get ideas out of your head so that you can see them in real life and have a record of them to come back to later. This was the thinking behind having different categories for this year's collection, including a 'digital sketchbook' category, which aimed to highlight non-traditional ways of 'sketchbook' keeping.
Ella: My sketchbook is usually a blank page hardback, which is usually filled with writings and random sketches. I'll use bigger pieces of paper to draw on, or I'm making a model from cardboard. It's all about honesty with myself, a reminder that it's mine to do whatever I wish. When you've got to hand in your work for a submission, it can be quite daunting for obvious reasons and in school and college I worked on my sketchbook like it was a project itself. I like not putting too much pressure on myself when using a sketchbook now, especially since most of it is just random written ideas instead of sketches. I also use it to figure out where I'm at in a project, for example I'll write to myself as if I'm someone else saying "Ella please stop making so many cardboard models and go to the workshops". In my last year of university, I became a lot more comfortable with writing and used my sketchbooks as a written diary sometimes. Being able to do this helped me with any writing tasks I had to do for my submissions, but more importantly I was less bothered by the thought of someone else picking up my book and flicking through.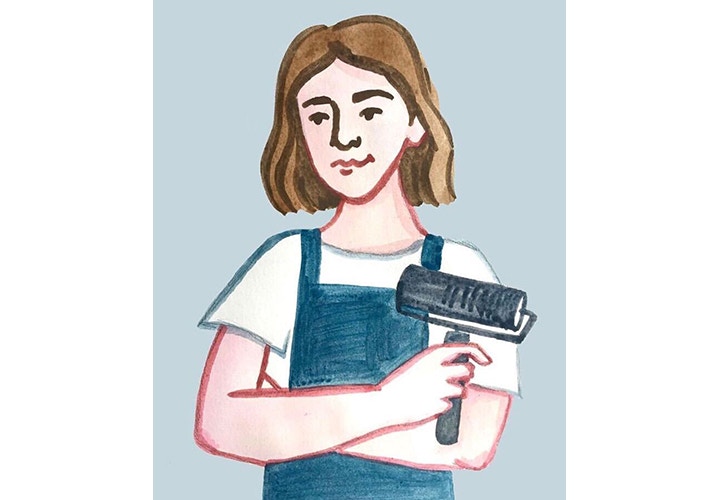 And to put you on the spot! Do you have a favourite sketchbook from the 2020 collection and why?
Martha: This is really tough; I loved the variety of sketchbooks we received. Personally, I loved the sketchbooks outside of my practise (which is Illustration and printmaking). I really enjoyed getting to interview Ameerah Dawood, her work was great. Calming nature sounds inspired mark making. I really enjoyed the project idea and her documentation of marks as sound was really interesting.
Catherine: I have to agree with Martha, Ameerah's creative approach to a "sketchbook" was refreshing and professional. As a member of this year's Collective and a student from the Illustration with Animation course, I really wanted to push digital sketchbooks and animation reels this year to be on a par with the physical sketchbooks. I think the word "sketchbook" is limiting in its meaning, as most people would assume it must be a book that you sketch in for it to be worthy of the prize. But Ameerah's submission is proof that with a little creativity, a sketchbook can be anything you want it to be.
Cathy: There were loads of great submissions. I admire Alice Kell's digital sketchbook entry which comes in the form of a blog. It's a detailed and informative development journey from start to finish of the creation of her 2-3 minute animation about dyslexia. Her documentation includes sketches, script writing (& rewriting), visual responses, character development, storyboarding, lots of experiments and work-in-progresses. I like it because it shows the behind the scenes process of a digital work including simple sketch animations that would potentially otherwise just be kept as files and lost over time.
I also really like the concept of Ruth Fildes' fifty-two self-portraits project; she set out to create one self-portrait per week on individual playing cards for each fifty-two weeks of 2020. I admire the match up of fifty-two playing cards in a deck with the fifty-two weeks in the year and I like the idea of having a drawing/painting to create each week on a schedule, with the chance to see how they develop over the year.
Ella: I was really excited to see Nathan Mahawi's sketchbook who is a very talented glass blower on the 3D Design course. Being able to translate something from paper to glass I find so interesting, maybe more so as I've never done any work with glass before. Nathan decides to use only pen in his sketchbook so his "initial thoughts are permanently embedded into the book" which brings up the notion many people may be wary of when using a sketchbook - and that is permanence and imperfections. By committing to the page in pen, you're being honest with yourself and maybe more accepting of any "mistakes" that are made - I personally believe there are never any mistakes! We only get to see a small peak into their sketchbook work, but on the pages Nathan decided to share you see their use of colour in his book, the detailed drawings of what he plans to create in glass and 1:1 ratios of the vessels Nathan etches onto.
Feeling Inspired?
---
Want to create your own sketchbook? Shop online or in-store for everything you'll need. Don't forget to hashtag #cassart on social media to show us your creations.
---