Posted by Cass Art on 6th Dec 2017
It's official – Tom Voyce is the winner of Sky Arts Landscape Artist of the Year 2017!
Tom's energetic brushwork, mark-making and bold compositions impressed the judges throughout the competition. His winning piece captured a myriad of greens and reflective passages in the landscape and won him a £10,000 commission to paint the view from Noel Coward's house 'Firefly' in Jamaica, plus £500 of materials from Cass Art.
We caught up with Tom to find out more about his experience…
Congratulations Tom! Your lavender field painting won you a place in the final, how nervous were you? Do you get a nervous energy that helps the work or hinders it?
To be perfectly honest I wasn't that nervous. I tried not to think too much about the situation and just focused on enjoying myself and testing my process in a new opportunity. I was still of the thinking that - what have I got to lose? I think some people who were professionals maybe had more pressure on them but I didn't really feel it too much. The only time I really began to get a little worried was when my work blew away with about an hour to go. At this point I wasn't at all happy with the painting and unlike before, I didn't have a backup! It was such a massive challenge painting anything green let alone a scene at an arboretum! I'd not painted water in a long time so thinking about it now- I'm really surprised that I didn't freak out!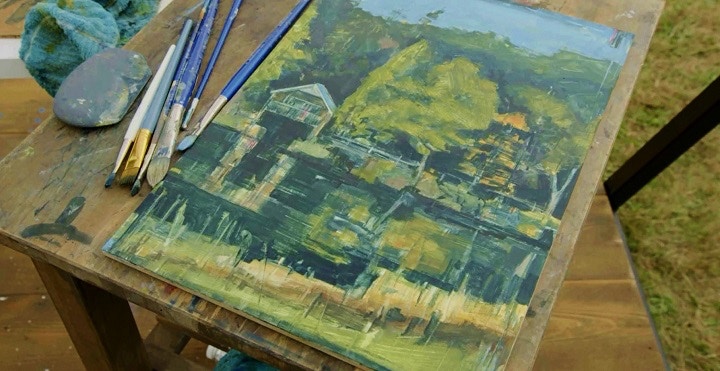 Another episode, and an awful lot more trees! Do you feel you've developed a technique for tackling copious amounts of greenery now?
I guess I have brought my own technique into being able to portray trees in a relatively abstract way. I don't like being too literal. My thought is that if you want it to be exact, then just take a photograph. I'd rather try and capture the essence of what's there, and for me that's much more exciting. My artwork is as much about the painting itself as it is about the place it is showing.
For the final you were given an extra 30mins to explore the area, how did this help you to create your winning composition? Did it allow you more confidence to work on just one piece rather than a few?
The extra 30 mins just blended into the rest of the time that we had for me. In hindsight, it allowed me to go and do some more detailed drawings of the boathouse. This was the main area of contrast to the more natural features, so it was important that I got this right. If I hadn't had this time then perhaps I wouldn't have been able to in the four hours.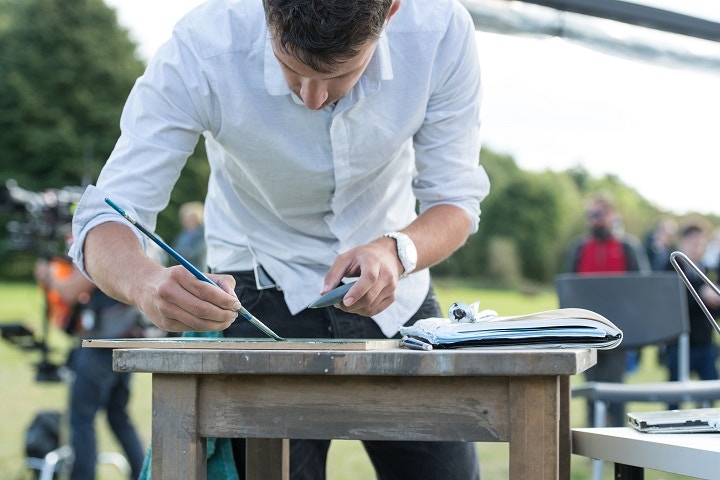 Throughout the competition, the judges have been keen for artists to capture 'the grittiness amongst the prettiness'. How do you think you achieved this?
For me there is nothing worse than painting something pretty. And on LAOTY, many of the landscapes that you are presented with can quite easily become that way. I feel that my technique helps me avoid this to some extent with the structure and mark-making that breaks up the composition. Also the composition itself is vitally important, and this is something that I always think long and hard about before starting an artwork. Sometimes I will get bored very quickly if the composition isn't right.
Can you talk a bit about your colour palette for the final piece?
Green, and lots of it! But no, it was the subtle variations that I was trying to capture. I built up the dark tones first and allowed them to dry with a fast drying medium. This allowed me to build up lighter layers on top afterwards. I was also keen to capture a tree that was changing colour before the others to an orangey type. I feel awful not knowing my tree types! I always use Oxide of Chromium and Terre Verte, and Emerald green but never straight from the tube- instead often mixed with a yellow or burnt umber depending on the shade.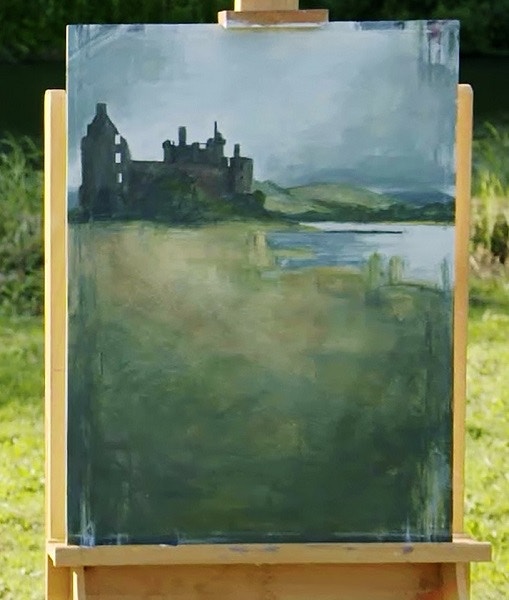 As part of the final, all artists were asked to create a commission at home over two weeks, to allow the judges to see what you can make when you have more time. You were sent to Loch Awe in Argyll to paint a medieval castle ruin. What inspired you about the location?
I really enjoyed doing my commission in Scotland. It was an exciting challenge and presented me with a variety of new situations. It helped that when I was studying, I lived in Wales where the weather can be quite similar to Argyll, even in August! I often painted outdoors, and I remember painting studies of mines at Cymystywyth that really helped me with this commissions years later. For this study I wanted to create as many photographs and drawing/ painting studies as possible to take back home to the shed.
The weather played a huge factor and really set the scene for me. The damp, cold air and the rolling clouds into the Glens were really inspiring and helped set the mood. I was determined to capture the sense of place here. It also helped meeting people who are associated with the castle and learning about its history. Me being me, I worked on three boards at home with three different compositions. It was strange being allocated more time, and as a result I was able to pretty much finish all three but I was only able to submit one of course!
What does it mean for you and your career to win the final?
It's strange because I still don't feel like it's sunk in. Even in Jamaica which was an unbelievable experience in itself, I still just feel that I'm here to enjoy the ride and see what happens. I feel extremely privileged of course. Being able to get feedback from the judges was what I was dying for from the heat stages, and getting that was fantastic. Being able to meet Tai who is one of my idols has been amazing. And overall I just feel that I have been given a massive confidence boost in my own ability. I am not the most confident person inside. I don't think a lot of artists are. I just try and make sure that as long as I'm doing what I feel is right in terms of the subject matter, composition, the painting style, then ultimately that's all that really matters. If people like my work and enjoy it then that's an extra blessing, it's what every painter wants. I am really excited about what the future may hold. I've got a few commission offers and an exhibition coming up in January. Most of all I've got a whole new series of artworks planned, some from experiences in Jamaica. So I just can't wait to crack on! I've definitely been given a whole new boost of energy to take my artwork forward.
You made some wonderful small paintings on site in Jamaica, although these were preparatory works, they were very much successful paintings in their own right. Do you find it easier to paint en plein air or in the studio? If you could have stayed, would you have preferred to paint the commission on location?
I really enjoyed painting in Jamaica. Despite the intense heat and ridiculous humidity which you can't appreciate on film, being able to paint ideas straight away was a good opportunity. This was hard with the tight timescale of the film crew, and I didn't finish one painting, but as preparatory studies, they were really useful in helping me paint the commission piece once I was home. Yes I would like to have done it out there.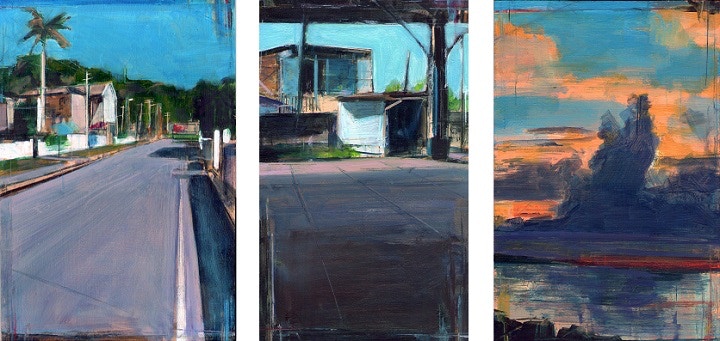 You seemed very inspired by the light (despite the heat!), how did it affect your work and your choice of colours?
I like light in my paintings, and I wanted them to portray this vividness. Despite that, for the commission the tones are quite quiet. This was how it was up on firefly. Especially when the weather came in with fierce rainstorms.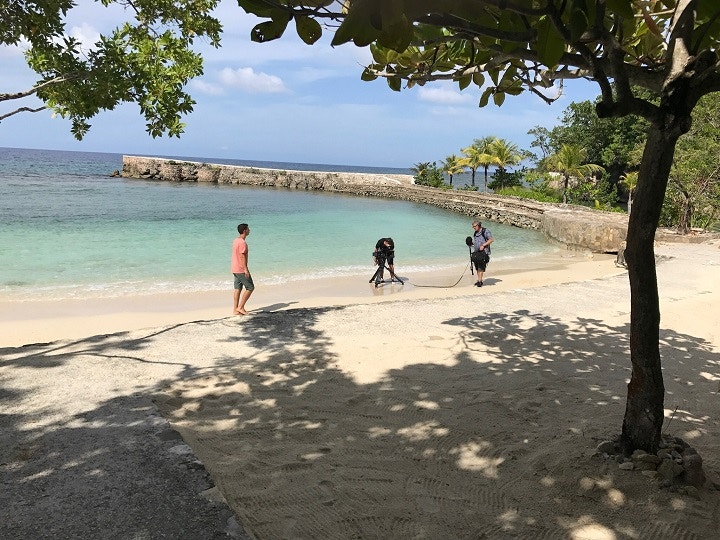 How helpful was it to meet people who had known Noel Coward and to see the old photos and hear stories from his life?
It was really interesting getting to know about the life of Coward and it certainly helped add a new dimension to my commission piece. I did use some of his viewpoints, and indeed his actual paintings to help me present my own response. It was really cool to think of all of the famous people that visited him at firefly during its heyday, and then there was little old Tom Voyce from Burton on Trent!
Your final commission was much larger than your usual work. What challenges did you face with the change in scale?
It was certainly a challenge for me painting at that scale. When I have done it in the past, I've found that scaling up loses the energy and movement that I like to attain in my brushwork. When you scale up everything must follow suit, from brushes, to the amount of paint used, to the very strokes that are made. As a result, I did a few same scale studies including one drawing where I practiced the movements with larger brushes without paint. Working at the bigger size also meant that I had to move into a spare room which quickly became a mess and smells heavily of turps!
How does it feel to be part of the permanent collection at The Theatre Royal on Drury Lane?
It is a massive honour to have my work exhibited permanently at Drury lane. The history of the theatre is remarkable, and I can't wait to go and see it when it's put up.
What are your plans for the future? Will you continue to teach?
Despite it being a really time consuming job, I love teaching art. I work with a great team at a great school so for the meantime I have no reason to leave that behind. Sometimes I feel that teaching art feeds my creativeness when I'm not painting, although not all the time! It is incredibly heard to try and paint in the evenings, at weekends and in the holidays but I am managing it for now. Let's see what happens!
What would be your advice for other artists thinking of entering next year's Sky Arts Landscape Artist of the Year?
Go for it!!! I'll be honest, I had to be convinced to accept the offer of attending the heat stage. I didn't want it to be like other reality TV programs where you are shamed and made to look ridiculous, or where judges and the public just tear into you to make you cry! I wanted it to be about the art and the art only. It has been great fun with all of the film crew, meeting all of the other outstanding artists and pitting yourself against the best. A highlight for me was getting great feedback from the judges who of course know their stuff, and overall just the opportunity to really grow as an artist. I have learnt so so much about my style, but also about myself as an individual.
Feeling Inspired?
---