Posted by Cass Art on 28th Jun 2019
Each year Cass Art continues to support art students by giving two prizes at the degree show for Central Saint Martins. One BA student and one MA student each receive £500 of art supplies from Cass Art. We caught up with painters Harry Rudham and Mingxi Liao, winners of this years prizes to find out more about their work and what they have planned for the future:
Firstly, congratulations both of you on winning the CSM Cass Art Prize! Can you tell us about your experiences as an art student?
Harry: Thank you very much! It was a pleasure meeting Mr. Cass at the Opening night of the degree show.
University has been a strange one if I'm to be honest, especially at Central Saint Martins. It can be quite daunting at times being an art student as you're left to your own learning and have to direct your interests and inspiration on your own mostly. But it really does make or break most students, when you come straight from a learning environment that watches over and gives you instructions to complete artistic freedom it's a bit of a shock. But it's also opened my art to so many different routes. I started CSM with a focus on hand drawn animation and then got pushed into sculpture where I created a couple of automata or drawing machines. It was always painting that I kept going back to though and that's ultimately where I directed my work.
Mingxi Liao: Firstly thanks Cass Art gave me this honour. I chose to be an art student because my high school grades were not high enough to attend a high calibre undergraduate college. Originally I was a science student and I wanted to learn about Interior Design, not Fine Art. But even though being an art student wasn't what I originally wanted I really enjoy it! The process of life sketching, oil painting, learning funny art history, listening to political boundary statement and traveling to see famous exhibitions after I entered art school. I love being an art follower and the precious experiences whenever I recall them.
HARRY RUDHAM
---
Harry Rudham, Two Bathers Under One Palm, oil and acrylic on board 30x30cm
What materials are integral to your work, what's your preference of medium and why? And which brands do you find yourself gravitating towards with your materials?
Sennelier oil pastels and coloured paper. I start most ideas for my painting with these two as it's just so immediate, there's no need to mix any paint or prime a surface with gesso. Just pure immediate colour.
Once I have the idea planned out in colour I always start a painting in acrylic and finish in oil paint, there's no real preference of oil or acrylic for me as they serve different purposes. Oil can be great for blending and 're-working' but can be a nightmare if you have a deadline and you're waiting for a work to dry!
I've always stuck with Winsor & Newton as I started my first oil paintings with them. However I just bought my first starter pack of Micheal Hardings which are just so rich in colour.
Harry Rudham, Swimming, oil and acrylic on canvas, 170x120cm
Your work seemed to take quite a shift between 2018 and 19, turning away from realism and into a more concentrated abstract notion. The figure is now silhouetted on chromatic colours occasionally in large scale but generally repeated upon seas of bright textured plains. Could you expand on this visual change?
I think a lot changed for me that year and it reflected in my paintings. My previous work from about 2017 focussed on bar and night scenes. I was quite obsessed with Van Gogh's 'Late Night Cafe' and during that period and my private life reflected it too.
I then met my current partner by chance, at the Italian embassy, who became my 'muse of colour' if you will and that really changed my idea on what my art should be. I began experimenting with colour a lot more, brightening my work into something that wasn't a pure reflection of myself but as an amalgamation of something more.
Shortly after I moved out of my mums to study at the Universität Der Künst in Berlin. This started a whole new chapter in my work gave me such a vast source of inspiration to work from. Over my six months out there it was just a heatwave from April till August. It was non-stop street parties, day festivals, public holidays and sun drenched days working by the lakes. These figures I met and experienced are the ones I depict in my work. Abstracted as snapshot of that timeframe, dragged and dropped into my chromatic paintings.
Harry Rudham, Not Cut-Out For This, acrylic on canvas, 105x95cm
Speaking of colour, what is it about these bright bold hues that appeal to you?
It's mainly theory. I lived opposite the Bauhaus for three weeks and visited their archives quite often. Soaking in as much colour theory as I could from Kandinsky to Albers and Itten. I'm attempting to take their colour theories into a contemporary context. Keeping colour swatches and collecting Pantone books, to decontextualize and then push into my paintings when needed.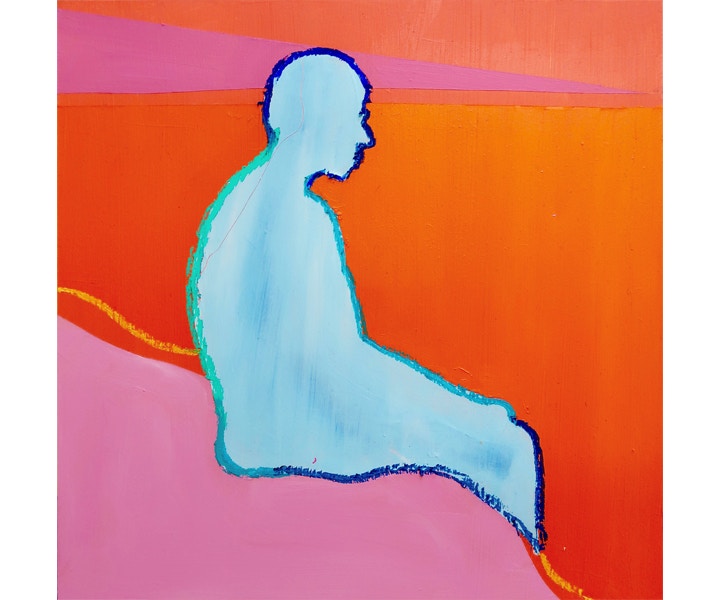 Harry Rudham, Bather Reclining No. 4, oil, acrylic and oil pastel on board, 30x30cm
And could you talk us through your painting process?
Of course, I start most works as an oil pastel sketch of a scene, moment or painting and then try and leave the sketch for some time. Coming back at a later date with fresh eyes to draw out something new to paint from. Before I start painting any canvas I make sure to prime thoroughly with rabbit skin glue and then three or four layers of acrylic based gesso.
My recent 'Swimming' series from the degree show involved a masking process which I derived from Matisse's 'Cut-outs'. Instead of using paper I use frogs-tape to mask out figures on the canvas and apply flat colour over the top. Then using tweezers and a scalpel I carefully peel off the cut out tape from the canvas, revealing the silhouetted figures beneath. Sometimes re-painting the figures over the top.
MINGXI LIAO
---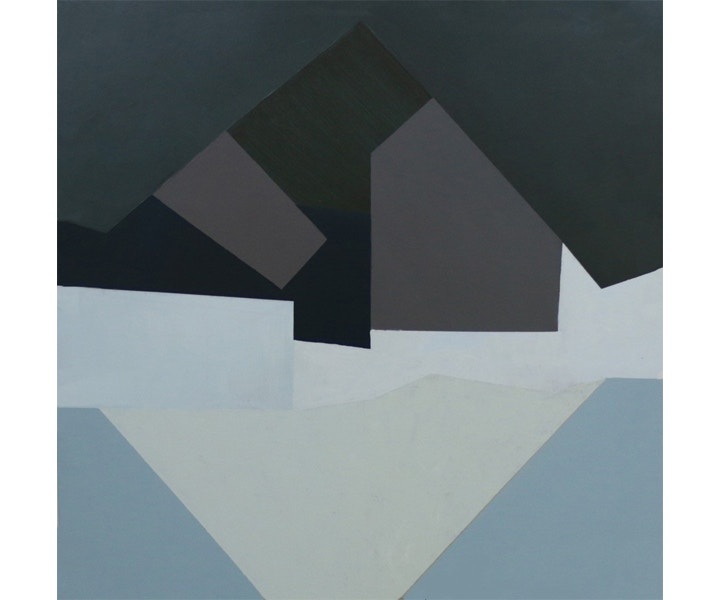 Mingxi Liao, Living Decor 1, 100x100cm
What materials are integral to your work, what's your preference of medium and why?
It should be oil paint and oil! I cannot stop painting, it will be part of my life even if I do a non-related job in the future. I am also fascinated with Liquid Original, fast dry, specially mixed linseed oil. They two are different effects when they have different proportion and I have tried many materials of painting that were for fun, which are all from Golden. I also make small sculptures and room size installations when I have the ideas.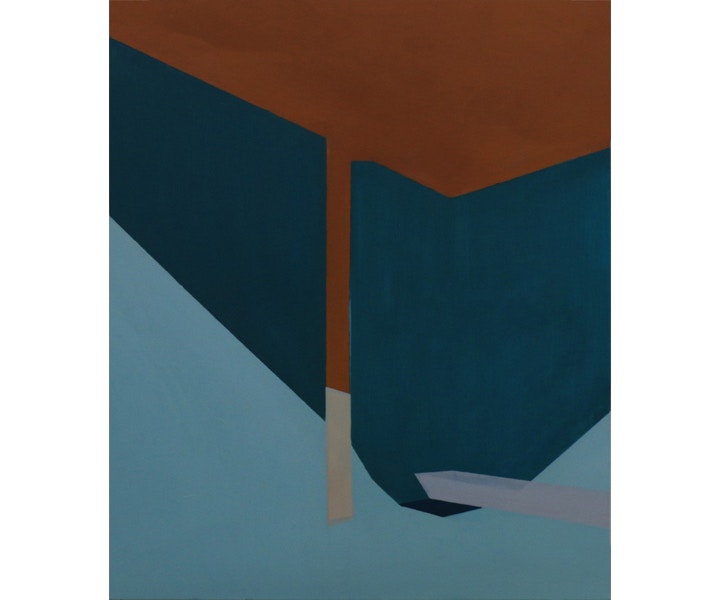 Mingxi Liao, Exhibit This1, 120x100cm
Your work explores interior spaces in a bold, almost graphic way – focussing on shape rather than detail, the line of a stair or the suggestion of a room. What is it about the visual language of the interior that appeals to you?
Actually, my paintings at Degree Show have been pushed recently after seeing the exhibition of Léon Wuidar at White Cube Mason's Yard. I focussed only on the spaces of images of invert colour, with details (decorating) trying to narrate these spaces. They are about existence and uncanny, the interior room with structure and the small figures on paintings, some of them crowed, full of people, some of them empty. However, this piece inspired me a lot, simple but showing a room, for me, more or less, which looks completely different with my previous works.
My purpose was showing a room of each pieces but I described too many details of these rooms, which I added into the rooms but simplifying them, removing all the details to geometric shapes to let viewer to think inside of these. And nothing is not mean none that is why I always left around 5mm line when it covered by another colour.
And those lines actually are not the stair, they are lights, which is like Tadao Ando's Church of the Light but I am happy when viewers have various analysis. The painting is like sometime of my personality that is sealing to everyone. I feel I can pretend a better person after giving negative emotions vent to paintings. The lights are black, which means nobody can persuade me as any advices, containing all of living details. The visual language expresses my feeling stronger and direct to release them as much as possible.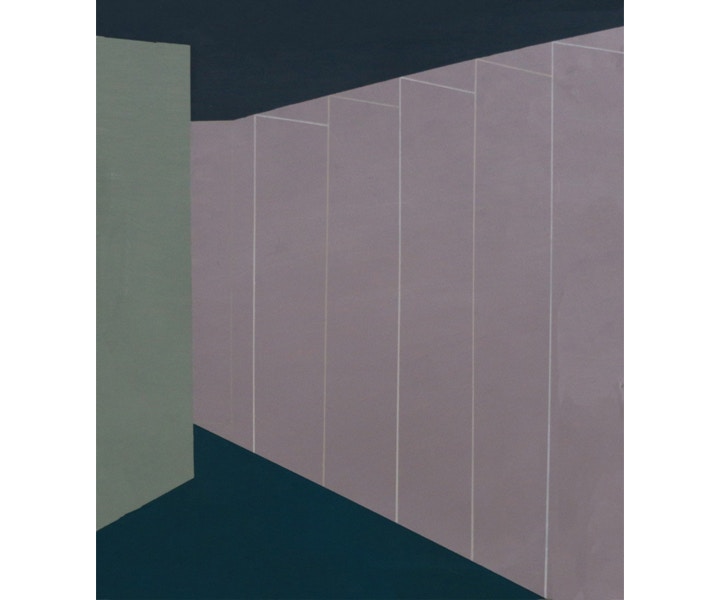 Mingxi Liao, Lab, oil on canvas, 70x60cm
Your choice of colour is quite muted in tone, with greys, grey/greens, creams and blues. What draws you to this tonal palette?
As I said, the colours express my emotion and are easily analysed 'I feel in bad mood'. These represent my feeling in my understanding. The juncture is that once I turned my phone to invert colour display and I took pictures and saw through this accessibility, which is the start to paint negative tone. During these process, I did some researches of books and related exhibitions, especially films that were more directly showing something in front of me, and I found these greys reminded me that emotion.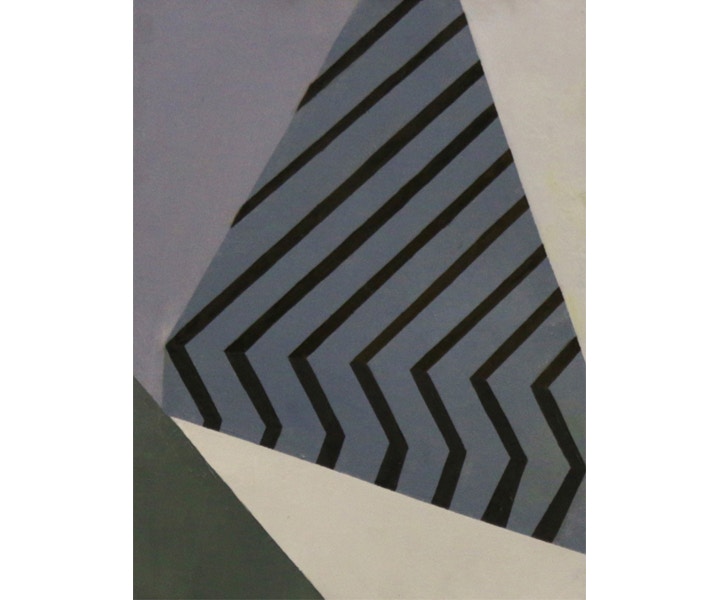 Mingxi Liao, Pray, oil on canvas, 40x30cm
And could you talk us through your painting process?
Sure, it's actually not very special, I normally stretch the canvas by myself and did some researches of images for rooms, then removing everything apart from the main structure of these rooms. Secondly, I usually paint at least twice, the first for colour matching. As you can see, my paintings have a few lines of shadow of the colours. The second layer is usually to cover the previous one and lighten it.
---
Finally two more questions for you both!
What advice do you have for future art students?
Harry:Turn up everyday, even if your practise doesn't require a studio, you don't know who's going to help your art. It's the people you meet and the 'chance moments' which can have a real impact. Go to every opening and lecture, speak to as many people. This can be daunting at times, but it's a necessity. And sneak into as much as you can. Openings, lectures at other Uni's, even use the facilities at other uni's, sneak into members clubs, artist studios.
Finally, don't be afraid to show your work to people, anyone - I think that's the most important one.
Mingxi: I do not think I have any grandiloquence to other art students because I am still not experienced. Even through, I touched 'art' by some of 'mistakes', doing this continuously I found a lot fun, especially the more knowledge gained, the more fun I have. And I frequently lack ideas when I just thinking, which I mean don't afraid to think about the new one. The next one is coming while I am just doing my continuous one
And finally, what does the future hold?
Harry: Well I've just moved into a studio in Baker Street following the degree show and am working on a new body of work as I've almost ran out. I'll be exhibiting in New York with 'The Dubious Machine Collective' for a show in October which I think I'm most excited for. I have been selected for an exclusive auction for a collaboration between Artsy and Aucart. Then I may be moving to Normandy for a new residency program over the next few months.
Mingxi: My plan now is going back China to find a job which is around art or art training, and rent a dreamy studio for creating. I would also love to do residencies in other countries, traveling and painting.
---
FEELING INSPIRED
Don't forget to share your work with us on Instagram and #cassart for the chance to feature on our feed!