Posted by Cass Art on 14th Aug 2021
Ronan McGeough is an artist to look out for. An active figure in the contemporary art scenes of Ireland and London, his rich gestural oil paintings tell an intriguing story of the decline of city landscapes in the midst of urbanisation. Currently busy planning for shows in Germany, Washington and Philadelphia, we caught up with Ronan to find out about his creative journey and why choosing the right painting materials is so important.
Hi Ronan, thanks for taking some time out of your busy schedule to catch up with us! Could you tell us a bit about your journey as an artist and how you've developed into the painter you are today?
Art has always been an integral part of my life, my mother is a painter and I get my creative gene from her so I grew up surrounded by it to be honest. I studied painting in the Limerick School of Art and Design whilst we were in the height of the recession in Ireland which really gave me a proper grounding on what world I was heading into. Ironically then, after graduating I worked as a professional artist for a year with an amazing creative initiative called Creative Limerick which was run by the arts council. It provided temporary occupancies/studio spaces in vacant buildings for creative practitioners. So essentially an investment into the arts in a time of economic adversity. This had a huge effect on me as it showed really encouraging progressive signs with regards creative support for me which I discovered is unfortunately incredibly rare. When I joined what was at the time a studio called Faber Studios which was previously an office supplies store we were presented with incredibly vast amount of space to work in. So not confined to a corner of a room as previous which allowed my work to upscale dramatically which from then on became to scale I'm most comfortable working with.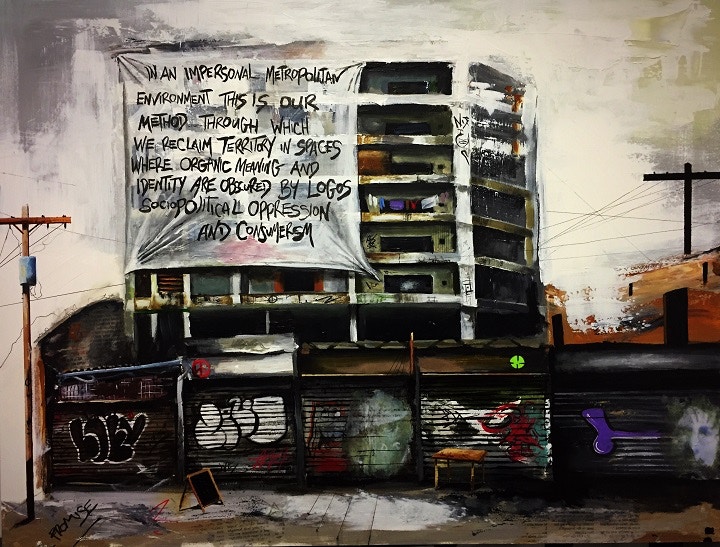 A Beautiful Mess, oil on canvas, 60 x 40cm
Next came my move to London in 2012. London always intrigued me, I never viewed as intimidating I only viewed it as exciting, bursting with energy and an opportunity to explore the cultural, social hub I wanted to grasp and contribute to creatively. It took me around 2 years to settle in for numerous reasons as I viewed it more as an unforgiving Tir Na Nog! But once I found my way into that loose network of overlapping subcultures held together by their communal belief in art, I was hooked. So my work may not have changed massively stylistically over the years but the content is there to tell stories, continuously create analogies of the world that surrounds us that I've experienced in an attempt to interpret emotion, scenarios and life using paint.
Your paintings explore socio-political issues of today, incorporating constructed landscapes with an embedded connection between street art and contemporary art disciplines. Can you tell us more about your choice of subject matter?
I try to document the socio-political issues of today, so what's on the news, what the mood on the streets is like, which are obviously quite grand issues. But I truly believe that the best art in any time reflects the current cultural climate it sits in. Like holding a mirror up to society.
Right now I guess what's got my attention is housing. Being Irish has been an essential part of my work which you probably couldn't tell by basing it off the aesthetic. They don't exactly have what one might say intrinsic traditional elements of Irish historical imagery. But I've always been fascinated with the extraordinary stranglehold that the property interest has on society, almost a feudal state of affairs. Reoccurring imagery you'll see in my work is wreckage and decay and that's because I think land hoarding and dereliction is just vandalism for the land owning classes yet we seem to be inundated with it in our country which I feel compelled to depict. It's basically about how the land owning sector run everything. So the interests of people who own things are at every juncture, always giving primacy over the worker. But the most important economic machine in the world is the human mind/creativity but in Ireland we've come to the conclusion that wealth comes from the land. So I wonder what the country could be if we got this land thing right? I want to portray to this misuse and emphasize the wound of landscapes through rich gestural paintings.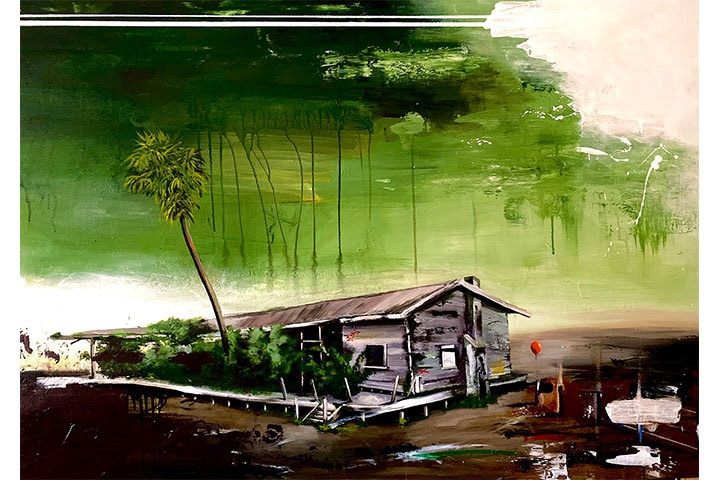 Jungle Bubble, oil on canvas, 121 cm 91cm
Although I'm going on a bit here, I actually enjoy more so when people don't know what my work is about, so stripped of narrative context. I want them to look at my work and not let my literal intention distract them from their organic reaction, so not presented with how I think they should feel. For the observer to uncover a natural deep emotional experience that resonates with their life as they see it such as our own issues with isolation, loss, confusion and our constant struggle to define our place in this world.
Can you talk us through your painting process? Do your compositions require a lot of preliminary planning?
It's funny, this is the question I get asked most often and the answer is no. I really don't, I generally use what I call 'A mental collagist method of composition'. Which boils down to me combining numerous images that I've taken, mentally juxtaposing them together to create new imagined landscapes. Disrupting the literal means by which our world is mapped and collage allows me to do this. There is no physical piecing together of images, that happens on the canvas through the paint. I also like that there's an organic relationship based of mutual impact with paint as it's obviously tangible, how certain colours mix on the canvas. I love that element of spontaneity attached to the lack of planning.
But the most important thing compositionally and the thing I need to feel comfortable whilst creating a piece is to find a state of flow and discover a rhythm or underlying tone that leads your eye to view the artwork in a certain way and draws a narrative. To look for large underlying shapes, the colours and the movement. Proportion is also key; how things fit together and relate to each other in terms of scale, whether near or distant, small or big. These all happen along the journey of the creation of the work.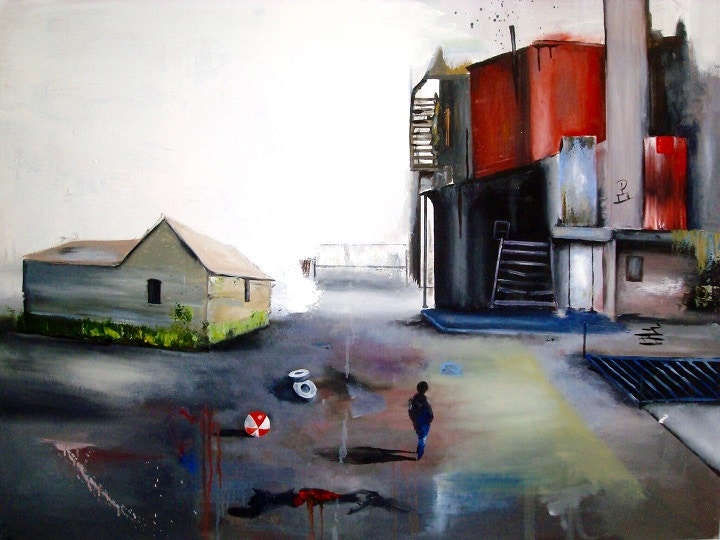 The Beginning, oil on canvas, 150 x 120cm
We understand that you use Cass Art Canvas in your paintings. What is it about these canvases that's important to your practice?
As much care needs to be taken when selecting the surface you're going to paint on as it does the tools you're going to use on it. I slap a lot of paint on so definitely the robustness of them firstly, the high quality spruce wood lends itself to this which is a big plus for me. I've always associated weight with quality when it comes to selecting a pre made canvas, I can tell immediately if it's a no by simply picking it up. Obviously being warp resistant is an enormous factor too, I had a few rough experiences in years gone by with warpage! Also the cotton canvas being just under 12oz is ideal for me as my preference is quite large scale so this weight creates the perfect tension and tautness of the canvas fabric for my application. I'm also a bit of a purest with corners on canvas, if they're not folded correctly I just can't make the purchase. With Cass Art Canvas I find these are done expertly and neatly leaving little or no discrepancies which is rare. All this lends itself to an artist quality range of canvases.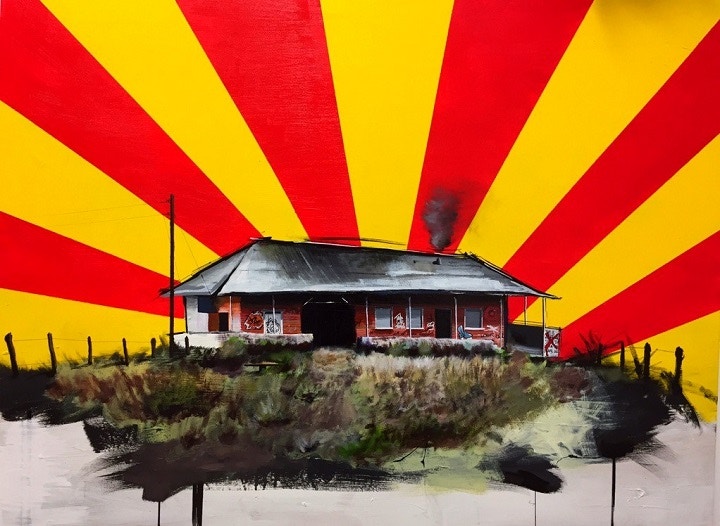 Sunset Studio, oil on canvas, 100 x 70cm
What other art materials are integral to your work?
Well I'm an oil painter so three of my essentials are Michael Harding, Schmincke Mussini and Old Holland paints. Michael Harding for obvious reasons, the richness and vibrancy of the paint is almost second to none. But also the texture being silky as opposed to very oily is important to me.
Mussini paints I love but use more sparingly for smaller works usually. They have a dammar resin in them which gives them this beautiful sheen so retains the vibrancy form wet to dry. I do like my paintings to have subtle glaze to them so these are perfect for that.
Old Holland for their colour spectrum, there vast array of earth colours and shade of blue are second to none so from a colour palette perspective they're ideal for me.
With regards brushes I pretty much solely use Winsor and Newton Monarch brushes. They're a synthetic alternative that mimics natural mongoose hair as they're made with great polyester filaments which lend themselves to excellent durability and flexibility. I find them them to be the perfect in-between of hog and sable taking the best of both worlds, meshing them together.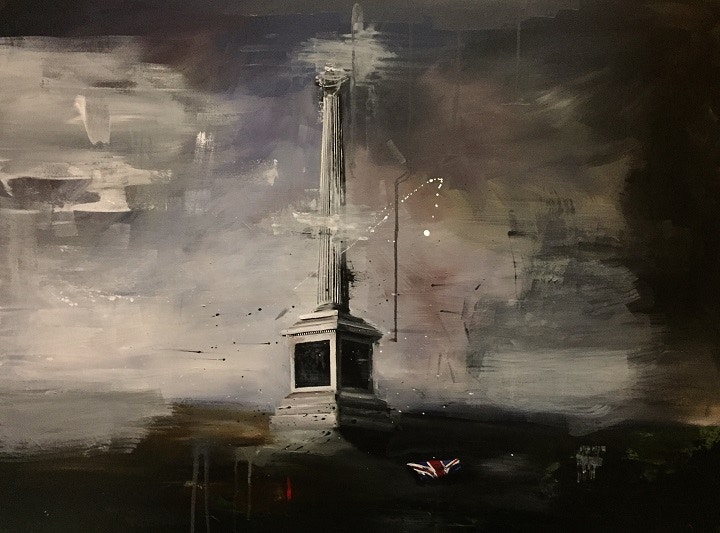 Was it for this?, oil on canvas, 100 x 70cm
Can you tell us about your role as Outreach and Exhibitions Coordinator at Cass Art? Does the experience of working with other professional artists have an influence on your own artistic practice?
My role is pretty much to speak to professional artists and see how we can best tailor to their requirements and hopefully build a relationship with them. To really understand their needs and see how we can better improve as a support network for them. I also run the Cass Art Space in the Flagship Islington branch. This gallery is founded on the fundamental principal of talent and ability. It's a place devoid of financial implication for artists/creatives alike to exhibit their work stripping away the financial hurdles that so often burden us in this industry. Whether it's an exhibition, a workshop, a talk, seminar, critique. I just enjoy seeing people being creative. The entire ethos is putting the people/creatives at the very core of the art gallery experience. It's great to give people the chance to get their work out of their bedrooms/studios into a new environment and completely contextualise the work for them.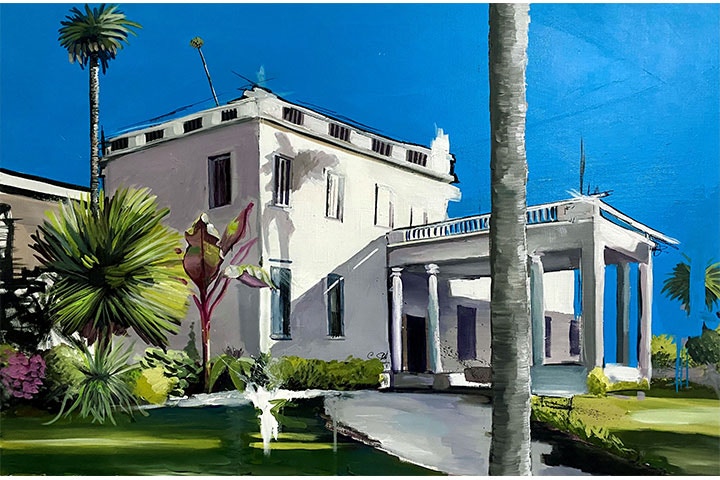 Isolation Creation Station, oil on canvas, 121 x 91cm
With regards the influence the role has had on my artistic practice firstly as Exhibitions Coordinator. Becoming the person on the other side of the table, the one receiving the applications to exhibit in a gallery as opposed to being the one applying has been a huge education for me. It has taught me how to apply for a creative opportunity. How to use the correct language, to portray your artistic goals in the most informative manner and to be honest actually as well of course. When applying for things I used to completely conform to pretentious spiel, instead of being truthful about my work and intentions. Also, give feedback too, when I read someone's application and see where they potentially could improve I try and give advice where I can. We're not educated on these things so we all need the help when we get it.
From an Outreach perspective simply getting out and speaking to professionals and understanding that they have the same concerns you have. It's an industry relatively devoid of structure, and the loose structure it has is quite unconventional to tell the truth. So all you can really do is speak to artists and discover what they've learned along their creative path.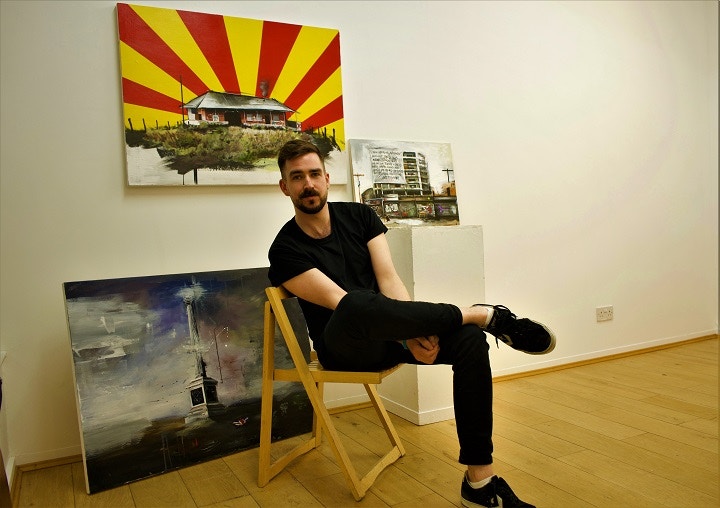 Ronan McGeough with his paintings

And finally, what's next on the horizon?
Well I'm working towards a big solo show in 2021 in Offenburg, Germany so trying to focus most of my energy on that as I'm creating a whole new body of work for it. I also have a few group shows towards the end of the year in Washington and Philadelphia too. Other than this just keep painting!
Thank you for taking the time to speak to us Ronan and giving us an insight into your incredible artworks. Good luck with your upcoming exhibitions!
Find our more about Ronan McGeough by following him on Instagram and checking out his website
Feeling Inspired?
---
Pop in-store or shop online for everything you need to get started with oil painting. Our staff artists will be more than happy to give you advice on materials. Don't forget to hashtag #cassart on social media to show us your creations.