Posted by Cass Art on 13th Jun 2018
We're delighted to continue supporting Made in Arts London (MiAL), a professional development initiative organised by University of the Arts London, by awarding a £500 Cass Art Materials Bursary Award. We caught up with the winner of this years award, Stella Kapezanou to find out more about her stunning large scale paintings that captured our imagination.
Firstly, a big congratulations on winning the Bursary Award, we just loved your paintings!
As an artist and a regular in Cast Art stores, I am very pleased and honoured to accept this award. So thank you for selecting me among so many great and inspiring artists, giving me the award and supporting my work.
You're very welcome! So how did you become involved with MiAL?
I was selected by Grayson Perry to take part in Xhibit 2017, an annual art exhibition, showcasing the best talent at UAL colleges. Participating artists, won - among others - Made in Arts London representation.
Do you have any plans for the bursary?
Oh yes - Michael Harding Oil Tubes. All of them!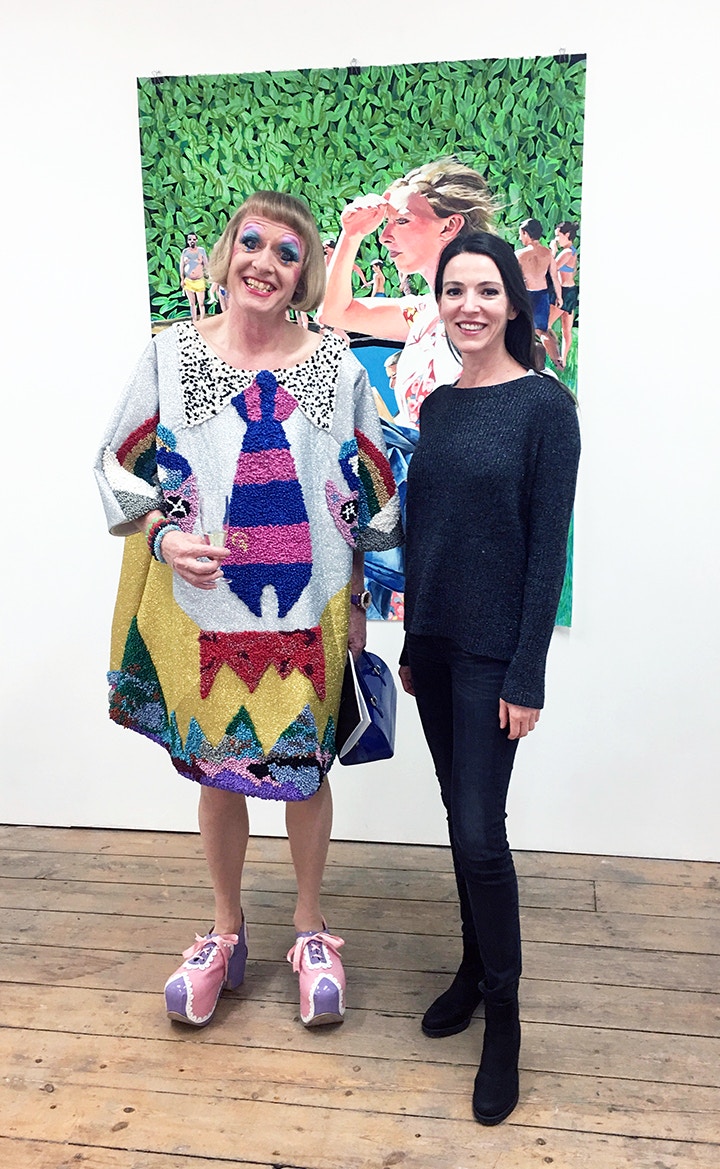 Image above: Grayson Perry and Stella in front of her work Brit Pond at Xhibit 2017
Your paintings have a voyeuristic nature, could you tell us a bit about your subjects?
I wish to capture the commercial culture in a blunt and straightforward way, like an 'off' fashion image, aiming to point out the affordability, temporariness, decay and mortality of humans.
My paintings are my playground of more fakeness, so I aim to make them look too picture perfect, almost like adverts, unrelated possibilities in the same frame of the painting. The scenes depicted could never quite occur; the sky is an ideal sky, the green grass a perfect stand-in for all lawns. The world gets captured not as it appears, but as I want to perceive it. By depicting such scenes in a totally personal interpretation, a new world is created, where life reproduction happens not according to a mere external reality but according to the my wish.
Image Above: Brit Pond, 2016, Oil and Acrylic on fine art paper, 152x122cm
They also have an uncanny humour in their juxtapositions – how do you select these clashes between subject, object and place?
My point of departure is the very 'aesthetics of consumption', and therefore I draw my images from the 'everyday' life of people and the relations which bind them with the objects, places and times.
I am intrigued by subjects that are not considered 'high art' but rather 'ordinary', in the sense that they are familiar to the viewers' eyes, and I strive to define the real relations between 'men' and their 'things'. As a matter of fact, I paint the very absence of relations. My subjects don't quite intersect; they're just strange people playing in a fake world.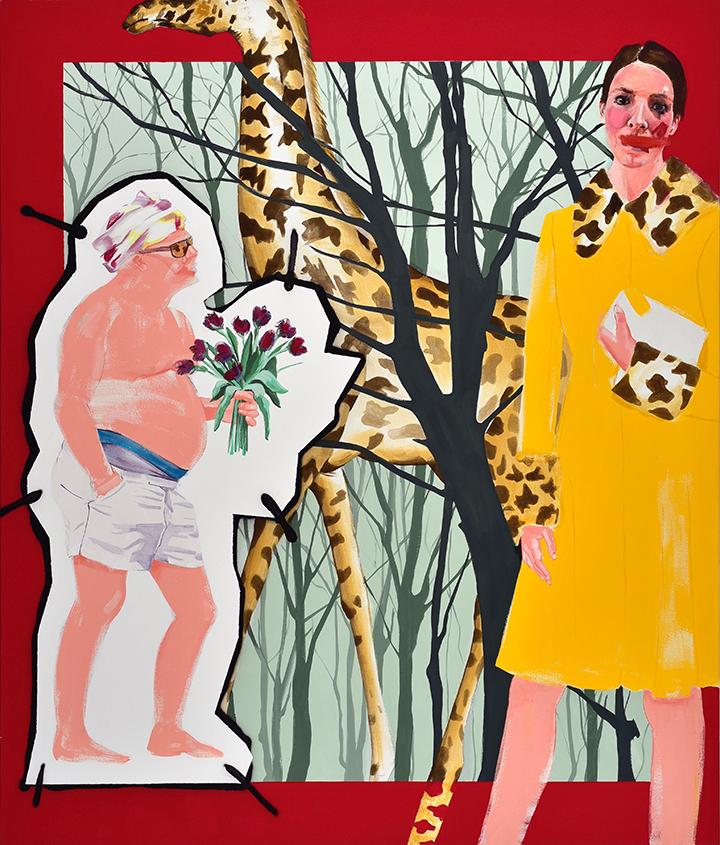 Image above: The Girl In Miu-Miu, 2017, Oil and Acrylic on canvas, 210x170cm
Your paintings are sometimes a mixture Oil and Acrylic, which are your favourite mediums to work with?
I mostly use oil colour on linen, although sometimes I use acrylics as a base. In my paintings, I emphasise some parts and work really loose and abstract in others. I'm in an only oil phase at the moment. The series I'm working on is more subtle, things are getting darker…
Can you talk us through your making process, I can imagine when working in the scale that you do that a lot of preliminary planning is needed?
The truth is that I never like sketches. The reason I paint an image in the first place is to see it myself. As long as the painting is done, it's over for me too, I'm bored and I wanna move to the next one. Therefore, trying it out first in a small sketch and redoing it on a bigger canvas is not an option for me. I like it fresh, I like the mystery, even the agony of whether that new experiment is gonna work out in the end. Or even better: if I'll make it work out and "save the day".
On the making process, I often set up a shooting production and ask my friends and artist friends, or hire actors to pose for me. I do the whole styling and direction of the shoot. Then I take many pictures for source material. I only use fragments of these images, along with imaginative elements, or "stolen" source material from whatever attracts my eye. The handbag of someone I met on the street, a high fashion brands advert, somebody else's dog. Random, unexpected stuff and things.
Image above: Happily Ever After, 2017, Acrylics on canvas, 170x130cm
And finally, What's next on the horizon?
My first solo exhibition in Greece opens at Evripides Art Gallery in June and will run through the whole month.
It's my attempt to have my art operating to the Athenian public as the mirror of a collective memory which characterized the social reality for years, leaving its indelible marks on the present time.
Feeling Inspired?
See more of Stella's wonderful paintings on her website