Posted by Cass Art on 15th Apr 2019
Cass Art Own Brand Paper Pads combine exceptional quality with outstanding value. Designed by leading agency Pentagram, our paper pads explore the mark-making of different mediums, revealing a fresh aesthetic on the front of the blank pages awaiting your own designs. From cartridge and marker pads to watercolour and oil the great variety of surface and size means that you will always have a pad to match your need - from painting on the go to large scale graphite drawings.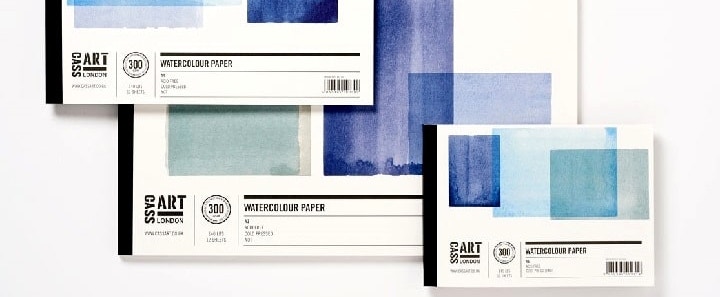 ANGUS HYLAND - Graphic Designer, Author, Creative Director, Partner at Pentagram and designer of the Cass Art Collection
"Each pad is based on the same simple idea; to represent the media directly on the cover. And so we started by asking artists their reasons for buying different papers; Why do you buy heavyweight cartridge? What can you do with it? Is it to draw on it, what medium can you use on it? Can wet mediums be used on it, is it better for drawing? What tooth does it have? Is it better for charcoal?
The challenge was to express a commonality that would connect the range. For example, the Smooth Hot Pressed Pad, has the same swashes of watercolour, but with cartridge it's all sorts of things. From charcoal to graphite to rolling out pink Indian ink on it to light washes of colour, the qualties of the paper broadens your choice of colour and variety of mark making. So we chose to make the heavy weight red and all the regular weight black, then you have instant visual recognition - a type of coding system.
Some are self-evident, if its Acrylic and Oil then you use the medium to express the quality of the material, but with Mixed Media we could be more experimental as the properties of the paper allowed you to stick things on, as well as roller a bit of ink across it."
CASS ART WATERCOLOUR POSTCARD PAD
---
These postcard-sized pads contain 15 sheets of good-quality 300gsm watercolour paper, each measuring 148mm x 100mm - a handy size that's particularly suitable when you're out and about and don't want to lug a larger pad around. Artist and Cass Art Professional Ambassador Ingrid Sanchez recently created a wonderful step-by-step guide using the Cass Art Watercolour Postcard Pad, Cass Art Watercolour paints as a base and highlighting in titanium white Cass Art Studio Acrylic.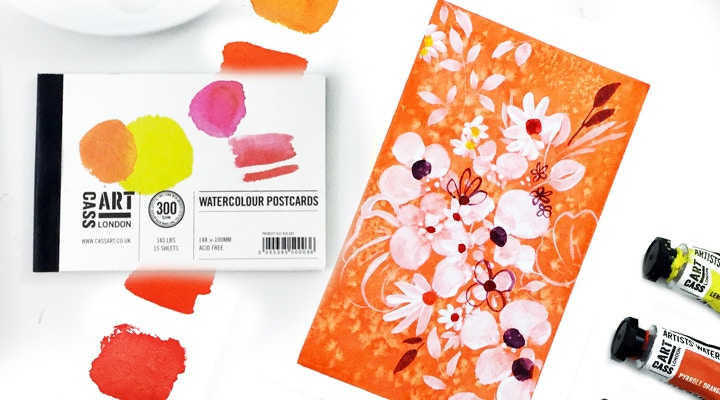 INGRID SANCHEZ - Artist and Cass Art Professional Ambassador
"I like using the postcard pads to test colours, make colour swatches and sometimes make small demos for my students. Usually I end up with a beautiful small piece that I can use as 'Thank you' notes for my customers. I find this an original and personal way to send something special to those who support my business."
CASS ART WATERCOLOUR PAD
---
This cold pressed Cass Art Watercolour Pad contains 12 sheets of high-quality 300gsm watercolour paper, gummed along one side so the sheets are easy to tear off. The paper is acid free for added longevity and is lightly textured, perfect for working with watercolour and durable enough to hold several washes of paint. Francesco Lo Iacono, Cass Art Professional Ambassador, Fashion Illustrator and Artist shows us what this brilliant pad can do with his illustrations of these illustrious shoes.

FRANCESCO LO IACONO - Artist, Fashion Illustrator and Cass Art Professional Ambassador
"The Cass Art watercolour paper has been one of my favourites to use since I first tried it. As a watercolourist, the surface is quite important, as it helps to achieve the best results for your work. I personally feel more comfortable with a smooth surface, even if, with watercolour, exploring a more textured paper could be a really amusing experience. That's what I explored with this quick sketch of a REDValentino shoe, I thought that in this case, the paper would have helped me achieving intriguing effects. I do suggest everyone who works with watercolour to try out different kind of papers, to find out the one you feel more pleased and happy with."
CASS ART OIL & ACRYLIC PAD
---
Treated with a sizing agent that offers the right absorbency and grip for acrylic paint, and internally sized to prevent oil paint from sinking through. It's ideal for any oil & acrylic techniques, perfect for students, hobbyists and artists. Artist Alice Kirkham tried the Cass Art Oil & Acrylic pad with Liquitex Heavy Body Acrylic paint:
ALICE KIRKHAM - Artist and Designer
"The Oil and Acrylic paper works really well with the Liquitex heavy body acrylic paint that I used in my painting. The sizing agent and grip on the paper prevented too much absorbency even when paint was applied quite liberally, yet the smooth surface made it easy for the paintbrush to glide and blend colours in to one another. When the work had dried it kept the colour well and it was great to just be able to remove it easily from the pad and move on to my next painting. Great for developmental work or thin enough to be easily framed as a finished piece."
CASS ART CALLIGRAPHY PAD
---
The Cass Art Calligraphy Pad has 30 sheets and contains 3 colours; white, ivory and light grey. The treated bleed proof paper is perfect for calligraphy, pen, ink work and certificate writing. Artist Laura Dukes demonstrates this wonderfully smooth surface with her brush lettering using Tombow Dual Brush Pens.

LAURA DUKES - Artist
"The paper is super smooth so you can get clean lines with brush pens and nib and ink. You get three different colours in a pack so you can choose which shade would best suit your work. They all have a dappled effect which makes it feel more traditional than white paper. It is sturdy and absorbent so you can use loads of ink and the paper won't break. Ideal for beginners to professionals."
READ OUR BLOG ON GETTING STARTED WITH BRUSH LETTERING
---
FEELING INSPIRED?
EXPLORE
The full Cass Art Collection
SHARE
Share your creations with The Cass Art Pads on social media, and make sure to use the hashtag #cassart for the chance to be featured on our feed