Posted by Cass Art on 14th Sep 2022
Fashion illustrators need to know how to depict different fabrics and textures, you can't just colour in with a single flat colour and call it a day if you want people to understand what the garment is you're illustrating. So don't fret! I've got 5 quick n easy ways to create texture in your illustrations, from denim to sequins, to tweed and fur. All you need is some colouring pencils, watercolour, Promarkers and paint, I use Winsor & Newton/Liquitex throughout these demos as their quality is unparalleled! Let's get into this fashion bootcamp…
Denim:
Start off with applying a base coat of blue watercolour, don't lay it on too heavy as you want to work on top of this and don't want to tear the paper. Once that's dried use a dry brush and choose a darker blue and brush over the blue with streaks of the darker shade to imply the denim texture. Finally get some colouring pencils in a few shades of blue and gently go over the top of the watercolour underlays to give that worn texture effect.
---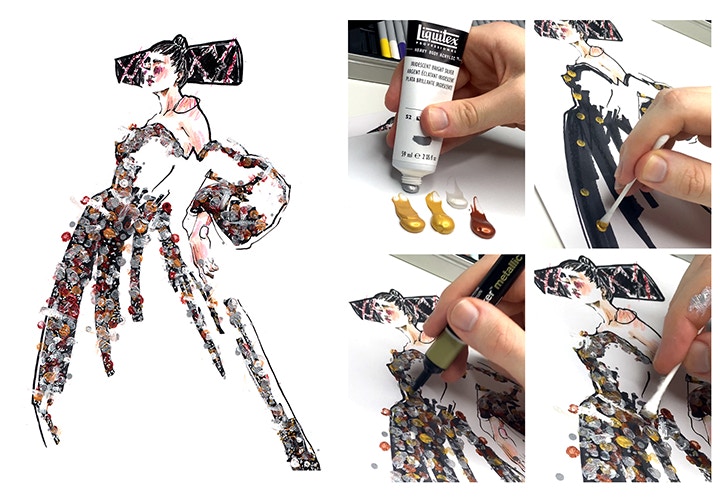 Sequins:
This ones fun! I use Liquitex Heavy Body iridescent paints as the colour and shine is amazing, grab some cotton buds (I use them because they're already circular) and just alternate between your different colours and attack your drawing! Use different angles with the cotton bud to get various sizes but keep going until there's no big areas of nothing. Then grab some Pro Marker Metallics and use the thin nib to add in tinier sequined sparkles, keep going until most of the garment is covered. Once that's finished grab some white paint on another cotton bud or a paint brush if you're more elitist and add some crosses throughout to make it look like a shimmer, and you're done!
---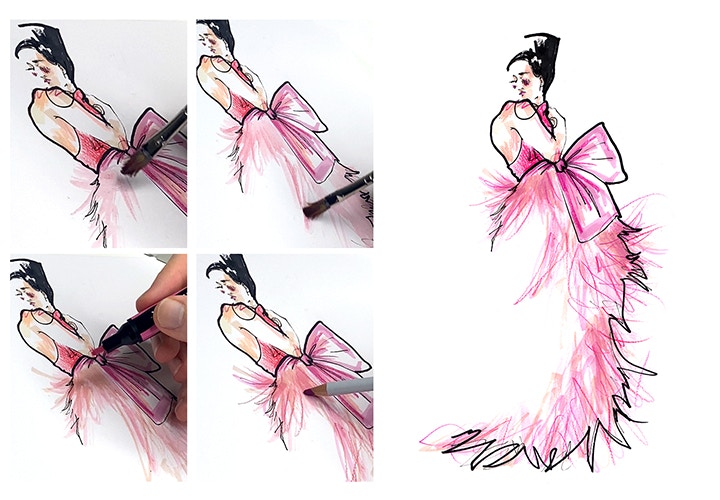 Fur:
It's faux! Start off with some watercolour, I use Winsor & Newton Cotman Half pans as they're easiest and have great colours. Grab a brush and mix your colour, apply it to your brush, dab your brush off with some tissue then use a 'dry brush' method to utilise the bristles of the brush to create the texture for you, lightly move your brush in the direction of your fur. Repeat this a few times with different tones of the same colour, once that's done grab a Pro Marker in a similar shade and use the chiselled nib to lightly add some more depth to the piece with a slight flick of your wrist. If you do it right the end of the brush stroke should be broken looking like hairs. Finally get a couple shades of pencil and add in some last details, using the fine flick of a pencil to add individual hairs to finish off.
---
Tweed:
The method for tweed is quite similar to denim, I'd start of with a base coat of watercolour in green, then dry brush a darker green or two on top to imply texture. Making sure the brush strokes correspond with the way the fabric is folding. Once that's dry I'll grab a colouring pencil in. red, green and brown and create the fabric effect with rough grids on the jacket to imply the tweed.
---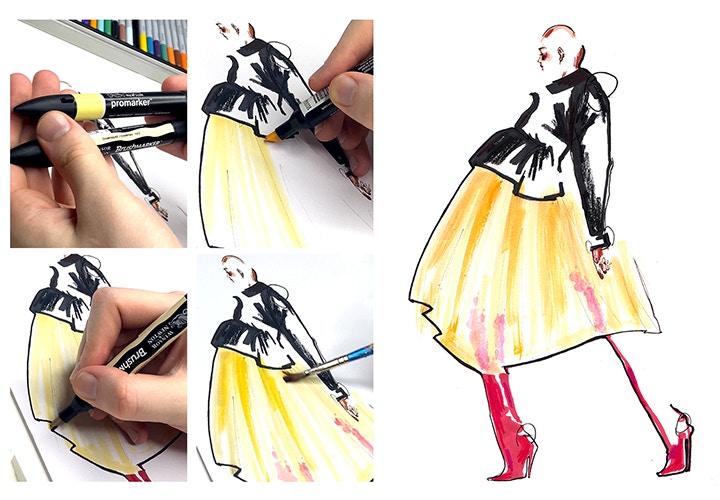 Sheer:
When doing a sheer fabric you want to make sure that your brush strokes align with the way the fabric is falling. I start off with Promarkers to build up the tone slower and more carefully. Each stroke of the marker you're acting as if it's a sheet of tuille, so layer them up in areas where more than one sheet of the fabric would lay on top of each other, such as the top of the skirt and the ruffles at the bottom. Once that's done I'll use watercolour in a similar shade to go in for a few more strokes to give more tone to areas which in turn makes the lighter areas look more delicate.
FEELING INSPIRED?
---
Check out more of London based Fashion Illustrator Scott W Mason's work on his website