Posted by Cass Art on 26th Apr 2020
These are very strange and uncertain times for us all. The idea of the unknown is a very difficult place to be in. This period in our lives will be the utmost test of our mental strength and courage. It's really no surprise that in times of worry we turn our attention to fictional stories which in most cases have a relative comfort resolution to distract us from what's going on outside and in some cases inside our front doors.
In terms of art I believe it now more than ever has an incredibly vital role to play in our society. In the current climate when we're faced with a global pandemic and required to go into self-isolation I think having meaningful art and creativity in our surroundings is an essential part of the human condition. Art is uniquely positioned to inspire, excite, entice and engage people together. No matter where you look, you'll find it. It's the part of us that makes us human – the very act of self-expression, The very act of creating enriches our lives for the better so now in the current climate I think we need more than any other time in history. We're aware that art cannot forcibly induce a change in human behaviour but what it can do is serve as an antidote in times of difficulty. It can be a route to clarity, a force of resistance and repair, open up our minds to the power of what we can do as a species. To act as a formidable tool for us to gain perspective on what are difficult times. As Picasso said "The purpose of art is washing the dust of daily life off our souls".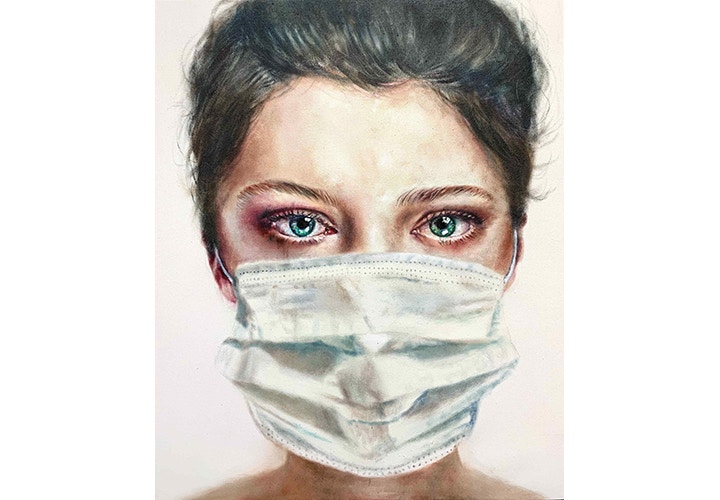 Frontline, oil on canvas, 2020, by Johan Andersson
All over the world we're faced with having gallery and theatre closures which are generally the hub of our creative endeavours. But in no way does this mean to end of experience of art as we know it. Today we have more options than ever to engage with art online. On Instagram we've artists live streaming them working in their homes/studios. Workshop leaders and art educators have moved their classes to online tutorials. Museums are bringing their galleries into our front rooms with digital tours and the weeks go on more innovative platforms will be created the quench our creative thirst. One of things I've found most uplifting in terms of the arts in the current climate is the persistence to make, share and embrace creativity no matter what adversity we're faced with.
If you look back at history you'll see how art and creativity are such important facets of the human condition. Right from the Ice age when it was incredibly hard living we still created art, they even had specialists to do this. In Werner Herzog's film Cave of forgotten dreams they show us some of the oldest human painted images in history. They look at some drawings on the walls of the Chauvet cave in France which hadn't been opened in over 20,000 years and reveal all sorts of incredible illustrations drawn in charcoal.
We especially don't stop making art in times of difficulty or crisis. Go back to the Napoleonic wars which produced Goya's lithographic series 'The Disasters of war' – An incredible lasting example of arts power to depict and confront human conflict in the face of it. To Picasso's masterpiece Guernica in the midst of the Spanish Civil War. Jump forward to more modern times with Gordan Parks 'Boy and June Bug' who captured the realism of the Civil Rights movement. In 2018 Ai Weiwei brought us his extraordinary film Human Flow documenting the reality of the refuges crisis through the lens of 40 refugee camps in 23 countries. These are just a snippet of what we feel compelled to produce in the face of diversity.
In this series Art in Isolation each week we want to speak to different artists and creatives from around the art world to see what they're doing during this period of self-isolation whether they're making, reflecting or simply taking a break. To see what this time means to them personally and professionally. Also, what art means to them, something that shouldn't be forgotten
The first artist we're going to speak to in this series is prolific Irish painter Eoin Francis McCormack. His work focuses intensely on the physical labour that goes into making his large scale emotive abstract paintings.
Eoin Francis McCormack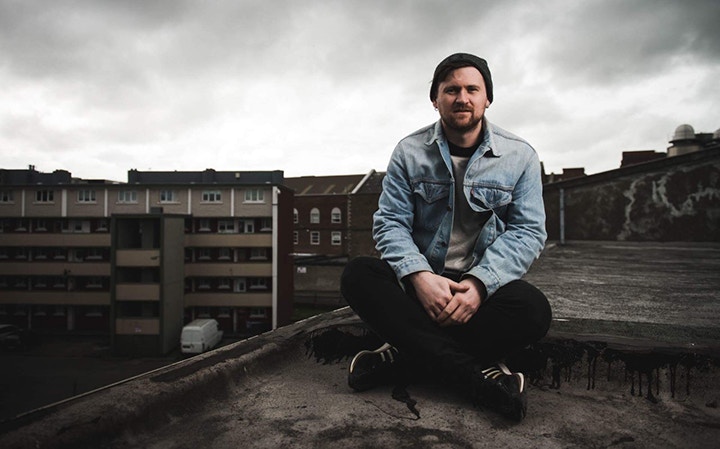 Eoin Francis McCormack
Eoin, thanks for taking the time to speak to us. Could you tell us a little about yourself and your practice please?
"Firstly, it's a pleasure to be asked to contribute to this blog series. What I have to say I hope will be something other artists can relate to.
I am an Irish painter living in the Peak District in England. I make paintings and some prints. The work of the painter and the world of the artist's studio often seem to exist in contradiction to accepted concepts of 'working' in our contemporary culture. To choose to be a maker of something, without a clearly defined purpose, in our society is something artists must constantly deal with in their work. Acutely aware of this as a painter, I explore these contradictions through the working methods I implement, stressing the routine and physical labour aspects of working as an artist.
I have constructed a practice that explores painting as a work ethic, whilst also examining what a painting might mean to a viewer, and whether or not the things I make in the confines of my studio might have an impact on those who view them. I used to say 'I am interested in the time spent by the viewer, in front of the canvas; I wonder what they think, and if they consider their time spent as worthwhile' but ultimately I don't care. I just have to make paintings it's all I've ever done and all I can do really
Why is this time important to you and you're practice?
As a creative person we can often put a lot of pressure on ourselves to constantly be making and when not making a kind of guilt can set in. Now a lot of us have been forced to stop. I am using this time of self-isolation for self-reflection. Look at what I have achieved in my career so far good points and bad. I have been looking at the collection of work I have created to date. What paintings and prints I have put into the world and what I have held back. I have mostly been using this time to plan, sketch and write. I have been making small water colours which may turn into a body of work but that is not particularly the intention.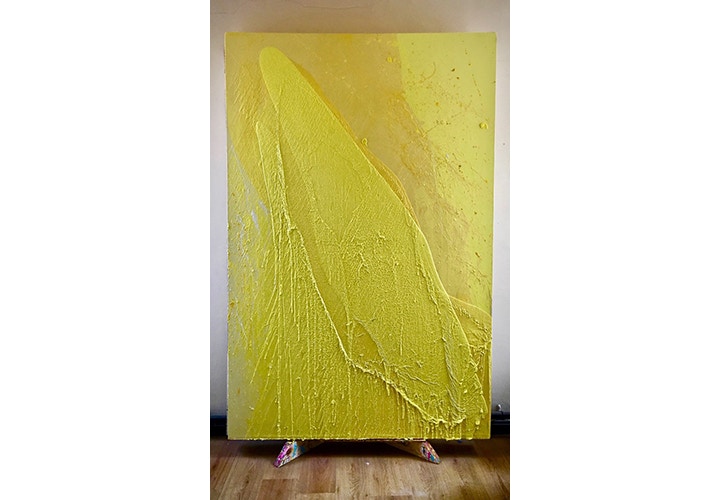 Mo Chlann 6, oil on canvas 7 x 5 foot 2018
A bit more general but I always a relevant question I feel, what does art mean for you?
What does art means to me? Doing is art. The very activity is art. The making. The time in the studio. All that. I mean to most artists or creatives it's everything and to not be able to do the thing you do is a kind of torture. But we are all in it together which some solace can be taken in.
Before the flood, 7 x 6 foot, oil on canvas, 2019
---
"Don't think about making art, just get it done. Let everyone else decide if it's good or bad, whether they love it or hate it. While they are deciding, make even more art." – Andy Warhol
---
Elena Gual
Elena Gual is a Spanish artist based in London. Her journey as an artist has taken her via the Florence Academy of art, the Royal Academy and Central Saint Martins. Building on the techniques learned there, she has developed her own unique style that encapsulates both traditional and modern approached to portraiture.
Elena, thanks for talking some time to speak to us. Can you tell us what you're plans during your period of self-isolation?
During these long weeks, I had planned to start and finish a series of six paintings I had just done the photo shoot of. This is a series that encounters the transition of most skin tones and which composition mainly depict our backs. However, I was not super prepared for this quarantine, so after finishing my first piece of this collection I realised that there was no way I was going to have enough paint or canvases to finish this in the lockdown days.
Though this isolation has also given me the opportunity to do some research I thought I never had time too, as well as being able to read again, not only novels but more about artists that have always inspired me.
Series: Back 1, oil on canvas, 48" x 36", 2020
Why is this time important to you and you're practice?
After 14 days of lockdown, I have realised that it I had lost the concept of what the present is as well as being in it. So during these days I am connecting to my work in a total new way as well as my own head and thoughts around things. I value everything more and more. So I really hope that is something that I take out of this quarantine.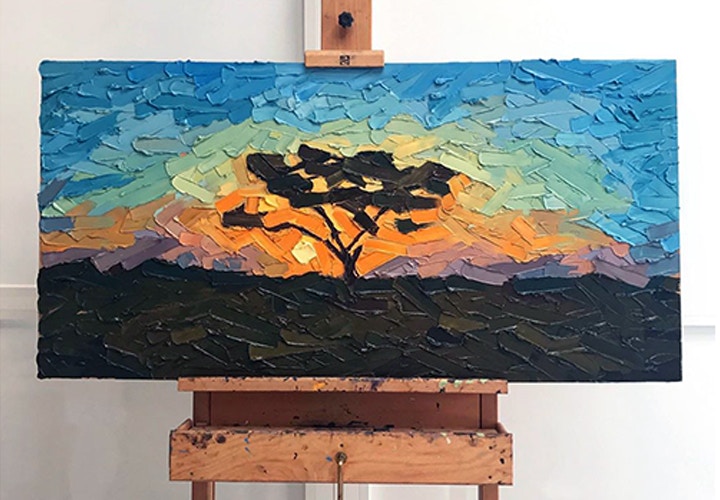 African Sunrise, 60 x 120cm, 2017
And finally, what does art means to you?
"For me art is a way of seeing my personality, a way to know visually what really is inside of me. It's my way of thinking expressed on the outside. When I create I am constantly reflecting myself on every piece, and I sometimes surprise myself because emotions and thoughts are expressed on my pieces that I had not even realised I was feeling or thinking. I guess that is way they say that "Art is therapy".
So we're now in self-isolation and maintaining social distancing which is ironically the most basic act of human social solidarity right now. What does help is arts unique resourcefulness of social connectivity to keep us symbolically together yet physically apart.
Feeling Inspired?
---
Shop online for everything you'll need. Don't forget to hashtag #cassart on social media to show us your creations.