Posted by Cass Art on 8th May 2018
Founded by Kit Hammonds and Angela Robinson in 1997, Xhibit showcases the best emerging creatives from UAL (University of the Arts London). Xhibit is open to all current students and is selected by an expert panel of creative industry professionals. There are no themes or constraints, and students studying at any level in any discipline can enter. The resulting exhibition reflects the diverse range of creativity at UAL and offers those involved a unique chance for collaboration, exhibition and development - championing their work to a wider audience.
Chris Makin won the Cass Art Award for £500 of art supplies for his painting at Xhibit, Loom 1. We interviewed Chris to find out more about his work…
Congratulations on winning the Cass Art Bursary Award at Xhibit! Tell us a bit about yourself, where are you from, what's your background and where/what are you currently studying?
Thanks for the congratulations. Cass Art is a great series of shops, I usually go to the Charing Cross branch, the staff are very helpful and encouraging, as well as knowledgeable. I get the sense they are all artists or students. I'm studying for an MA in Art and Science, approaching the end of this two year course. Despite the title I don't have much connection with science in my practice, and I am often troubled by the effect that positivism seems to have had on the world.
I was brought up in rural Derbyshire and spent many hours of my childhood alone in woods and fields; it felt like paradise at the time, and that's still my memory of it. I'm sixty one and married with a wonderful family.
I don't want to say much about my background, except that I have self-identified as an outsider artist for a number of decades, by which I understand the primacy of art as an internal process.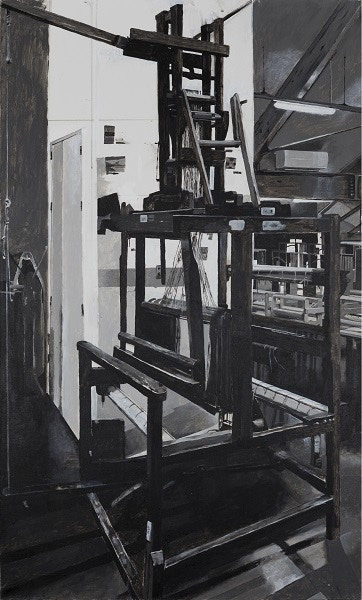 Loom 1
What has your experience been of studying at Central Saint Martins?
The main site at Kings Cross is very beautiful architecturally, but lacks the depth of tradition. My course is based at Archway which is the opposite, being partly based in the old Byam Shaw Art School, but the buildings are very plain. I found contact with the art world a challenging experience and not at all what I expected. My tutors have been very helpful - special thanks to Adrian Holme, Heather Barnett and Susan Aldworth. They have enabled me to explore the whole notion of exhibiting which is not something that comes naturally.
The "Xhibit" programme and the Cass Art prize have also been instrumental in helping me to see work in a social context. The studio space on the MA course is small, and I work from my own studio, which is a room in our house. Above all the course has given me a chance to focus on problems in my own practice, through both essaying and practice, and has been a process of moving out of isolation.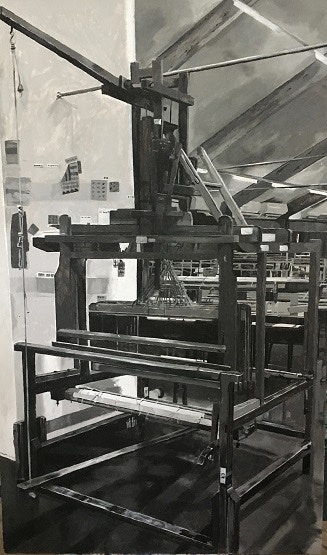 Loom 2
Your winning piece 'Loom 1' is a really sophisticated piece of monochrome painting. What was the concept behind the painting and why did you choose to paint it in black and white?
Monochrome is a way to increase focus and intensity. The world is full of imagery much more so than in say Medieval times. This is reflected in colour - an everyday experience like walking in the tube is a slew of stimulation. Part of the purpose of painting for me is to bracket off something different to this; somehow monochrome is a separate world. It has a resonance with childhood, not in a nostalgic way but as something atemporal.
Monochromatic work is also an expression of something serious, something that has a root beyond the apparent; in a different way it's like a dream world. On another level I love the multiplicity of grey paint, without colour the physicality of paints is emphasised, the tactile qualities and smell.
The loom is something fascinating for me. I remember seeing it late one evening when I had a job moving furniture at Central St Martins. The whole room was full of small fabric crafting machines, as well as this central piece, but it was empty and quiet. It made me think of all the students who had been there, their lives and the faith they kept with their practice. Most of all in the physical presence that evening was something silent and beautiful, stunning, containing the possibility of desolation. I'm aware that the fabric I am painting on was woven on a loom; so it's like something looking at itself.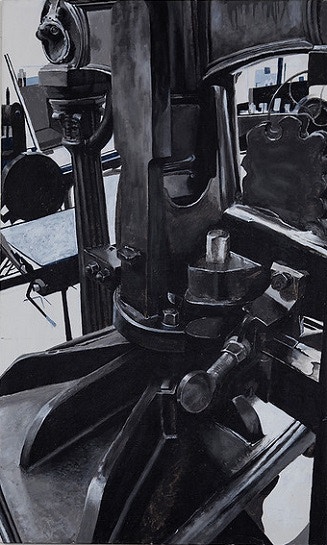 Printing Press 2
Can you tell us about your other paintings?
Both in abstract and figurative work what I am after is the tension and energy in the structure of physical reality. For many years I painted very detailed highly colourful canvases worked in layers that remained in the final product like the artefacts of archaeology. Now I am more interested in monochromatic realism. If I had to sum it up I would say it is a microscope.
When I was a boy I worked in oils, and the smell of linseed oil is at the heart of all that I love about art. Now I work exclusively in acrylic. I like the way it dries so quickly. But the Cass Art Bursary has made me interested in trying the oil based medium again. I'm a painter, although I have made some sculpture and monochromatic intaglio prints.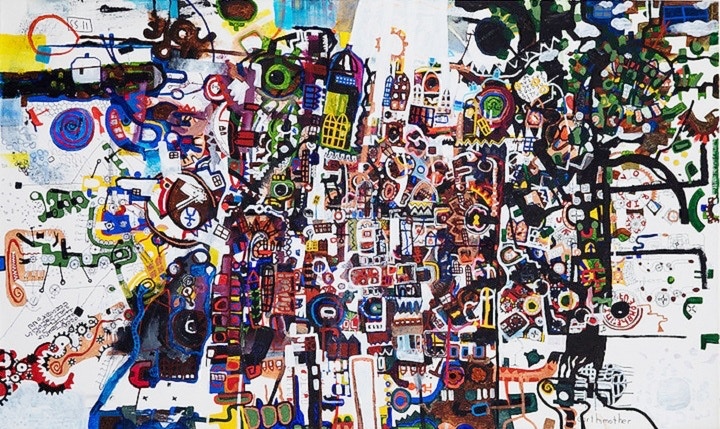 Untitled 27
Which artists do you look to for inspiration?
In the visual arts I would have to say Francis Bacon is number one. His work can lessen the loneliness of contemporary alienation. He was a great draughtsman of the human form and the portrait, yet managed a vibrant materiality in a unique way. Bacon's two sets of interviews, by Archimbaud and Sylvester are sources of insight and support.
I love the monochromatic paintings of Franz Kline. His handling of paint is magnificent and I share his passion for the inexhaustible subtleties between black and white. His major idea of the magnified brushstroke never stales.
I am a big fan of Henry Moore - and like to revisit his work in the Tate; the way that landscape and the elemental emerge from the subject. Barbara Hepworth's writings have been an influence, and the way she anchored something about her work in the northern landscapes of her childhood. Her writings are amongst the best I have come across from a practicing artist.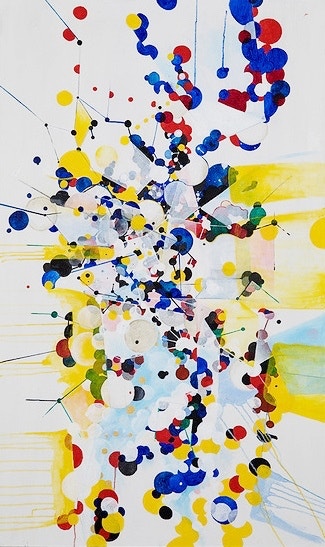 Untitled 23
I like reading journals - for instance Derek Jarman's diaries, in two volumes, with many wonderful descriptions of the landscape of Dungeness and his garden at Prospect Cottage - he sees and writes in a very painterly way.
I have a great love of poetry, of all periods, but I mainly collect from the seventies to now; I have many thousand books which in a small terraced house is a problem, but one I'm glad I have. Over the years it has helped sustain my vision of art as an essential human vocation.
I like jazz, the mid-sixties mixtures of modal, avant-garde and bebop from artists such as Miles Davis, Woody Shaw, Andrew Hill. My freer painting has an affinity with musical improvisation in jazz; the way an unpredictable shift in harmony frees the mind to experience something unexpected. Even in my more controlled monochromatic work the outcomes I value are unexpected in a similar way.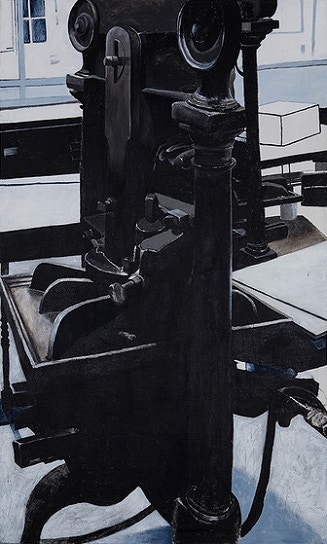 Printing Press 1
What are your favourite paints and brushes to use?
I work exclusively in acrylic paint, and have a substantial collection of artist quality tubes in a large compartmentalised suitcase. I like to add to it the way any collector is interested in a new acquisition. When working in monochrome I lay out shades of readymade grey is a specific order - organisation in the studio is important for me although it quickly becomes chaotic.
Out of all the brands I prefer Golden paints, which have the sort of body I am looking for. They have a wonderful range of greys from 2 to 8, each having its own chromatic characteristic. I buy raw fabric to paint on, and stretch and prime it. The painting begins at the first coat of primer, I love the feel of the whiteness sinking into the weave. I am a committed vegan and avoid materials or brushes containing animal products. Sometimes I use crushed charcoal embedded in glue.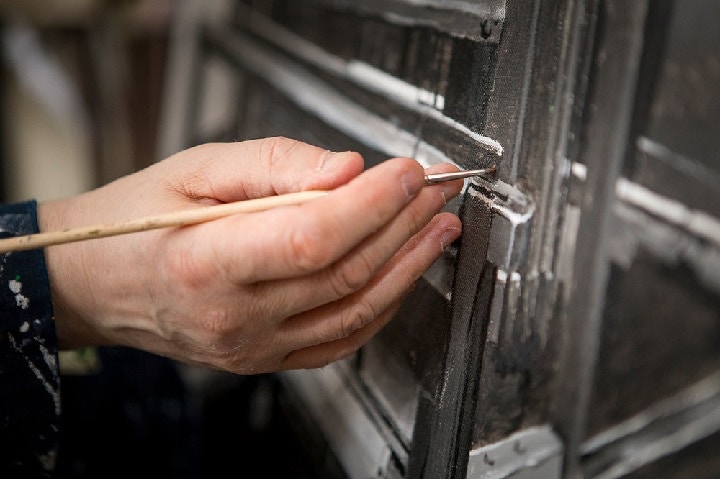 Working on Loom painting
I like the heaviest canvas I can get hold of, 14 or 16 oz. Currently I favour heavy fine-grain pressed linen. For many years I painted on flax, the roughest of all ground I could find. Now I am gravitating towards the super smooth and may even start to paint on board.
I always paint on the same size stretchers, 90 x 150 cm, usually in portrait orientation. I use small brushes; currently I use size 0 Russell and Chapple Series 21 synthetic bristle; or ProArte 31 Polar white Nylon (size 0). Large brushes I am less particular over. After washing them in brush soap I always reshape my fine brushes using Gum Arabic and dry horizontally. I am always searching for the perfect small brush, which should be stiff enough, able to hold paint and not lose its shape.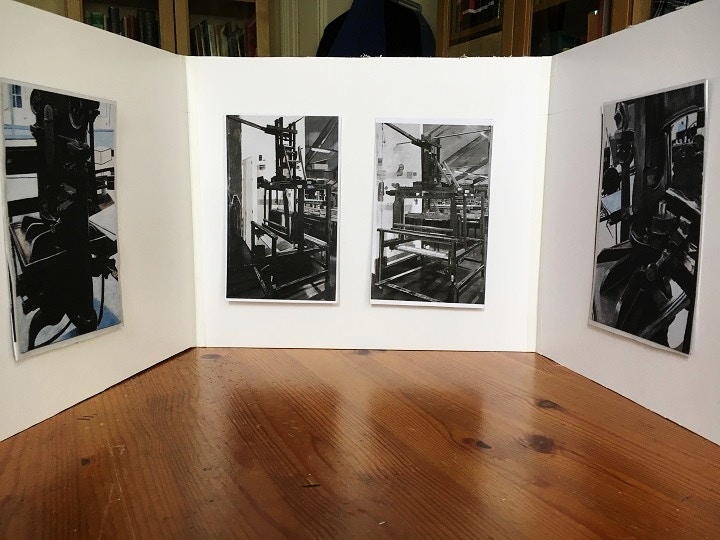 Degree show scale model
What's next for you?
My degree show is 23rd to 27th May, K Space, Central Saint Martins' Kings Cross Site.
I'm not sure what will come after that. However I am committed to painting, and will continue to work in my studio, day in day out, because I am engaged with the practice and tradition. Leaving college will be a challenge; not having a ready-made and reliable forum to share what I have made. However the essential forum of creativity between me and the linen remains unchanged whatever.
The Cass Art Bursary means I can buy a large studio easel and increase my canvas size. I will probably also use it to buy a selection of high quality oil paints, and continue my monochromatic work on a much larger surface using oils.
In terms of practicalities I see myself applying for residencies and competitions, to give structure. I am looking for a gallery to represent my work. Ultimately my practice is simply to keep going. In a way it is a professional commitment and my time at CSM has helped to solidify it; in another sense it has a root in something older than that, both personally and in terms of natural processes. I know I will continue to paint for as many hours as possible, come what may.
Feeling inspired?
Visit the Central Saint Martins Degree Show One from 23rd to 27th May at K Space, central Saint Martins. Find out more on the website
here
.
Image credits: Chris Makin ©