Posted by Cass Art on 3rd Jun 2018
Pippa was born in Portsmouth, England in 1954, and studied Fine Art Painting at Camberwell College of Art, London and West Dean College. Frequently exhibiting in the UK and New Zealand, last year Blake showed work in Paris at the Galerie du Jour Agnes B and in '20 Painters' The Phoenix Gallery, Brighton. She currently lives and works on Chichester Harbour.
Tell us about the inspiration for your current show 'Someone Who'll Watch Over Me'.
'Someone Who'll Watch Over Me' is a play by Irish playwright Frank McGuinness based on the experiences of those taken hostage in the Lebanon in the 1980's. It explores the bonds forged through shared adversity by three prisoners and how they deal with captivity and their captors. The play was performed in 2015 at Chichester Festival Theatre; a powerful testimony to the resilience of the human spirit, the play was directed by Michael Attenborough CBE with the cast of David Haig, Rory Keenan and Adam Rayner and set design by Rob Jones.
How did you come to be artist in residence at Chichester Festival Theatre and how has theatre and performance informed your painting?
This was the second residency I had done at CFT, specifically in the smaller theatre the Minerva, having worked in 2014 on the play Pitcairn by Richard Bean, directed by Max Stafford-Clark. The idea of being an artist in residence at a theatre came to me a few years ago whilst watching 'Scenes from an Execution' by Howard Barker at the National Theatre. That play made a huge impression on me (it was about a 16th Century female war artist) and I felt a strong urge to convey in paint on canvas my own experience of a three dimensional performance. I wanted to explore the visuals, atmosphere and psychology of a theatre production. To carry my idea forward I had discussions with CFT, my local theatre, and was subsequently invited to be an artist in residence on a production. Sitting in rehearsals for 'Someone Who'll Watch Over Me' whilst drawing, listening and observing gave me a rare chance to capture what it might mean to be in captivity. I was able to be one of the team, albeit as a silent observer, and witness not only the raw emotions and relationships that developed between the characters in the play but also to watch the input from the director, cast and crew as the production gradually developed. I loved the experience as it encompassed both my love for theatre and literature and in being a painter.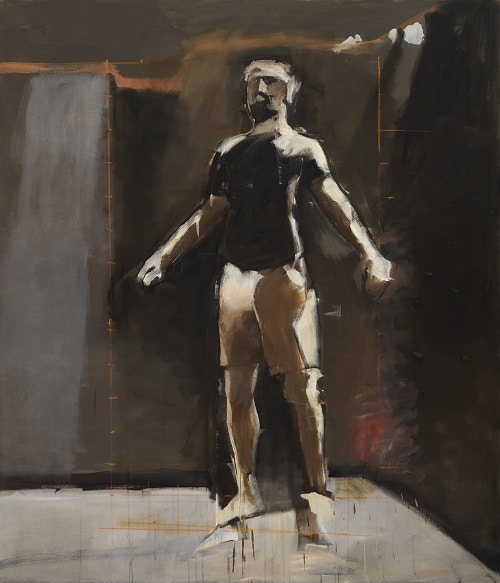 Is your work always politically charged?
I grew up in a creative atmosphere and painting and drawing were always part of my life and from a verdant art room at school I went straight to Camberwell Art School. From being immersed in the landscape and still life beforehand at Camberwell I rapidly became influenced by the Abstract Expressionists, and began making six foot square paintings from personal experience and pure physical mark making. After years of filtering in and out between figuration and abstraction - mostly inspired by landscape I decided I wanted to say more about the human condition, and began to feel more and more moved by what was going on in the Middle East. I had always been intrigued and affected by war and conflict from time at school studying the First World War poets - the poem 'Strange Meeting' by Wilfred Owen had a profound effect on me. The work is not intentionally politically charged but has certainly been influenced by the tragedy and futility of conflict in the last six years.
Whilst the political subject matter may not be immediately obvious, there is a sense of oppression in the dark, theatrical tones. Can you talk a bit about the narrative in your work and how you convey this in its most simple form?
I like to pare matters down to an essence be it feelings or atmosphere and so I eliminate detail which is something I have done from an early age. I was taught to look and observe through half-closed eyes. Three years ago I made work from images of bombed street scenes in Syria, Libya and the Gaza strip - I am certainly drawn to dark spaces but always with a glimmer of light in them. It's hard to explain why murky and moody spaces resonate with me but they do. I love wasteland or industrial spaces at night and moving away from the theatre am beginning new paintings about night time landings and departures from airports.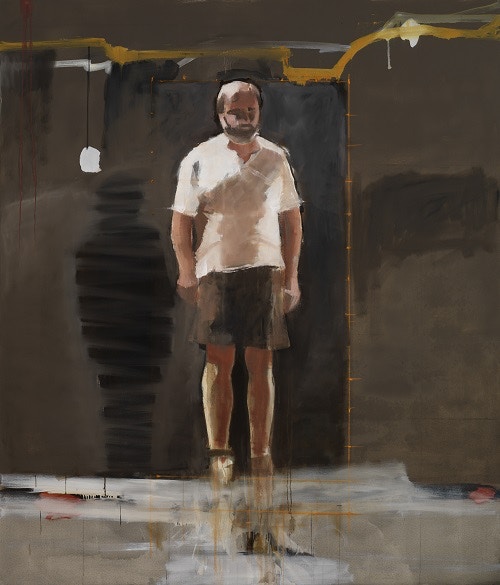 Your work is very expressive and has a great energy with an immediate, painterly finish. Can you tell us about your process and source material?
For me the physicality of mark making is an important part of making a painting. I love the physicality of the actual paint and what can happen to paint on the surface or canvas support. I am quite an ordered person in the studio but relish the chance element of what happens when the paint is put on - and then acting on that - so that becomes integral in the process. Head, heart and hand is the way I describe how I work. I love to work large scale so that gestural energy can be released. It has been challenging working with figures during the theatre residencies as I initially found this inhibiting and constricting but it seems to work better large scale than small. During the theatre residencies I spent time making small drawings during rehearsals with a soft pencil on paper and also took hundreds of photos with my phone. It was ultimately from the photos that I made the work but the drawings and listening had underpinned my information and understanding of the play.
Which materials do you prefer to use?
I only use oil paint and favour
Michael Harding
,
Old Holland
and
Winsor and Newton.
I use Liquin as with several works on the go at one time I like the surface to dry quickly so I can keep working. I use
Zest-It
to work with, although I love the smell of real Turpentine I am anxious about its effect on health and the environment and hope that Zest-It is slightly better. Until recently I have always made my own canvases but now get them made by a friend to my own specific measurements.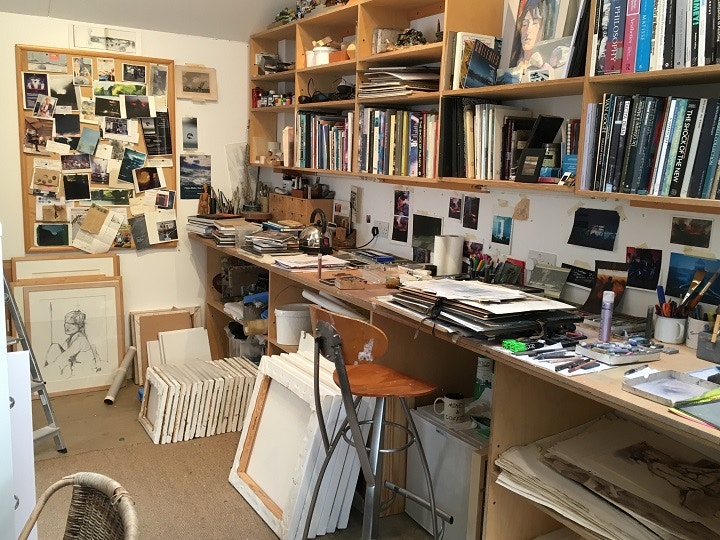 Tell us which other artists you admire.
Giovanni Bellini, Georges de la Tour, Titian, Casper David Frierich, Goya, Anslem Kiefer, Richard Diebenkorn, Gerhard Richter, Poussin, Matisse, Corot, Cai Guo-Qiang, Tacita Dean, Cornelia Parker, Peter Doig, Elizabeth Magill and my friend Tim Kent amongst many others.
IMAGE CREDITS: All images © Pippa Blake