Posted by Cass Art on 30th Jul 2020
"Since painting was pronounced dead in the 1980s, a new generation of artists has been revitalising the expressive potential of figuration. Charging their vibrant canvases with a social and political undertow, they echo the words of Philip Guston: 'I got sick and tired of all that Purity. I wanted to tell stories'." - Whitechapel Gallery
Radical Figures: Painting in the New Millennium the latest exhibition from The Whitechapel Gallery has now reopened! The show is extended to the 30th of August, where you can see the latest in figrative artworks from artists such as Daniel Richter, Michael Armitage and Nicole Eisenman.
We caught up with one of the exhibiting artists Ryan Mosley to talk about what a radical figure means to him, the materials he uses and the works from the show that he loves: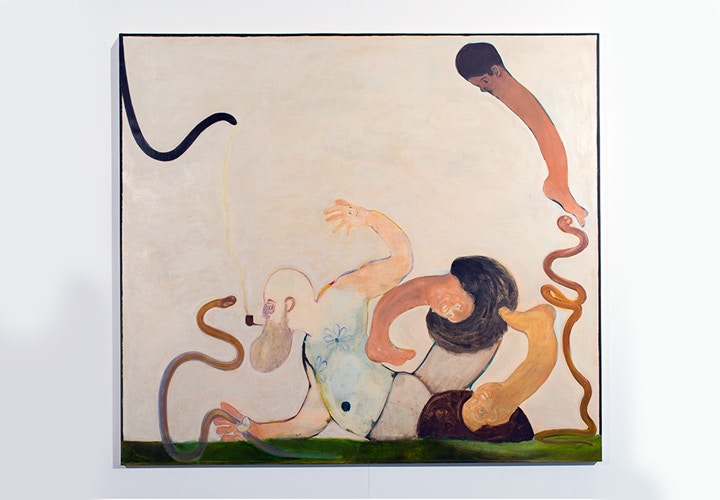 Ryan Mosley, Teaching Snakes to be Snakes
Hi Ryan, thanks for taking the time to chat! Firstly, could you tell us a bit about your journey as an artist and your creative practice?
Hi!
I left school at 16 with 1 GCSE which was in art. This either enforced a creative route was something I had to take or the possibility that I needed to cling onto this with dear life. In many ways academic failings as a teenager meant I had few choices 1 of the choices was going to the local art college Chesterfield College and taking up an NVQ and a BTEC in art and design. I did 3 years in total at Chesterfield College studying the equivalent of A levels then a foundation year, 1997-2000 all this study in art and design but with a strong leaning towards painting and sculpture before going onto an undergraduate degree in Fine art. I went onto study drawing and painting at the University of Huddersfield 2000-2003. I then took a year out and moved to Sheffield and had a studio at S1 art space before moving to London for 10 years 2004-2014. I studied at the RCA 2005-2007 in the painting school. After graduating from the RCA I built a home studio in the garden and painted every day. After a few group shows in London I had my first solo exhibition in Vienna in 2008. Since then I have been fortunate enough to paint every day.
You've often discussed storytelling in relation to your paintings – can you expand on this for us?
I have always been interested in stories from an early age. I see the same fascination with my own children and stories, I think humans are naturally wired to want to listen to stories and to expand upon them. I always made drawings of characters as a child, mostly theses evolved from comic strips characters, or characters from books, cartoons. There was something fascinating about the framing device of a comic and the tactility of the newsprint paper it was printed on.
Ryan Mosley, The Kings Lean
And with that notion of the story, your picture making has almost a folktale quality to it. Would you say that your paintings allow you to act as a contemporary troubadour?
Some of the characters who reappear in the work have been borrowed from folklore, art history, and have gone through this filter of modernity but they all have a starting point whether it's a Don Quixote, or Odysseus or Bottom, they all have some character trait which could be read in a contemporary setting. I find fascinating is the well-trodden path of the visual arts and its relation to folklore, language, storytelling, myth...
If I were to delve in your studio what materials am I always likely to find? And do you have any particular brands you love to return to?
I use a lot of oil paint which more often end up on rags in the bin, rags, I love Michael Harding, Old Holland, Williamsburg, Sax paint as well as sometimes the brands I first started out with the Georgian paint or even Stokes oil paint which are/ were a Sheffield based small manufacturer of oil paint. For drawing I use willow Charcoal, for smaller works on paper I use ink, and Lascaux gouache
Ryan Mosley, Words for the Evening
In the past you've worked without any preparatory sketching, finding your image on the surface of the canvas in real time, and then you went back to careful drawing. Where are you now, and how do you approach your painting process today?
I go between different processes, sometimes the drawing becomes way more interesting than the painting and vice versa. I'm currently working on some wall hangings which need the predatory blue print for them to exist so these have be born from drawings. The paintings I'm working on have no drawing or blueprint, they are just made directly onto the canvas almost the paint brush becoming a pencil.
Currently you're part of Radical Figures: Painting in the New Millennium at Whitechapel Gallery. What does a Radical Figure mean to you as an artist?
I think radical figure could be applied to all forms of creativity. In the context of the exhibition I think all the artists have their own distinctive voice so maybe that is the radical aspect in world of major branding and modular design the unique quality of an individual is vital and could be radical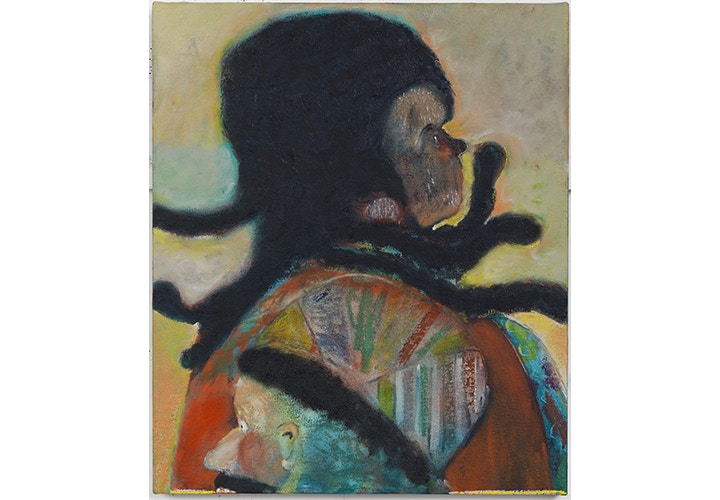 Ryan Mosley, Wearing Another's Head on Your Jacket
And why do you think figurative painting remains such an important subject of exploration today?
I think it has always been around i think in recent years people have been seeing more figurative painting at galleries and museums which were once the places where no or little figurative painting existed. I also think a younger generation are coming through art schools and they are reacting to technology we all have in abundance in our smart phones. Maybe painting is a way of slowing down and thinking about life.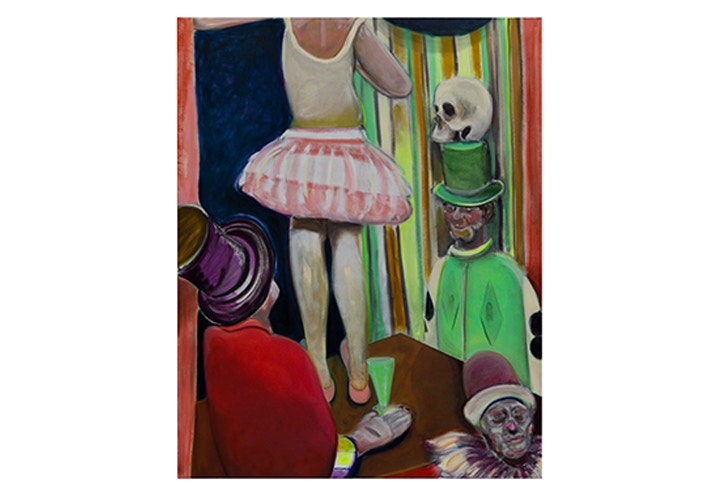 Ryan Mosley, Verses in Time
You're exhibiting alongside many other fantastic examples of contemporary figurative depictions. If you had to pick out a couple of highlights which works would they be and why?
Dana Schutz, Cecily Brown, These two power houses of painting have been blazing paths for a long time, so much respect for the language and seductiveness of paint which they manage to make look effortless
I have known Michael Armitage for a long time and it's been a wonderful thing to be in the same exhibition as him and to see how his language has become so recognisably Armitage. He's a great painter and a lovely person.
Nicole Eienmans work is amazing the depiction of figures and the wide visual language used to describe the narratives which has a darkness which I admire greatly.
Daniel Richter has been a benchmark for figurative painting for a long time it's a real privilege to be included in the same exhibition as Daniel.
It's hard to pick a couple of highlights, though showing alongside Christina, Tschabalala, Sanya and Tala as well as the previously mentioned artists is a real privilege and honour.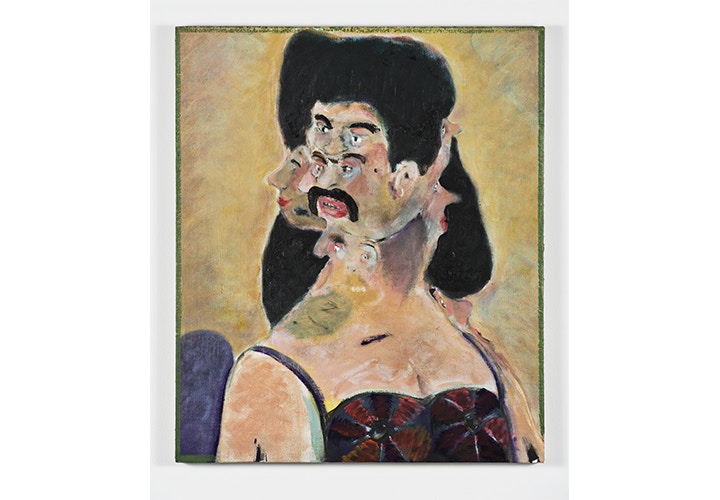 Ryan Mosley, Dutchess of Oils
And finally! What's coming up next?
I'm in the process of finishing some new paintings and wall hangings for Frieze NY, I've recently finished a public commission which will open in the fall of 2020.
Most exciting of all though is the arrival of our baby in June. I plan to get some sleep in before life changes yet again.
---
Feeling Inspired?
You can see Ryan's work in Radical Figures: Painting in the New Millennium extended until August 30th - find out more about the show
Pop in-store or shop online for everything you'll need. Our staff artists will be more than happy to give you advice on materials. Don't forget to hashtag #cassart on social media to show us your creations.