Posted by Cass Art on 20th Aug 2020
Artist Samantha Ellis has a unique and recognisable style, with a loose, dynamic and intricate aesthetic. Her use of vibrant colours combines with integrating a cooler palette to detach the viewer from her acrylic paintings. Interested in art from a young age Samantha dedicated her time to teaching herself to paint. Once a hobby, now a full time occupation she currently lives and works from her home studio in Cambridgeshire. We were delighted to speak to Samantha about her inspiration, social medias influence on her career and her unique painting style.
Hi Samantha, thanks so much for taking some out to chat to us. Firstly, what inspired you to become an artist?
Thanks very much for thinking of me and my work for your interview! It may sound a bit cliché, but I have always wanted to be an artist from as young as I can remember! I always loved art at school, experimenting with different medias and styles was all I seemed to do when I had free time, but I suppose as I grew older, what I though was the realistic side of me suddenly kicked in and I thought I'd never be able to make a living out of art. I continued experimenting and having fun, all the time I never actually believed I would become a full time artist, but here I am, so… It has literally been a dream come true for me!
I read that after completing an art foundation course, you decided to go it alone and teach herself to paint. How did you find this?
After my A levels, I went on to do an Art Foundation course to prepare me for University. It was certainly not what I expected and I really didn't get on with it at all. I loved my GCSE and A Level art courses, but this was different. I felt it seemed to constrict my creativity and as a result, I made the decision that I would no longer pursue a Fine Art University degree and instead chose to 'go it alone'! By this time, I had started creating a style that I really felt was 'me' and so decided to just focus on practising and perfecting that. Shortly after coming out of that oppressive college course, I was picked up by my publishers DeMontfort Fine Art and that jump enabled me to make painting my full time career. I'm very grateful to them as they've worked with me to put me in the position I'm in now, earning a living doing something I love.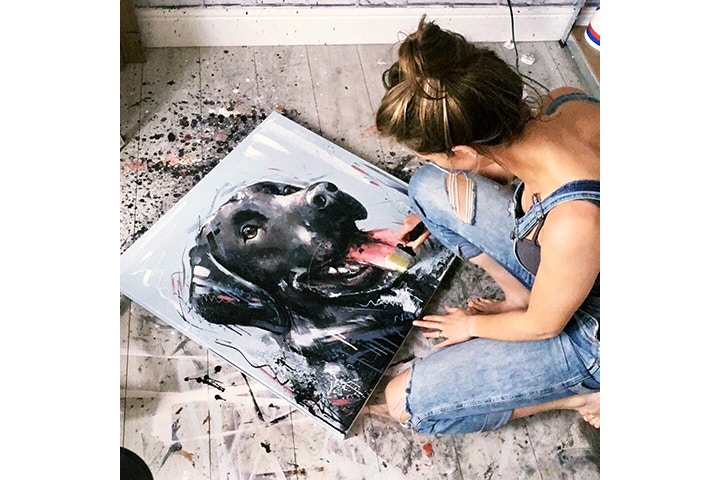 You've got such a loose, dynamic and recognisable style, which really perfectly applicable for the subject matter in your work, could you describe how you approach a piece and also how you choose these subjects to depict?
I always start with an idea of an image in my mind and then go straight in to drawing it out on to the canvas. I don't tend to sketch out my pieces on paper first, I like to dive straight in! I feel this gives my work the energy I want to portray and I'm lucky that with my "free flowing" style, mistakes can be easily corrected. I initially draw the image out in its entirety and then go in with the background colours. Once they're dry I focus on the subject in the foreground. Then, after all the painting parts are finished, it's time for the fun bits! I pipe black and white paint over the top of my paintings and then add splats and drips of paint to bring the piece all together. That's my signature look I suppose, and without all those scribbles and dribbles it just wouldn't be mine! Sometimes it's hard not to get carried away!
What role has social media's influence had on your career?
Most of my work is seen by people via galleries across the UK, but I also find it helpful using social media to reach out to people who may not necessarily visit galleries. I find it a useful platform to promote my latest work and let people know some of the things I've been working on. It's also a great tool for people to get in contact and share the images of my work that they have purchased from the galleries. It's lovely to be able to have a bit of personal connection with buyers, fans and other people in the art world. Some of the best messages I receive via social media are photos and kind words of people receiving commissions that I have created for them. I really do love people getting in contact and receiving their lovely messages really makes me feel like I have the best job in the world.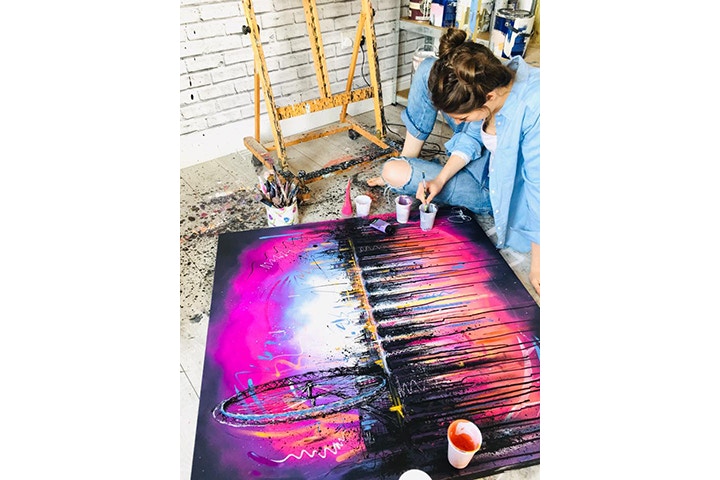 If we were to take a wander into your studio what materials would we find and why are they important to your practice?
You would find a LOT of paint splatted walls and floors that's for sure! My wooden easel is so important to me, it's covered in layers and layers of paint now, but without my trusty easel, I would have a hard job painting! I also have an old, crooked, wooden painting table that my husband made for me out of old wooden palettes years and years ago. This is my favourite thing in my whole studio and means so much to me, I use it every day to hold my paints and palettes for the days work.
I keep all the canvases I'm planning to work on soon stored in my studio too, I use Winsor and Newton deep edge canvases. I love the texture of them, they really are some of the best canvases for me personally, I find the paints are easily blended on them and they are great quality. I also have boxes and boxes of paints! I use acrylic paints and particularly like Winsor & Newton Galleria and Daler Rowney System 3. I always get a little over-excited when I visit an art shop like Cass Art, I'm like a child in a sweet shop and end up coming out with far too many paints and other goodies to fill up my studio….but everything gets put to good use!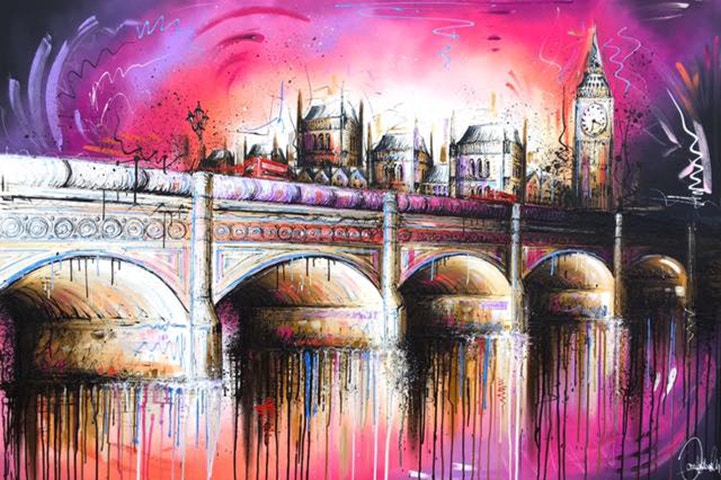 What is it about acrylic painting that you're drawn to?
I've always got on really well with acrylics. I love their vibrancy, their fast drying time (which enables me to layer up quicker…I'm not very patient!) and their buildable texture.
We've been asking most artists this over the last 5 months or so, and the answers certainly vary! How have did you find lockdown affected your practice?
I actually really enjoyed the lockdown period to be honest….It didn't differ much from the norm anyway as I work from home and so does my husband. The main difference was having our crazy 3 year old daughter around the house all the time which was certainly challenging when I wanted to paint! But we made it work and actually I loved the slowed pace of life. I had a lot of commissions to work on throughout the lockdown period so they kept me busy….The only real difference was I really missed the pubs and restaurants not being open!
Thanks so much for taking the time to speak to us today Samantha, much appreaciated. One final thing to ask, in today's day and age where we're inundated with distractions it's maybe harder than ever to switch off and focus solely on your creative production. Would you have any advice for someone who is struggling to find that creative flow?
Some days painting just comes easier than others. Some days I will stand in complete silence and just listen to my thoughts and let my mind wonder, and other times I need something to distract me and give me that push to get into the creative flow. I find listening to music or the radio really helps me get into a painting, just listening to people muttering away for a while helps me switch off, and before you know it you've been at the easel for a few hours and are making some real progress….I think art is such an important thing for people to try and practice no matter how good or bad you may think you are… It's a fantastic way to switch off and let your creativity, energy and emotions run free, with all the modern day stresses we have to deal with, art is something that can just help you relax and find some tranquillity of your own. I would urge anyone to try and make more time for art (whatever genre it may be), from cave drawings to the Sistine Chapel, art's always been a part of us, like all the other arts, it's what makes us human.
Follow Samanthas wonderful work and artistic journey through her Instagram here.
---
Shop online for everything you'll need. Don't forget to hashtag #cassart on social media to show us your creations.