Posted by Cass Art on 16th Jul 2019
We caught up with artist Sarah Coey, who takes advantage of the immense range of bright tones in acrylic to create her wonderful abstract paintings. Inspired by everything from the oceans to mermaids we found out about her journey as an artist, why she loves the materials she uses and what she has planned for the future:
Thanks so much for taking the time to talk! Could you tell us about your journey as an artist?
I have always been an artist but I really found my creative groove when I was pregnant with my wee boy. Suddenly I had so many new ideas - inspiration and new paintings were literally coming at me so fast I didn't have time to paint them all! I have never been so inspired and I just ran with it. I painted every day and developed my quirky and unique style along the way. I had always wanted to find a way to express myself with paint and loved that finally I felt my ideas and style had come together.
I continued to paint after my wee boy was born (a truly hard task when you are running on very little sleep!) and made the decision to go full time with my art rather than return to work after my maternity leave needed. This was a huge leap of faith and trust in my art but I have loved every second and have never looked back.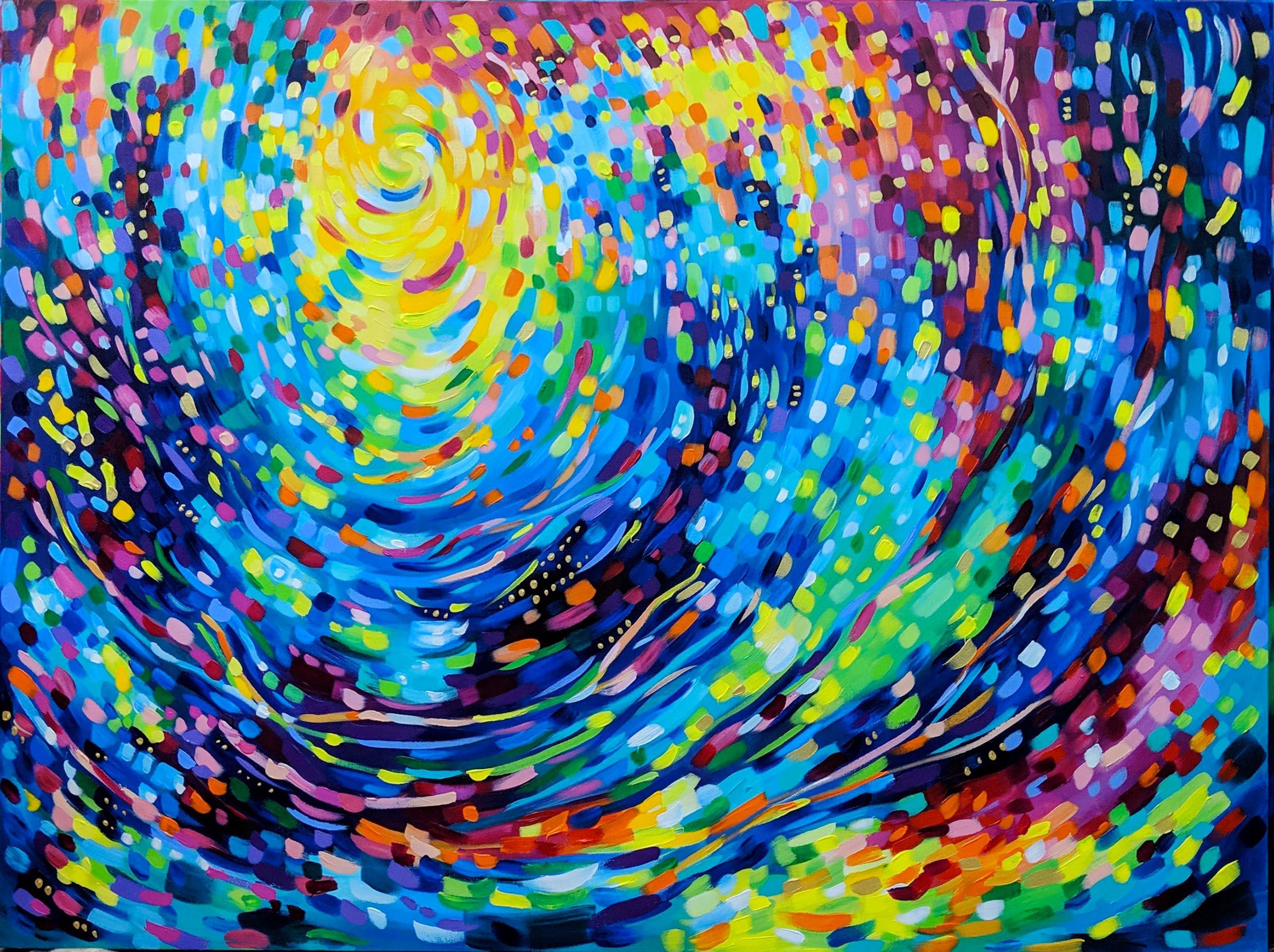 Sarah Coey, Part of Your World
We understand that you use quite a lot of Golden Acrylic in your work – what is it you can achieve with Golden that's important to your practice?
Golden paints are fab! The opacity is incredible and the colour range is amazing! As a self confessed rainbow lover, I like to custom mix my own concoctions for favourite paint combos and that is amazing fun!
What are your favourite Golden Acrylic colours and why?
PTHALO BLUE
It's my ultimate dream colour! It's got so many tone variations and I never get bored of it.
LIGHT MAGENTA
It's basically the Barbie Pink that dreams are made of!
IRIDESCENT GOLD
It makes me think of pirate treasure!
FIND SARAH'S FAVOURITE COLOURS HERE
And what other materials do you enjoy using?
Recently I have started using Winsor and Newton professional acrylic and they are like butter but with colour added! Amazing to paint with and the weight of them is lovely. I am also a big fan of Liquitex Acrylics! I also just started exploring oil paints again for the first time since art school and am in love! There is something so breathtaking about oil and it works in such a different way to acrylic. I am really enjoying relearning the medium and using oils again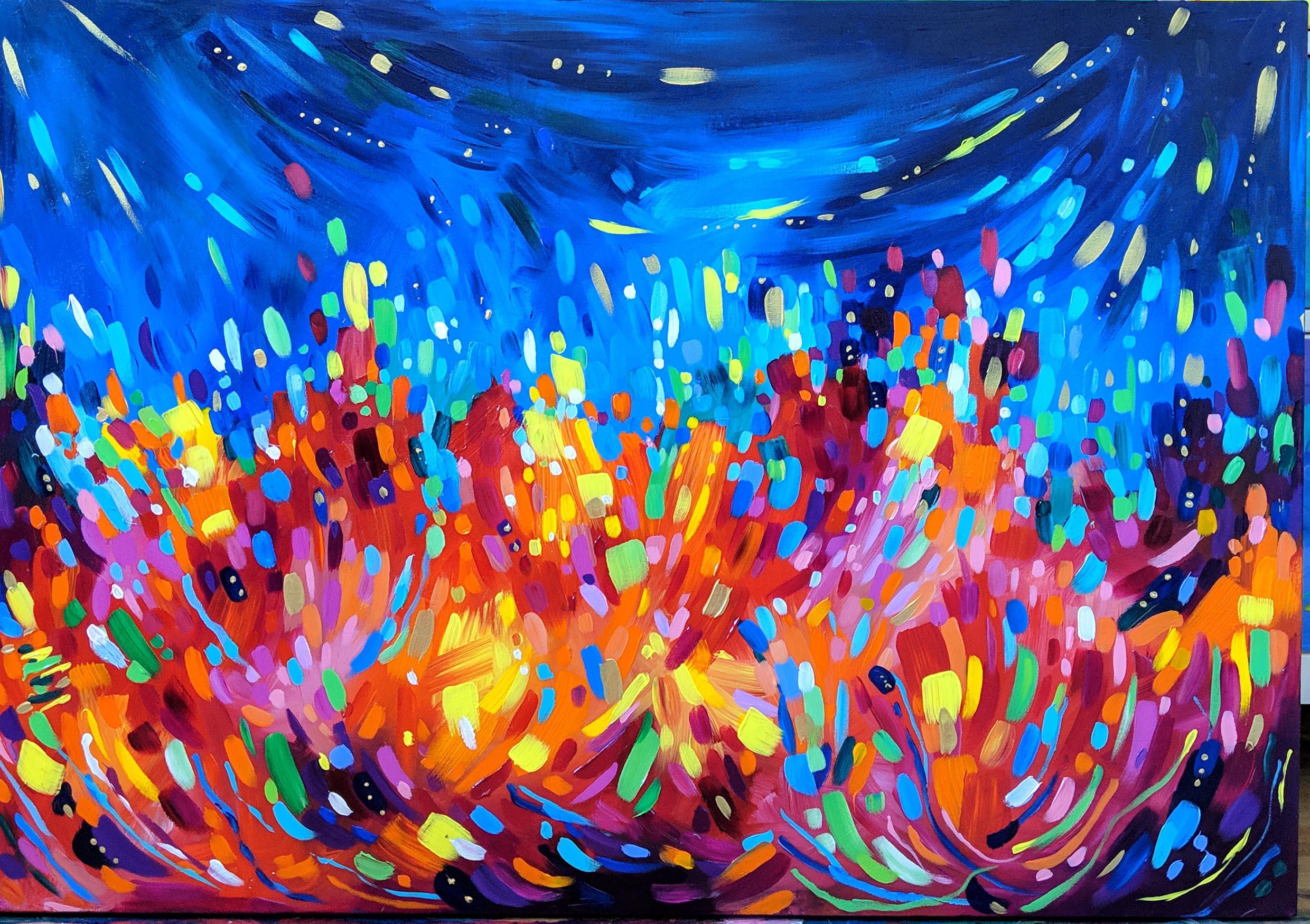 Sarah Coey, Fadø
Colour plays such a role within your work, indeed you describe yourself as the rainbow artist! We're in the business of colour at Cass Art so we understand the appeal! What is it about such a bright palette that you enjoy working with?
I absolutely adore colour! I am a bright and cheerful person so the idea of working with a drab palette brings me no joy or inspiration. I always have found it strange that traditionally really colourful works of art were deemed less superior than those with a refined palette. I say NO WAY!! I think colour can evoke so many wonderful feelings! It brings us back to a time when things were lighter and fun. Lets face it if we watch a cartoon we always feel lighter afterwards because the colours are so joyful and happy! This is what I love to bring forward in my art. I want people to view my work and feel inspired, to feel happy, to want to dance, and play and laugh.
I also am constantly exploring new colour combinations. I gravitate to different palettes depending on the seasons and the weather and seasons really influence my colour choices. Winter I use lots of deep, dark blues, purples and golds, but in Spring I am ready for yellows, pastels, and light aqua blues. I love seeing the evolution of my colour choices from one season to the next!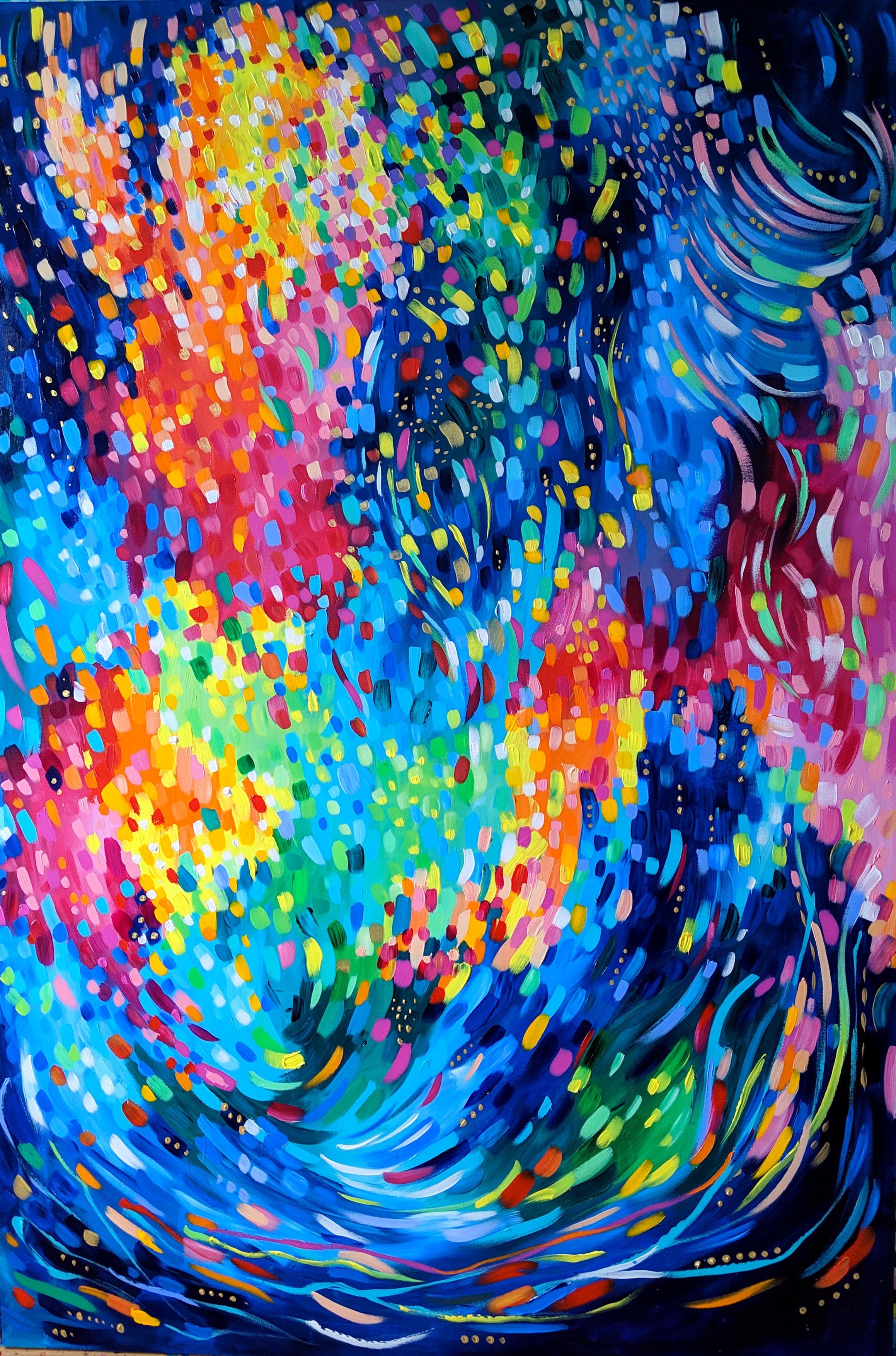 Apart from the role that colour plays, the physical remanence of the brushstroke seems integral to your paintings. Can you talk us through your use of brushwork and texture in your paintings?
Playfulness and spontaneity are incredibly important to me as I work. I don't like to overthink every little brushstroke - particularly as my work is so energetic and full of movement. If I worry about every brush stroke placement the piece loses its impact and its spark. I whack on my favourite songs, dance and let my art organically become what it was meant to. If I feel like trailing the brush across the canvas, I will. If I want to add little dots of details I will and I don't worry about if it's the "right" addition to the painting. Usually I will have spontaneously added something to my art - a swirl, a dot, a trailing whirl of detail - and the artwork instantly takes on the energy and vibe it was supposed to. I LOVE that moment when I have just added something completely random and I know that this marking is what will pull the piece together.
I also love seeing the markings go down onto the canvas! That delicious textured brush stroke is amazing to me. I love looking at other artists work and seeing the markings and I think the power and energy that comes from one brush stroke is mesmerising. I also love those marbled markings, where the paint hasn't mixed together properly and you get a blend of 6 different colours on one swoop! Absolutely magical! It's these little happy additions to my work which I think give it a sense of magic and wonder.
What advice do you have for aspiring artists?
Patience is key! It has taken me years to get to the stage where I can do this as a full time career and it is so tricky playing the waiting game, but work hard and keep going. Seriously, work your bum off! I had a full time job and did my art on the side for years as I built it up. It can be exhausting but if it's your dream then never stop chasing it.
And don't be afraid to ask for what you want. That company you'd love to Collab with? Email them! That customer who never replied to your last email? Follow up with them. That gallery you'd love to show in? Approach them with your ideas.
You may get a rejection, but what if they say yes?! Go for it - you never know if you never ask!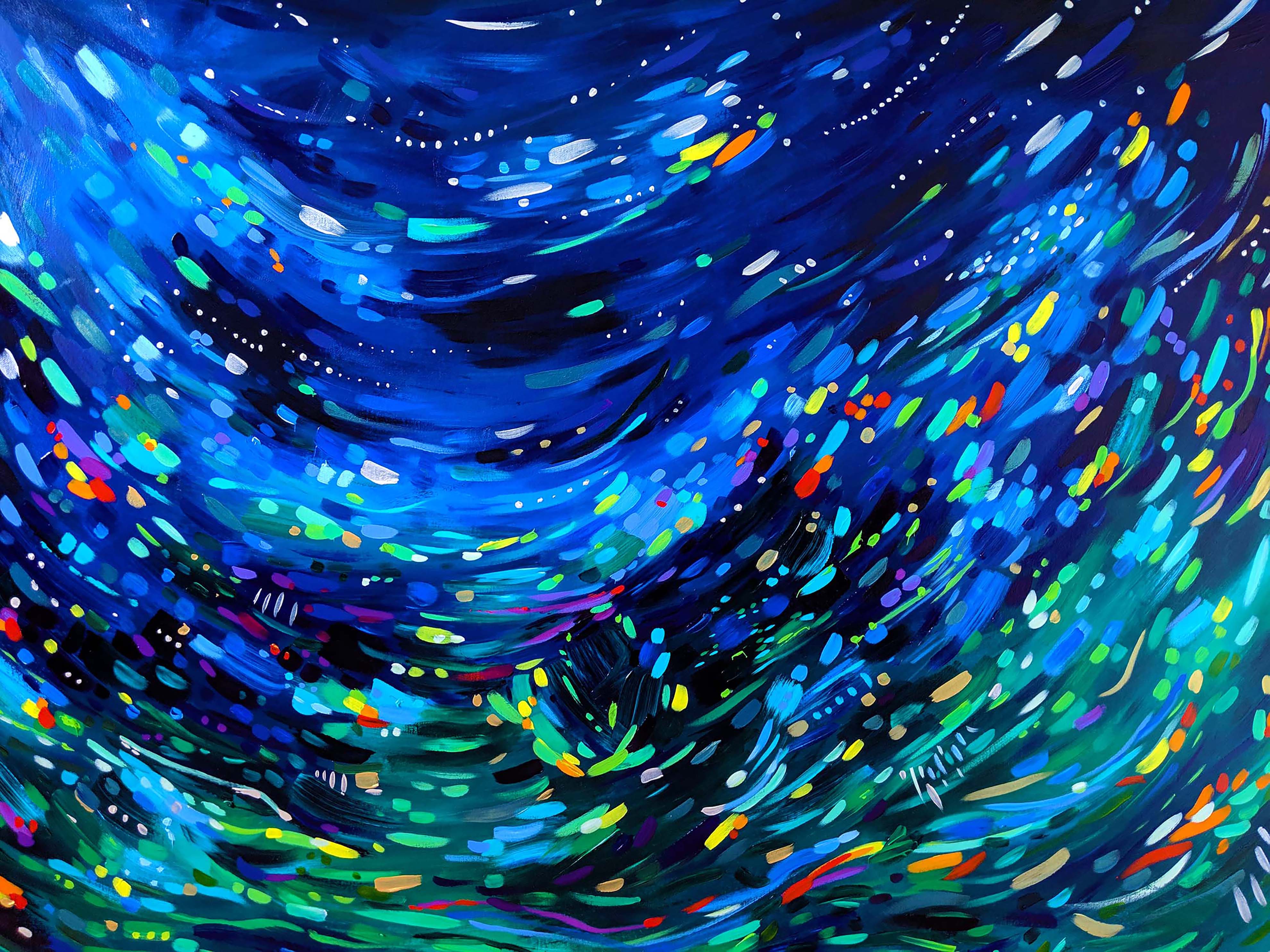 Sarah Coey, Buachaille Etive Mor
Finally! What's next on the horizon?
I have some new products coming out in 2020 - some LUSH new diaries and calendars which I have been working on and cannot wait to show you! I also would love to showcase some new oil paintings and maybe another solo show and photo shoot for a magazine!! (fingers crossed!) I try not to plan too hard - sometimes the best opportunities that come along are the ones we don't plan on! I cannot wait to see what's coming next!
Thanks so much for taking the time to talk Sarah.