Posted by Cass Art on 6th Apr 2021
We caught up with Watercolour artist and calligrapher Jola Sopek. Her bright and bold illustrations celebrate everything from botanicals to vegetables! Read on to find out how she got started, why she loves Cass Art Watercolours and some top material tips.
Hi Jola! Thanks for taking the time to chat to us. Firstly, how did you get started on your creative journey?
Hello loves! My pleasure.
I started painting with watercolours and practicing calligraphy everyday whilst I was at university studying photography, about three years ago. I was realising that photography is not something I want to do for a living (even though I still adore it!) so I was looking for other creative outlets, and randomly stumbled upon watercolours. I was literally hooked from day one and basically just didn't stop practicing ever since!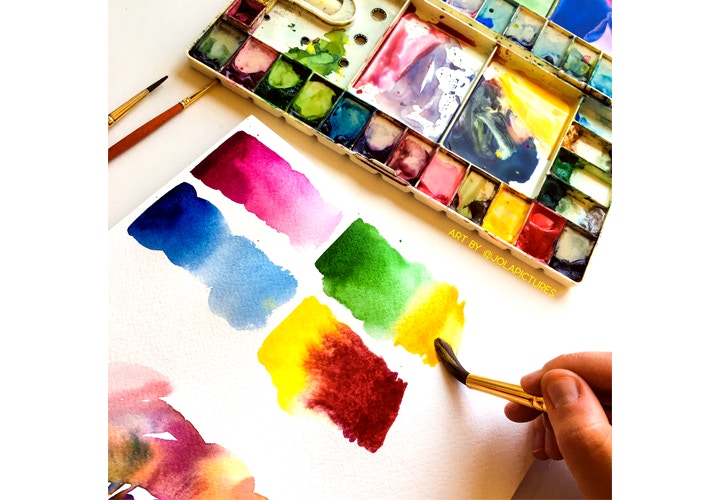 Your practice is focussed on your unique watercolour style and also calligraphy. What is it about watercolour you love as a medium?
Watercolour is full of life. It amazes me how versatile it is, and how we can build different moods depending on how much water we use to dilute the paint. It perfectly complements any mood you want to convey! It's also a challenging medium, and I like a bit of problem-solving. Oh and it's easy to travel around with your paints as the supplies are portable and not as intimidating as carrying a canvas for oils or acrylics with you!
---
Want to try watercolour on the go? Our Watercolour Travel Gift set has everything you need to get started. Professional Watercolour set from Cass Art contains 18 pans of artist grade watercolours in a handy case that is no bigger than a smart phone – ideal for when you are out and about.
---
If I had to use a single word when describing your paintings it would have to be COLOUR! Could you talk to us about your use of colour?
I love warm, vibrant colours! I always thrive in the shades of warm greens, yellows, raspberry-pinks… I think my favourite colours are ones which remind me of hot summer days. And spring in full bloom!
But in all honestly I don't overthink it, I just let myself experiment with mixing different shades and see what I can come up with in a certain theme. I am immensely inspired by ukiyo-e, the old art of Japanese woodblock prints, and their muted romantic colour schemes. This inspiration might not be coming out in my work as obviously, but deep down I know that I receive a lot of 'spirit' from those dreamy otherworldly images.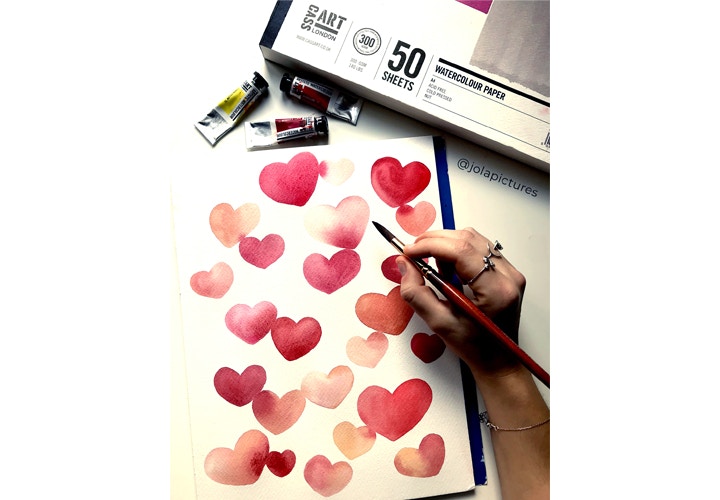 How do you approach a new painting, do you spend much time sketching before putting paint to paper?
It depends on the type of illustration I'm working on. If it's a commission or a detailed piece, I definitely make drafts and focus on building a specific composition. But if I'm just doodling a fruit & veg or a botanical pattern, I usually just go with the flow and don't worry about sketching too much – I want to feel the energy when I'm painting!
A quick tip with sketching on watercolour paper – make sure your pencil lines are very soft and light.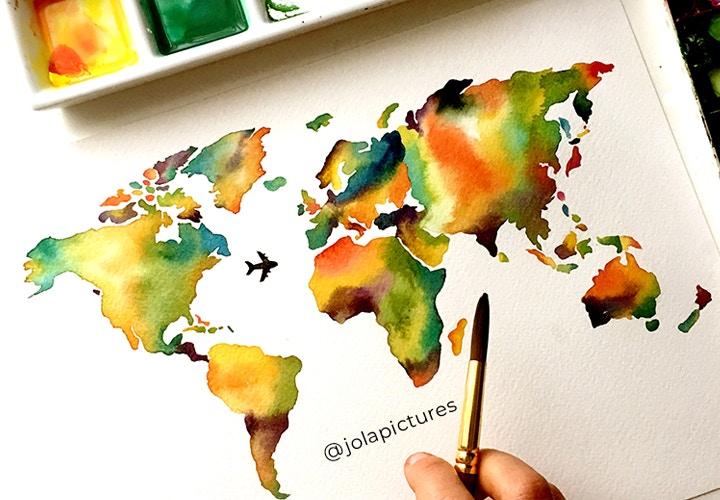 Fruits and vegetables seems to be a recurring theme in your work – what is it about food that lends itself so well to watercolour?
I am an extremely visual person and I love observing different textures and colour combinations around me – I guess that comes from my initial love for photography. Fruits and vegetables are endearing subjects in particular because they are so fresh and full of life, and I always seek out that kind of energy in my subjects. Plus, some fruits are connected to Biblical stories or Greek mythological tales, like apples and pomegranates for example – I find those multi-generational metaphors and symbols fascinating!
What is it you love about our Cass Art Artists' Watercolours?
I used Cass Art Artists' Watercolours when I ran my watercolour workshops at Cass Art in Brighton and London! I like that the tubed watercolours come in a neat tin which is a ready-made painting palette. The greens and yellows featured in the set are so vibrant too! I also love Payne's grey and it's not so common for watercolour sets to contain this particular colour.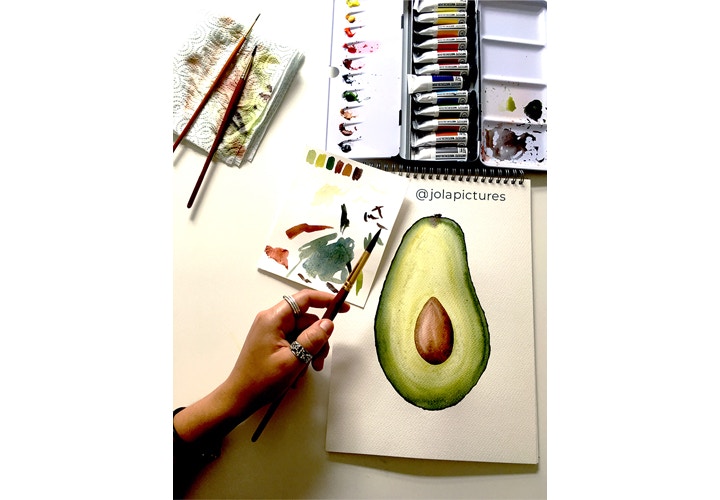 And what other brands to you enjoy using and why?
Over the years I've gathered paints from various brands, but I usually paint with White Nights Watercolours (by Nevskaya Palitra), they are so richly pigmented and contain some marvellous colours I have never encountered before! I also use Daniel Smith's watercolours and Winsor & Newton professional range among many others (I have a box full of random tubes of paint, a mix of all sorts of brands). Nowadays there a lot of amazing independent handmade watercolour makers so I try to support them as well!
What would be your top three tips to someone starting with watercolour for the first time?
Be patient with yourself and the medium! Watercolours are very rewarding but they definitely require some time investment. You need to let go of your expectations at first and slowly figure out your own understanding of how the paint reacts with water. It took me a long time to build my own 'relationship' with this medium and every single day I notice other watercolourists use the paint differently to me. Each day I feel like I learn something new about painting as well – it's truly an ever-evolving learning curve; that's why it's so exciting!
Otherwise, it's crucial to work with high-quality materials – watercolour paper, good paints and decent brushes.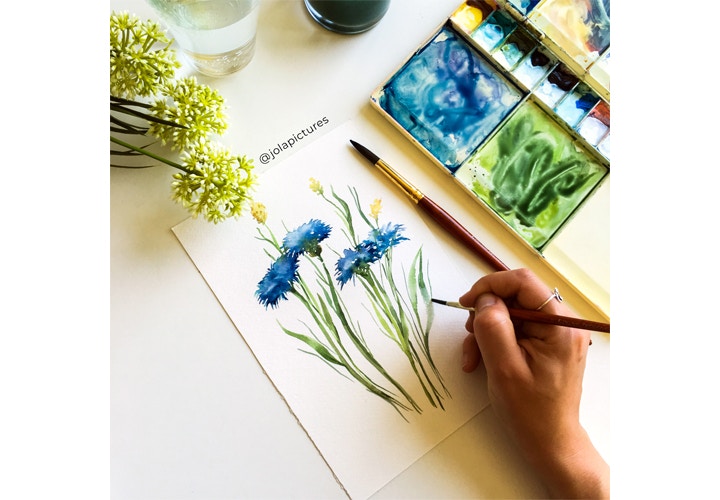 You're gaining quite a big following on social media. What role do you think social media plays for creatives such as yourself? Do you think the digital community acts in a similar way to a shared studio complex where artists can share thoughts and ideas?
I think mastering social media and being in tune with its ever changing dynamics is crucial for creatives at this time. For myself, Instagram has been a bedrock of my creative development since I've gained so much motivation and positive feedback from it. I'm now looking into expanding my reach to other platforms now as well, because I think it's important to spread our work as far and wide as possible and get rid of the idea of "shame" or feeling like we are boasting. Social media is a free self-promotion tool, so it's totally worth getting on board!
I have made many meaningful connections through Instagram and met some great friends in real life afterwards as well. However, there are still massive limitations to it of course, so I wouldn't say that it's enough to just exist online. I think face to face networking (when it is safe to do so) is as crucial as it's always been, now we just have the added layer of also being able to connect effectively online. But I'd encourage everyone to do both, as being personable and physically present at events / in a shared studio / workshops will provide you with a more genuine connection with people; i believe social media should be seen as a spark and encouragement to get out into the world, but if we only exist online, that's when the typical social media driven anxiety arises.
Thanks so much for taking the time to talk Jola! Final question, what's next on the horizon?
I am currently working on filming tutorials and courses on Skillshare and building a YouTube channel for watercolour and calligraphy tips & hacks! The long-term plan is to truly get into editorial/packaging/licensing illustration and focus on food and botanical illustration.
But most of all I try to focus on the present day and make sure I make progress and add some value to the world every day. That's my greatest motivation. If the mindset is right and we follow our bliss, the rest just falls into place beautifully.
---
Feeling Inspired?
Follow Jola on Instagram @jolapictures
Shop online for everything you'll need to get you started with your next project. Don't forget to hashtag #cassart on social media to show us your creations.