Posted by Cass Art on 15th Nov 2017
This week we journeyed to Paddy's Hole at the mouth of the River Tees for another windswept episode – so much so that the contestants sought shelter in the nearby boat house – a Sky Arts first! The weather aside, the landscape proposed its own set of challenges. Removed from the elements, 8 new contestants were tasked with capturing the industrial yet picturesque harbour of this post-industrial coastal town.
Impressing the judges with his bold experimentation, Benjamin Thomas was crowned this week's heat winner.
Growing up in West Wickham in Kent, Benji is in his fourth year at Loughborough University with the plan to study his Masters in the near future. Owing perhaps to an early interest in watercolours and a love of drawing, his practice combines the layering and removal of materials to reveal a breadth of different marks and textures, often left to the chance of chemical reactions.
Driven by curiosity, Benjamin's work explores how an image can transform from its source material through this process of revealing what's sitting just below the surface, waiting to be unlocked. His bleached colour palette creates an almost otherwordly atmosphere, which reveals the surreal moments with the real.
We caught up with Benji to find out more about the inventiveness of his mark making and his plans for the semi-final…
Hi Benjamin! Congratulations on winning Heat 5 of Sky Arts Landscape Artist of the Year 2017! How did you find the experience painting at Paddy's Hole?
Paddy's Hole was fantastic. It was so far out in the sticks that I was convinced that we were going the wrong way. When we got there, I knew immediately it was the kind of place I could make something good out of, and I was looking forward to it.
Being a student I think had its advantages; having that constant scrutiny is part and parcel of the course, so talking about my work wasn't so hard. However, it is a bit tricky to switch off the art-speak sometimes. Talking to Tai-Shan Schierenberg was a definite highlight; gaining insight into his process, how things have changed since he was in my position, and even getting his opinion on my own work was far beyond valuable.
In terms of the painting, obviously 4 hours is not a long time. It was a great challenge, and because my process is very chance based as it is, it forced me to surrender pretty much completely to the moment. It was hit and miss for most of it whether I'd come out on top but somehow I did! It was a fantastic boost to win the heats, and something that's great to have behind me for my final year of study. And, of course, it meant I could look forward to using the sci-fi gazebos in the semis.
You use a combination of ink and bleach in your work - quite an unusual and opposing pairing of materials. How have you come to develop this style?
The potential of ink and household bleach is something I've been aware of since school, but I have only started to revisit it very recently. It's a very unstable process, and driven heavily by instinct, which works perfectly with me. There needs to be a bit of push back from the material, a struggle that comes to fruition, for it to work. Pushing the material into new realms allows me to map out what it can do, and then I have something wholly new to work with.
I often have a tendency to look back at a good piece and attempt to consciously recreate the successful parts of it step by step, and I will fail, unfailingly, every time. It's not something I can recreate or even really pick apart, it relies on the moment.
I chose to investigate ink and bleach in the first place in response to my failings with oil paint, and wanting to find a process that resonated with me. I knew that I could use watercolours because I used to do it when I was younger. However, I wanted something a bit more exciting than regular watercolour paint. So, I started experimenting, and any techniques I picked up just came from me being curious with the medium.
Your courageous and experimental marks impressed the judges, whilst adding real depth and texture to your work. What techniques do you use to achieve this?
It really is different in every piece, but I have a range of marks that I can employ. The process is underpinned by standard watercolour techniques, but I've adopted more experimental techniques through constant trial and error with various items. Sponges, spray bottles, different brushes, and all kinds of different dilutions of the ink and the bleach create a fantastic range of effects. There's so many variables involved with this way of working, its constant discovery. I'm still looking at different ways I can use it.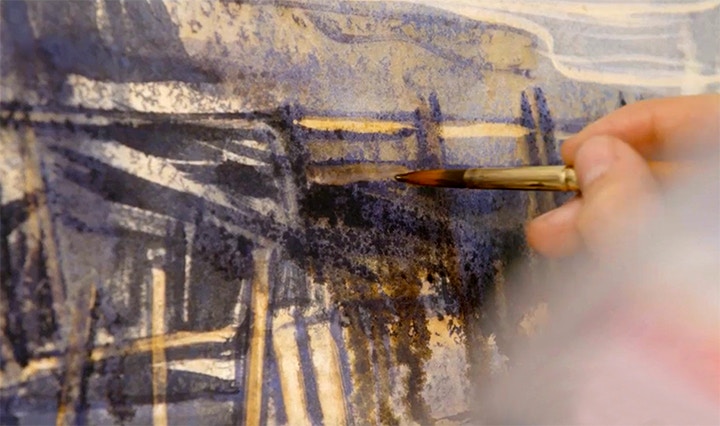 Your colour palette is often washed out to a mix of blues, greys and territory colours. How do you think your choice of colour influences the perception of your landscapes?
I do work with a very limited palette, and I think that does tend to bring out the more melancholy aspects of some images. Especially with more traditional landscape, it can be quite jarring to see something that's typically represented in such a quaint way being brutalised like that.
It's a good tool for me though, because it allows me see the image in (literally) a different light and reveal an alternative narrative within the image. It's that kind of viewpoint that fascinates me anyway. I think that was the main challenge of being on the show actually, because I don't usually paint "pretty" things, so it was great to see how my methods would hold up to that kind of subject matter. I think if I was to be commissioned by a rich family to paint their beautiful orchard they wouldn't be very happy with the result - but I'd be interested to see what would happen.
For the first time ever, the contestants had to capture the landscape inside due to the weather. Do you often prefer to work en plein air or did this change your approach to capturing the scene?
On the way down there I found out that the high winds were destroying the sci-fi gazebos that the show uses, and to be honest that was quite disappointing. Although I think there's something to be said for being in the only heat in Sky Arts history ever to be filmed inside!
Being in that situation presented its own set of difficulties, both for the participants and for the crew, so in a way that levelled the playing field: everybody was in an unusual situation and had to adapt! I've only done a handful of plein air paintings in my life, so painting indoors wasn't really an issue in that respect! A lot of artists need that immediacy of sitting within the landscape, and I can see why.
A lot of my work comes from photography though; the source imagery in a lot of ways is immaterial. It's just stuff. In fact, a lot of the work I did on the day came from a picture I took on my phone - as my viewpoint was quite small and the landscape was changing a lot, so I took a snap to make sure I wouldn't have to repaint a boat sliding down the beach or something.
However, it was definitely a shame travelling all that way and having to paint from my phone, that did feel like I would struggle to do the challenge justice. I make a lot of mess in the studio, just ask the guys I share it with. I like to spread out, sometimes to their expense! Because of that, having to work from the wrist a lot instead of the elbow and the shoulder was the most immediate problem to overcome, but it forced me to adapt and re-evaluate my practice in that way, so I learnt through doing.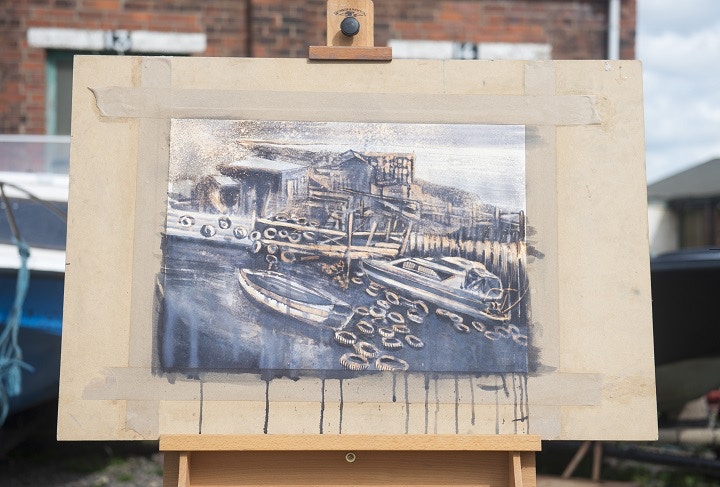 You composition chose to favour a small section of the overall scene. How did you arrive at this view point?
The amount of different elements in that scene was definitely the hardest part about choosing. I could see the other contestants struggling like me to find something to latch onto. I was just drawn to that chaotic scene down in the foreground.
I could see this huge expanse of water and boiling clouds in the sky and then these boats lying down in the mud surrounded by car tires. I could look at that small scene and imagine a story: workers rushing to moor the boats in time, and wood rotting from salty water. It was far more interesting for me to capture this than to get a beautiful sparkly horizon line.
Do you think being an artist studying at university changes how you approach this type of competition?
I think it must do, because students see life very differently in general! Being in my position, I think I was the least prepared for something like this. I've barely decided what I want to do with myself artistically, so putting myself on display felt a bit like dressing a shop mannequin in a half-finished suit. Saying that, knowing that I'm still a student takes the pressure off, I just saw it as a great opportunity and hoped I'd gain a lot from it, and I absolutely did.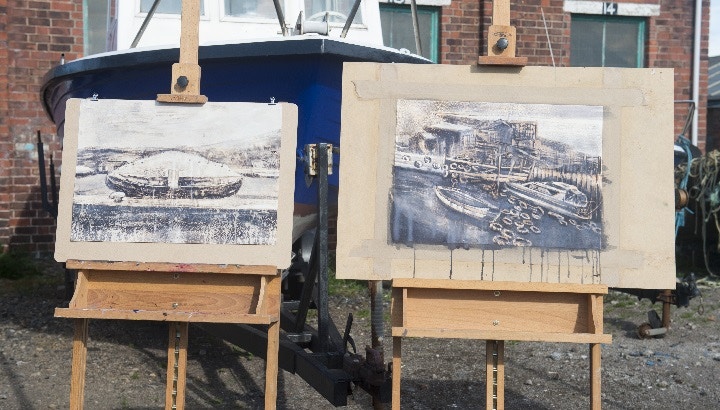 What advice would you give to anyone looking to apply to Sky Art Landscape Artist of the Year?
Honestly, I think you can think too much about that sort of thing. My approach to it was 'why not?' I was slightly hesitant being a student because there's always an element of 'Am I done yet?' but ultimately, I don't think there's a good or bad time. If you have the ways and means, go for it.
I've submitted an application to a lot of different art related things in the past and I probably thought about this one the least, mainly because the odds were so ridiculous! In truth, I clicked submit by accident.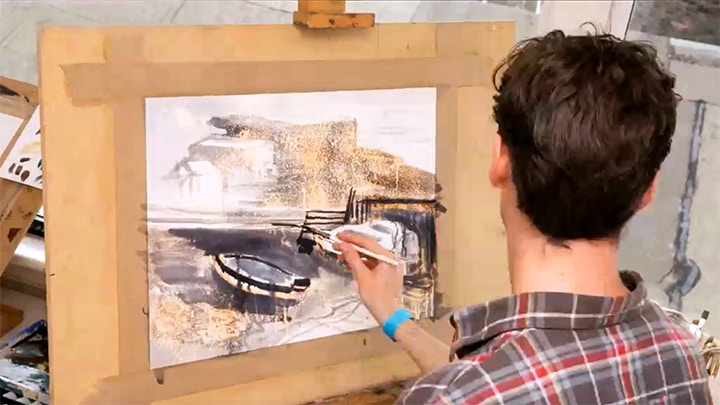 Feeling Inspired?
Discover more of Benji's work on his website www.benjithomas.com and on Instagram.
Follow Benji's lead and try your hand at a range of watercolour and ink techniques, with our range of painting and drawing materials online and in-store. Share your landscapes via our social channels using the hashtag #LAOTY2017 and don't forget to tag @CASSART
Don't miss Heat 6 of Sky Arts Landscape Artist of the Year 2017 on Wednesday 22nd November at 8pm, on Sky Arts. We'll be bringing you another heat winner's interview, live on the blog and across our social media channels from 9pm.
Explore more work by the heat winning artists of Sky Arts Landscape Artist of the Year, past and present, with our series of exclusive interviews on the Cass Art Blog.

CALL FOR ENTRIES NOW OPEN
---
Inspired by this year's heats? Sky Arts is once again on the hunt for the next Artist of the Year. Whether you're a master of portraiture or a pro at plein air, submit your works for a chance to win a £10,000 commission and £500 worth of art materials from us here at Cass Art. Both competitions are now open for submissions. Find out more by following the links below: