Posted by Cass Art on 26th Aug 2020
Each year Cass Art continues to support art students by giving prizes at the degree show for Central Saint Martins. This year two BA students and one MA student each received an prize of vouchers for art supplies from Cass Art. We caught up with the three winners to talk more about their work and what they have planned for the future.
Teresa Zerafa Byrne
---

Congratulations on winning the Cass Art prize! Could you introduce yourself and your practice?
Thank you. I've just graduated from the MA Art & Science course at Central Saint Martins, and I'm delighted to be awarded this prize, it's a wonderful accolade. Given the fantastic work of the other nominees I was surprised to have won but I'm exceptionally happy and very proud! I live and work in West London and returned to full time education to complete a BA in Fine Art at Chelsea College of Art in 2015 and then continued my studies at Central Saint Martins. I've always been interested in the subject area of memory, and my latest body of work is called Memory Skeletons. A Memory Skeleton is a term I use to describe the core set of details that a person needs to recall each time they think of a memory for it to remain constant. As long as they recall the bones of an experience, they can flesh it out with extra details but it will still feel like a memory of the same event. I like to explore what prompts our recall of these bones by looking at how we relate to forms, colours and materials, and I make smaller Satellite pieces first that inform the making of the larger mixed media Memory Skeleton works. I hope the work prompts the viewer to recognise and relate to the elements and thereby adapt and adopt the Memory Skeleton.
And what do you have planned for the prize?
The prize is going to be an amazing help to me. I use a lot of different media and layers in my pieces and I constantly test new combinations of materials before I use them in my works. Whilst this means I know my materials and how they are going to work in the piece, it's also very expensive. I can stock up on the items I use a lot of and play with a few new ones. It's lovely knowing I can be more relaxed in my budgeting and experiment more freely with the materials. My ambition is to extend this series and produce enough for a solo show, and winning this prize means I'll be able to start the new pieces sooner than I thought, in fact I've already placed an order!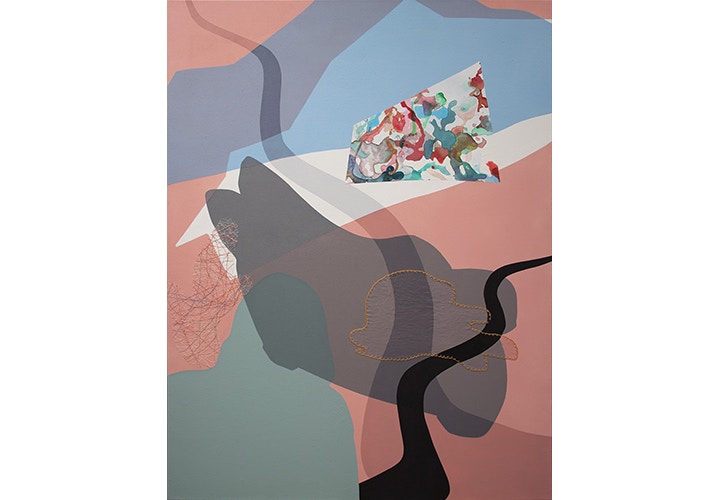 It's been an extraordinary time for the arts and art education. Away from our galleries, our studios, tutors and peers, art lovers and artists have had to find new avenues to share our practices and ideas with the world. How have you found this period of art making?
It's certainly been different to how I expected it to be! I researched and planned this work for months and was just about to start making them as the workshops and studios closed. The university have been very supportive, and my tutors were constantly in touch and available but suddenly I didn't have the access to the machines in the workshops nor the advice and expertise of the technicians. I'm very lucky as I have a studio at home so I was able to continue my work, however I did have to adapt a few of my ideas and I managed to make some of the surfaces myself. At times I had to have a "make do and mend" attitude and think of different ways to achieve the desired results; for instance, instead of screen-printing a pattern I hand printed it using wallpaper cut outs. This crisis has forced me to be more resourceful and open to new ways of thinking and I've even learnt some new skills which I wouldn't have considered before. The internet used to be more of a research tool for me however it's now become an avenue to share my work and creative process. Like a lot of people, I've had numerous online meetings, but as part of the showcase I've taken part in a course webinar symposium and even made a film about my work that I've uploaded onto YouTube.
As an MA Art & Science graduate could you discuss how you have found these two stand points have fed into your making process as an artist?
I come from a fine art background, but I've always had an interest in science. During my final year on my BA Fine Art course I developed my Slides theory, which hypothesised how we construct and reconstruct memories, so the MA Art & Science course was the ideal progression for me. The course allowed me access to those who could inform my thinking and help me question my reasoning whilst also developing my artistic process. The artist in me comes up with the unusual way of seeing something and my interest in science makes me want to question if my "sideways" thinking has any basis or explanation. I think my work has become richer, the more I've researched. Attempting to translate a scientific process through an artistic one, hopefully adds an intangible and thought provoking element that makes the viewer question its meaning and connects them to the work.
I love your coined term 'Memory Skeleton' and the 'bones of an experience' which you explored for the Showcase – indeed I wonder how the global collective Memory Skeleton of this period will be shaped and formed in years to come. Could you talk us through your exploration, and how you've approached it with your paintings.
The malleability of memory has always fascinated me. I find it intriguing that our memories of an experience aren't the same each time, but instead we recall a new version. Depending on what prompted us to think of that memory the latest version will be constructed and centred differently. I've always considered memory recall to be akin to an artistic process in itself. I wondered how we could recall multiple versions of a memory and still recognise them to be of the same experience, and ultimately how I could try to define the few consistent elements that would make the Memory Skeleton. I had the immense good fortune to be tutored on the course by artists Susan Aldworth and Heather Barnett, who were very generous with their support and contacts. I was able to discuss my thoughts with a couple of neuroscientists, and I devised a process that interrogated the internal visualisations of a set of participants. Using their responses I was able to determine the bones that completed the Memory Skeletons of their memories. I chose forms and materials that I felt were suitable signifiers for these bones and used them to layer and construct the paintings.
The idea of a global collective Memory Skeleton for this time is interesting! Ultimately what we are going to recall of this period in history is going to be unifying elements we experienced or at least perceived. Rather like the collective view of the Seventies, but instead of flares, loud clothes and bad hair it might be masks, working from home and toilet rolls (or lack of!).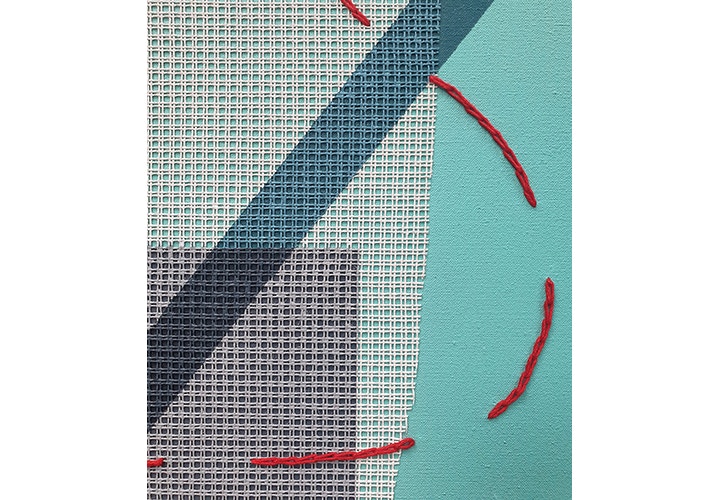 And finally – when the world begins to return to normal, what's next on the horizon?
In the short term, I want to create more pieces in the Memory Skeleton series as I'm not yet finished with that subject area. I have ambitions of making a much larger collection and hopefully gaining gallery representation. I'm very excited that four pieces from the Memory Skeleton series will be included in an exhibition at the Saatchi Gallery in London. As we speak it's still in the process of being curated but it will be on from the end of August into September, and it will feature work from London graduates.
We have a running joke in my house. I'm a mature student and I always said that after all my children had left primary school, I wanted to complete an art foundation. Just a foundation course and there was absolutely no way I would take my studies further as I didn't have the time. I said the same each time I went on to study at the next level. So with that in mind whilst I have no plans to continue studying I should probably think about where I might complete a PhD.
Bunmi Agusto
---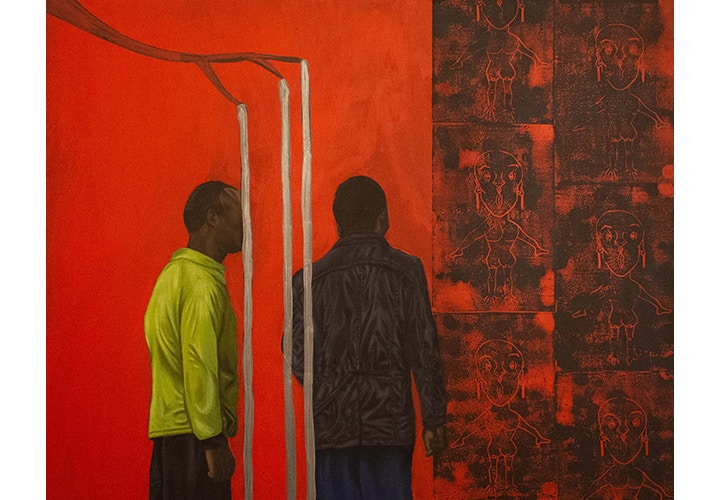 Congratulations on winning the Cass Art prize! For those that haven't read our previous interview could you introduce yourself and your practice?
Thank you for having me again. My name is Bunmi Agusto and I am an artist who mostly makes figurative works inspired by my experience living and travelling between Nigeria and the UK. As a result of moving back and forth, my work is about selfhood, its perceptions and its evolution upon encountering foreign bodies and spaces.
And what do you have planned for the prize?
Hopefully to get some more Ampersand boards, which I have started using a lot, and some new materials.
How have you been since the Xhibit show? Where you were also selected for a Cass Art prize! Would you say your work has changed greatly?
Definitely! The piece I showed at Xhibit was made in 2018 in my first year of university and now I am graduating. I really had a breakthrough with my work this past year. I was home in Nigeria during the Christmas break and attended a symposium organised by a friend on architecture and memory. Nigerians generally doesn't have a great track record with properly documenting their history and maintaining archives, so it was very interesting to hear about the history of the city in terms of both sociology and climate. They also spoke about the Brazilian architecture around Lagos built by returnee slaves who I descend from — hence my Portuguese last name — and it really made me realise that I have been concerned with the idea of foreignness for most of my life and that is the primary concern in my practice. Around that time, I was also writing my dissertation on the reconditioning of the self-image through migration and it all just crystallised into making some interesting work where I reconfigure the human form to make these figures that are aliens and hybrids both biologically and culturally speaking.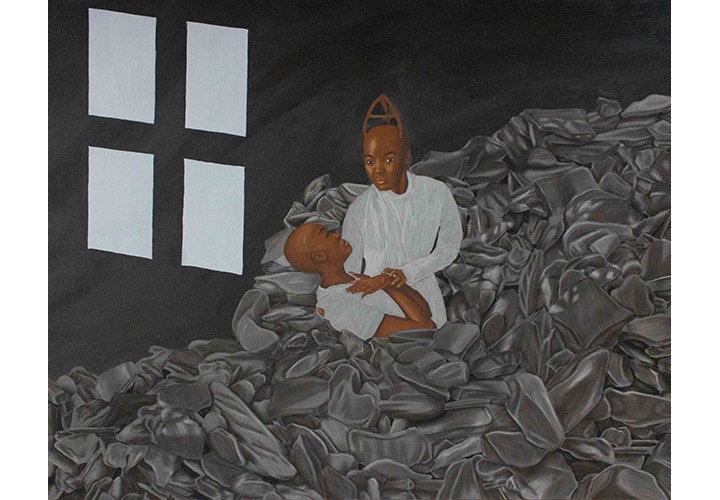 It's been an extraordinary time for the arts and art education. Away from our galleries, our studios, tutors and peers, art lovers and artists have had to find new avenues to share our practices and ideas with the world. How have you found this period of art making?
I've gotten so used to it, I barely remember how it used to be. In terms of making art, not too much changed for me because I am used to making work bent over my desk at home. However, the turn to the digital is obviously the most key thing that has happened for most people. As art students, we had our group critiques online so it is interesting having to gauge a piece of art through photos and videos on your laptop screen. A lot of us also began making these large not-always-realistic exhibition proposals using different software, so I think in some way, it allowed us to think outside the confines of space and permission. At the same time, it hasn't been a great period for a lot of people so there is a lot of intense, but necessary, discourse about health, racial injustice, capitalist systems amongst other topics and I hope it all positively affects the future of the art world.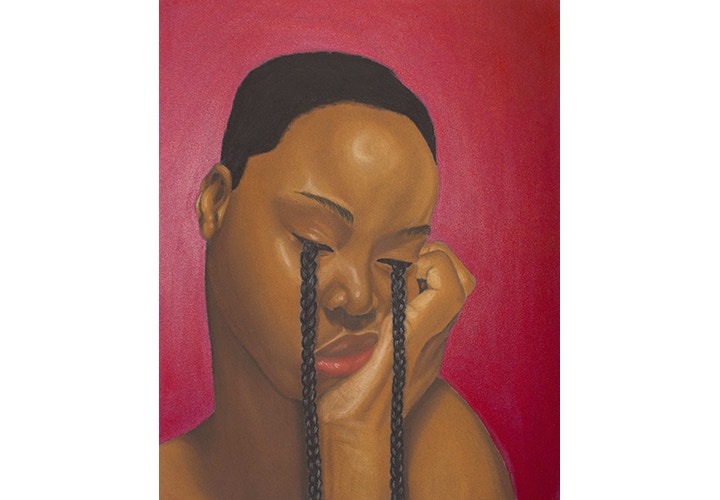 And finally – when the world begins to return to normal, what's next on the horizon?
Now that I have graduated, I am moving back to Nigeria later this year and I am really looking forward to entering the art world there. It is such an interesting space where people are doing a lot of exciting things. Moving back is also in line with practice and where it is heading. My graduate showcase was titled 'Alien In Both Lands' because I am a Nigerian in England but also seen as westernised in Nigeria. People like me are often given the title 'IJGB' which is an acronym for 'I Just Got Back' because that's what we say when we return and are asked where we've been. So, I think reintegrating would be a fascinating state to be in when making new work.
Honor Rose Greenwood
---

Congratulations on winning the Cass Art prize! Could you introduce yourself and your practice?
I am so honoured to have been awarded with the Cass Art Prize, thank you very much. My name is Honor and I am a recent fine art graduate from Central Saint Martins. Consisting of bold, abstract, gestural forms, my practice falls at the intersection between painting and installation art. My approach to beginning a painting is by studying the movement of a single brush stroke, by mimicking this movement using various techniques, tools and materials, I aim to perfect its shape and flow whilst challenging traditional ideas of its aesthetic. Repetitive mark making is also an essential method of exploration in my practice, with certain marks acting as a catalyst for the next painting then into installations. The work I create often mirrors the surroundings in which it was made, taking influence from architectural structures and industrial sites. I love the juxtaposition that arises between these raw, typically monotone, hard settings and the vivacity of my art.
And what do you have planned for the prize?
My ambition is to expand my installations and to give them more permanence and publicity. The Cass Art award will allow me to use more substantial materials to weather proof my work to give it longevity outdoors. I love screen printing as a medium, it is so versatile and can be used to create smaller studies or large final pieces. With this prize I am going to create a small screen-printing workshop within my studio.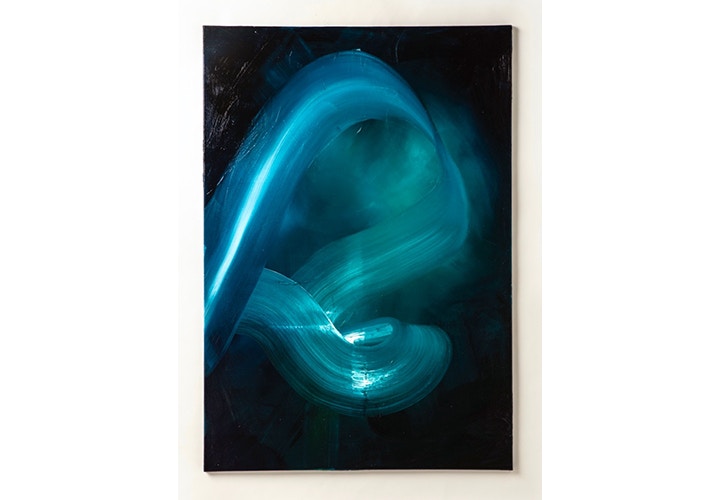 It's been an extraordinary time for the arts and art education. Away from our galleries, our studios, tutors and peers, art lovers and artists have had to find new avenues to share our practices and ideas with the world. How have you found this period of art making?
I have found it a very strange time when trying to create something new and innovative. It can be difficult to be creative without any stimuli other than the walls of your own home! Prior to the recent events I created much of my artwork from wood and utilised technical workshops often. Like many other artists I have had to adapt to the current climate and work with available materials. I began creating work with cardboard as it is easily accessible and a material that does not require machinery to manipulate it. In many ways, it has been a crucial point in my career, pushing myself to work more freely, on a larger scale and in the street.
Your work intersects both sculptural and pictorial planes, how do these two approaches in your art making work alongside one another?
I enjoy having a variety of outcomes in my work and I like to apply my style to different methods of creating. For me, each method plays a part in the timeline of my practice. For example, just as a sketch may be a blue print for a painting, a painting can act as a blue print for an installation. Sometimes this can happen unintentionally, certain brush strokes in a painting resinate in my mind and its shape becomes a catalyst for the structural form of an installation, sometimes this is intentional.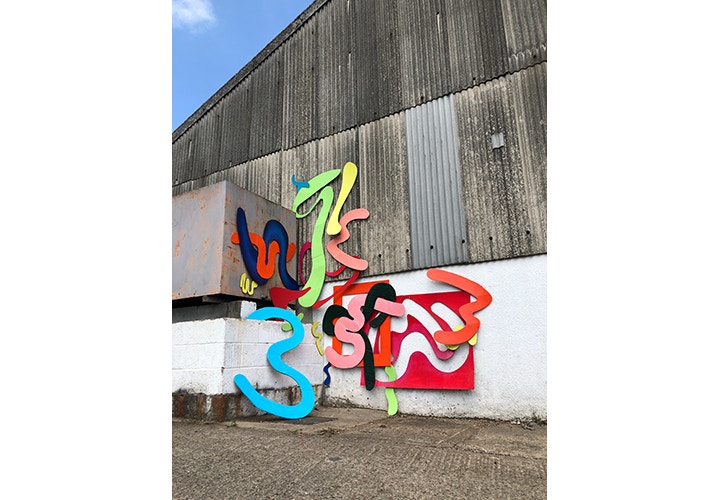 You note that layering is an important aspect of your aesthetic. Could you talk us through what you enjoy about layering colour, and the impact that it has?
Layering colours is definitely an important element of my work, using contrasting colours on top of one another helps to lift different sections of a painting. Using a large amount of one colour in a section of an installation then smaller deposits of it scattered around helps the observer to recognise the piece as a whole. My interest also lies in layering as a concept. Be it the physical layering of materials, layering works on top of one another to create a new piece altogether, or the layering of aesthetics and juxta positional contexts.
What are your go to materials, are there any brands that you turn to?
I make a lot of work on paper because it allows me to easily work on a large scale. It also enables me to produce with a freer and more experimental mind set, quickly producing bold gestural paintings that are full of expression. I also love to work on wood wherever possible because it is so versatile, if you put enough effort into sanding and priming your finished piece almost replicates a smooth plastic. In terms of brands I always switch it up to explore new products but the only brushes that I swear by are from a French DIY shop called Leroy Merlin, they are amazing!
And finally – when the world begins to return to normal, what's next on the horizon?
I am very excited to announce that I will soon be releasing my very first print release. It is a print of the painting shown below called "Goodnight Transmission" and will be released in early September,
Feeling Inspired?
---
See more of Teresa's work online
See more of Bunmi's work online
See more of Honor's work online