Posted by Cass Art on 10th Mar 2020
Eight episodes, eight fantastic sitters, and tens of wonderful portraits. Over the weeks and after some difficult debates the judges have selected their favourite works and the contestants of Sky Arts Portrait Artist of the Year Series 6 are one step closer to the £10,000 commission and £500 of art materials from us at Cass Art. We caught up with each of the heat winners to find out a bit more about their experience of the show, their work, and the materials they love to use.
CHARLES WILLIAMS
---
Congratulations on winning Heat 1 of Sky Arts Portrait Artist of the Year Series 6! What was the experience like painting in front of the cameras, and capturing such a well-known face?
Thanks. It was much less ghastly than I thought it might be. The team are very kind and the audience strangely appreciative. They really get involved!
Can you tell us a bit about your journey as an artist?
I went to the RA Schools in the late 80s, and since then have made a living as an artist, lecturer and writer. In 2007 I started teaching in Higher Education and that really changed how I thought about art, or painting. I loved it; I was Programme Director by 2017 but unfortunately my degree programme was a victim of cuts at my University. They did give me a bursary to study for my PhD though, which is what I am doing now. Studying my own work.
You have such a distinct and almost graphic style! Could you talk about your use of shape and line in your work – after your application of the dark lines Acer suddenly popped off the surface.
Gosh, thanks! I am very interested in techniques, and that particular method seemed to suit him.
You worked very quickly on several studies of Acer, how do you find that studies help your painting process?
The first thing to say is that the work is all what Hockney describes as 'eyeballing'. I don't see the point in photographing the model and painting the photo - why not just have the photo? The interest is in the challenge of relating to an actual visual phenomenon, isn't it? Sometimes it doesn't come off, though, but that's the risk. I do a lot of studies because I think that the more time you look at something the more you know about it. I want to make it look easy so people don't think about the technique or go "Oh my God, it must have taken so long", as if that makes it a good painting. It doesn't, it just means it took a long time to say the same thing.
Do you have any particular materials you love to use? Are there any brands you always return to?
I love Michael Harding paint! I also like Wallace Seymour, I must say.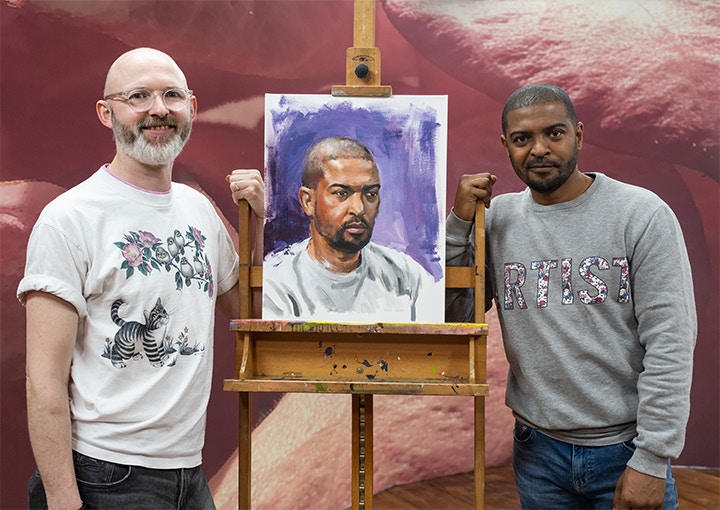 CHRIS LONGRIDGE
---
Congratulations on winning Heat 2 of Sky Arts Portrait Artist of the Year Series 6! What was the experience like painting in front of the cameras, and capturing such a well-known face?
It was one of the most fun days I can remember - stressful but exciting, and everyone from Noel (my sitter) to the crew and the visitors attending the filming was extremely supportive. I'm still in touch with lots of people from my heat and the semi-final.
Can you tell us a bit about your journey as an artist?
I'm self-taught, and always painted alongside my day job but had to stop when I had a child as canvases and toddlers don't mix. I've recently started again, and the positive experience of the show has really galvanised me to take it seriously.
You chose a rich purple hue to surround Noel Clarke which complimented the tones in your painting wonderfully. Could you talk about this colour choice, as Noel wasn't sat in front of that colour?
Thanks! He was getting a bit lost against the rosy maroon of the background. A more obvious complementary colour would have been green/blue but I felt it was better to stay within the range suggested by the background, so I accentuated the bluer tones of the purple to bring out the browns and oranges in Noel's skin. Anything less rich would have made him and the painting look flatter.
You often keep the trace of the brush stroke within your paintings, and your presence as the artist is clearly evident. Could you discuss a bit about your application of paint?
I like a combination of precision and looseness. Overly finished paintings can look fussy and lifeless, while the opposite results in a sense of 'unintendedness'. I don't think there's any worth in trying to hide the presence of the artist or deny the existence of the paint - celebrate the materials! Make your paint look painty!
Do you have any particular materials you love to use? Are there any brands you always return to?
I've always used acrylics because they suit my speed of working - I don't like to labour the surface - and you can correct mistakes almost instantly. Daler Rowney's System 3 is my go-to range, as it has the perfect combination of density and opaqueness, but I also use Winsor and Newton's Professional range - their Raw Umber is the best I've found.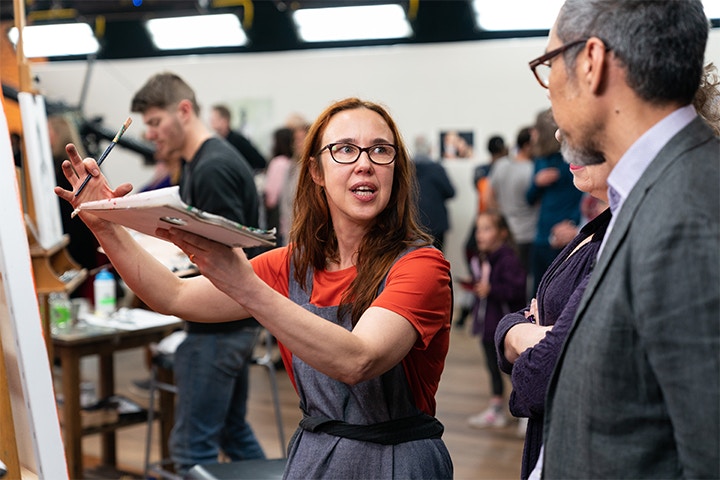 INGE DU PLESSIS
---
Congratulations on winning Heat 3 of Sky Arts Portrait Artist of the Year Series 6! What was the experience like painting in front of the cameras, and capturing such a well-known face?
I have always loved and cherished the rare thrill of being able to paint from life. Most of the time I have to paint from photographs, but there is a kind of quickening that happens when you paint a live, moving, thinking sitter, so once I am prepared to start painting, I forget the cameras completely and I can lose myself in the engagement with the sitter, the surface and the paint.
On set, you also have the public watching from about a meter behind you, but somehow that is really comforting - it is quite a positive energy - you hear them discussing the painting and they are there because they love art, so that feels encouraging. With regards to the famous sitters, I feel very fortunate to have actually recognised Tinie Tempah, as well as the wonderful Ben Okri whom I painted in the 2017 season - I confess to being a tad clueless about celebrities and my biggest anxiety was not having any idea who the person was. Once I have met the sitter, I can't say that who they are presents a stress factor in any way. They are working hard just sitting still and must feel quite vulnerable being watched and scrutinised so intensely by the artists and the public alike.
Can you tell us a bit about your journey as an artist?
Since my earliest memories, drawing, and later painting, was always part of my life. My mum tells of me filling stacks of drawing pads with drawings (of mainly horses) as a young child. It was my sanctuary through high school and straight after school I went on to do a degree in Fine Art, majoring in painting (in Cape Town). During the four years at university I became more and more disenchanted with the massive emphasis placed on being able to confidently verbally substantiate the Concept behind your work as a measure of successful art-making. In an attempt to bypass this, I used to write poetry to 'explain' my paintings. (I have since grown to rather enjoy discussing my work, inspired by reading interviews with and seeing amazing artists like Jenny Saville talk about their work in such honest, unpretentious and often very practical terms.) After university, I felt that I needed some distance from art and took on an apprenticeship as a cabinet maker - eventually qualifying and starting my own furniture design and construction business, which I worked at until I turned 30, when very dramatically I just knew that I needed to stop all I was doing and focus exclusively on painting.
It was wonderful, but hard going initially. I almost immediately booked a solo show for 2000 and in the next 5 years had another 2 solo shows - I was growing as a painter, my work was selling well, I had part time lecturing work and then, at 36, I fell pregnant. I found it very hard to get any painting done for the next 3 years - I was still teaching part time and felt that I wanted to spend the rest of the time raising my son. In 2009 we moved to the UK and finding my feet here with a 3 year old at the age of 40 was also tricky - as was getting started as an artist again.
Once I did, I found it a very different environment to work in - not knowing all the other artists; not knowing a single gallery owner or art dealer - it can be very challenging to find any kind of outlet for art, so I have been doing Art Trails, Open Studio Shows, occasional small independent galleries, Instagram and competitions! Taking part in Portrait Artist of the Year 2017 was a fabulous experience and definitely made it slightly easier to approach people in terms or opportunities to exhibit. I thought I might try it just one more time - the thrill of painting from life is second to none - so was delighted to get into the 2020 series - and go on to win my Heat!
Currently, I paint from home - loving every moment of painting. Mostly my work is very narrative, rather than just representational - so there's almost always a suggestion of immanent or recent action, or some hint at allegory - at the very least, some usually puzzling personal symbolism.
Your portrait of Tinie was described as noble! Do you enjoy trying to find and capture a quality other than just visual likeness in your sitters?
I think it is impossible not to infuse one's portrait with character, memory, projection and sometime fiction. How much of the character of the actual sitter is captured depends very much on time spent with the person as well as their emotional 'engagement' while being painted. On the set of PAOTY, unless one has personal experience of the sitter and perhaps know their work, there is not much interaction between artist and sitter, so one projects quite a bit I think. With Tinie, I was not familiar with his music, but something about the way he immediately 'exited' into the music he was listening to, helped me to see a tension in his pose which I liked. As much as it is important to capture the illusive likeness, the other qualities almost carry more weight. I set myself a further challenge by refusing to work from a screen - and relying entirely on a very restless Tinie.
You started with quite a strong orange ground. Do you find that beginning with such a bold colour helps you to build a tonal range?
I always prime my canvases with quite strong, warm colours. Occasionally I will force myself to try cooler hues or more earthy neutral shades, but soon enough find myself yearning for deep orange or warm red. I also love the layering and history that happens when the undercoat flashes out between loose brushstrokes.
The background colour has an immense effect on the tonal choices - sometimes this happens instinctively; other times, I enjoy discreetly playing with complimentary colours or inserting tones that just sing with the adjoining colours.
Do you have any particular materials you love to use? Are there any brands you always return to?
I love oils. I love the depth, the warmth, the history, the smell of oil paints. From the very first time as a child, that I opened my father's little wondrous wooden oil painting case and inhaled linseed oil, it felt like a magic material - alchemy. When I can afford them I love Michael Harding paints. The first time I used his Warm White, I was hooked. I have been trying to use fewer solvents, and have taken to using poppy seed and walnut oil - for cleaning as well, and lavender spike oil for the initial lean layers. Other than Michael Harding, I tend to use Winsor and Newton.
ELEANOR JOHNSON
---
Congratulations on winning Heat 4 of Sky Arts Portrait Artist of the Year Series 6! What was the experience like painting in front of the cameras, and capturing such a well-known face?
It felt very unlike anything I've done before! It was a wonderful day, and everyone working with Sky were so friendly and welcoming. It was odd having my painting process scrutinised but I took away some very treasured memories! Russell was warm and put us at ease from the moment he walked in, and he was a pleasure to paint. I was so surprised when he came in because I had very recently been discovering the work he'd been doing within the art world. It was a challenge painting someone who I only new superficially from seeing him on films and TV, and Instagram. I would have loved to have had the opportunity to get to know him a bit better before painting his portrait - it definitely helps if you know the sitter on some level. But I think when you're looking at someone for that long, you do learn something about them. They generally go into this sort of meditative space - so in a way you see what's hidden underneath the surface. I hope I captured that in some way.
Can you tell us a bit about your journey as an artist?
I've been painting and drawing since I was very small. I've always been quite quiet - but I was especially so then! I would observe things instead of getting involved in things. I continued to paint throughout my time at school, with the encouragement of some especially wonderful art teachers. I then went to University College London to study Art History, mainly because I was interested in the theoretical and philosophical side of art, but also because I wasn't sure about the idea of going to art school at the time. I painted throughout my degree, and organised a few exhibitions over that period. Then after I graduated, it became a full-time thing. And here I am now!
Russell Tovey admired your brushwork in the shirt, sweeping curves for the material. Could you talk to us a bit about how you use mark-making in your work?
I remember that I kept his shirt quite abstract and minimal. It's really satisfying when you can capture or evoke so much in one brush stroke or line. Take the work of Picasso - specifically the drawings in his "Vollard Suite". They are cleverly simple, and his sparse use of line so effectively creates realistic and tangible forms. This mastery of line doesn't happen as much as I would like for me, but practise definitely helps. I guess that's what I've been trying to make my work about recently - not trying to get too bogged down with how "real" something looks by adding too much detail. The looser and less "worked into" a painting, the more I feel it has succeeded. It leaves something to the imagination.
Do you have any particular materials you love to use? Are there any brands you always return to?
I love the potential for manipulation that charcoal and oil paint offer the artist. Both have so many different potential consistencies, and when used right, can conjure up something magical! Michael Harding is a wonderful brand of oil paint. I've started using them recently. The quality of pigments they use can really elevate your paintings to the next level.
TIM GATENBY
---
Congratulations on winning Heat 5 of Sky Arts Portrait Artist of the Year Series 6! What was the experience like painting in front of the cameras, and capturing such a well-known face?
Thank you! I found filming portrait artist of the year much better than I anticipated. Three or four years ago an old friend of mine appeared on the show and didn't get through his heat. He is a wonderful painter whom I really respect and seeing his disappointment really put me off entering. For some reason last year I thought I would just give it a go and see what happened and before I knew it I had been accepted to take part on the programme! Between finding out I would be on and filming I crammed in painting as many of my friends as I could so that I felt I had a bit of form going into the heat.
The heat itself is a bit of a daze, 4 hours is such a short amount of time that one really ends up blocking out the cameras etc and concentrating on the sitter. John Cooper Clarke has always been a hero of mine as well as a national treasure, so to get the opportunity to paint the creator of, 'Evidently Chickentown' was a real honour. John has a very distinctive look, sort of Bob Dylan crossed with Edward Scissorhands, which was very inspiring, it's a pity I only had 4 hours.
Can you tell us a bit about your journey as an artist?
My journey as an artist has been unconventional, conventional and now unconventional again. I started out studying film but as the course went on so did my interest in painting, it became clear I was more interested in making paintings then studying films but I didn't have much structure and mainly played around. After the course finished I really wanted to learn the practical history of painting so by chance I found out about Charles Cecil school in Florence and was very fortunate to be able to study there. The Florentine schools offer the opportunity to immerse oneself in the renaissance experience when oil painting first came about and is a great grounding both in terms of how to approach figurative painting as well as techniques and ways of seeing.
Since studying in Florence I have pursued figurative painting but broken away from more traditional approaches to explore a sense of things which define my personal experience a bit more. In 2012 I had a portrait of my Grandmother exhibited at the National Portrait Gallery as part of the Portrait Award.
Your doubling of John Cooper Clarke for your Diptych has a ghostly tone. What does the doubling of a figure allow you to do that you can't achieve with a single portrait?
Making diptych paintings is something I have been doing for quite a few years, I really enjoy what it can bring to a portrait. By creating a second image there is a sense of the next frame which is something I connect to my love of film, the two images next to one another brings a sense of movement to the painting. Something I can sometimes find a little rigid in portraiture is the grandiose pose where the sitter looks out directly to the viewer which is born of traditional portraits of monarchs or nobles who commissioned pictures to exert power.
Another thing I have discovered from the diptych is that you can use one side to be more formal and then the other to play around with conveying another side of the character. In a way its a sort of Jekyll and Hyde approach, with John he is a very modern man but his influences are Bauderlaire and Edgar Alan Poe so there almost two sides of him, the ghosts of Victoriana and the punk stage poet of 80s Manchester.
The finish of your work is quite Gerhard Richter quality to it. Could you talk about this as a painterly device?
Blurring of paintings helps to create a distance between the image and the viewer, John was spot on when he said, 'like something from the mists of time'. For me, paintings are ageing from the moment the artist stops painting on them, 500 year old paintings did not look the same when they were completed as they do now. So in one respect the act of looking at a painting is like looking through a window into the past only the window is slightly cloudy and distorted by time.
Do you have any particular materials you love to use? Are there any brands you always return to?
I am a huge fan of Michael Harding and Old Holland oil paints, they have really good consistency and fully recommend using their products. Occasionally I make my own paints by buying the ground pigments and mixing with linseed oil, it is pretty straight forward and a really good way to control how much oil in in your paint. My top tip for painting would be to organise your palette from light to dark so that your mixing area doesn't get too muddied. By keeping your palette organised you will be able to approach the painting far more methodically.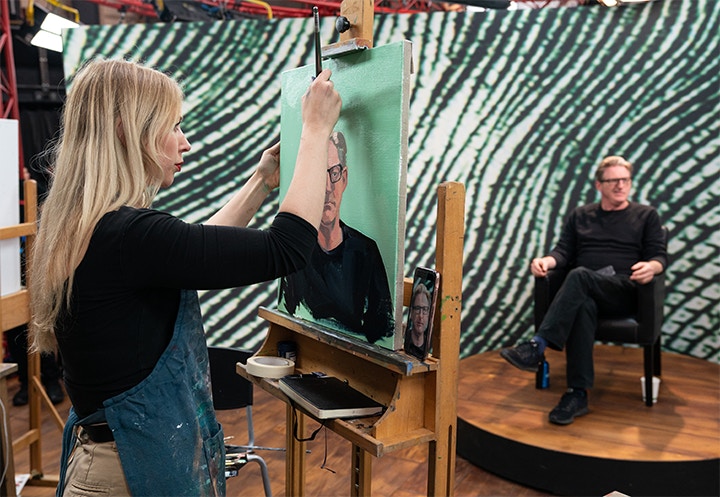 CHRISTABEL BLACKBURN
---
Congratulations on winning Heat 6 of Sky Arts Portrait Artist of the Year Series 6! What was the experience like painting in front of the cameras, and capturing such a well-known face?
Painting in front of the cameras and so many people was very intense and by the end of the day we were all exhausted. I think working under those conditions can work for some people and for me it meant I had to be fiercely focused, which can be difficult in the studio with plenty of distractions. So for me it worked in my favour having that kind of pressure.
Can you tell us a bit about your journey as an artist?
I come from a creative family, my mother is a fashion designer and my father a musician and from a young age they encouraged my interest in art. I studied Classics at Newcastle University but soon realised I wanted to be in the art building not studying Latin! I found a course in Florence which offered academic drawing for a year, then went on and did a further 2 years learning figurative painting at LARA in London. After that I started taking commissions for portraiture and my style developed from there, away from the traditional to a more minimal, contemporary style.
There is a wonderfully gentle tonal quality to your work. The way you surrounded Adrian's face with that soft almost minty green just held him in this calm aura. Could you talk about your palette choices?
I usually begin with a bluey-green ground as I find it helps keep the flesh tones cool. It's not in my nature to include lots of detail so I simplified and paired back to the bare minimum, using the ground colour to just indicate the busy background we were given. I originally fell in love with that colour from Degas' paintings.
Do you have any particular materials you love to use? Are there any brands you always return to?
I use Michael Harding paints as you can always rely on their true colours. For a medium I use linseed oil and Zest it, I'd love to use turps but it's too toxic. I like to make my own canvases using extra fine linen which I prime with acid-free PVA and acrylic primer. For brushes I use all sorts of brands, I go to an art shop and see which brushes feel the nicest! They're usually always flat square heads.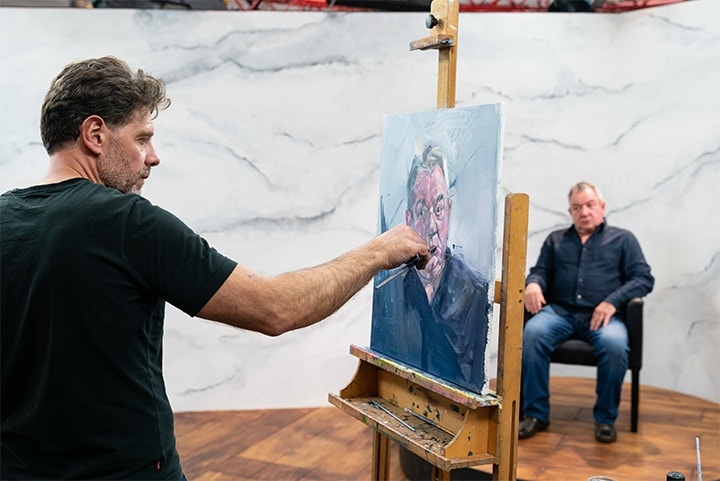 CHRISTOS TSIMARIS
---
Congratulations on winning Heat 7 of Sky Arts Portrait Artist of the Year Series 6! What was the experience like painting in front of the cameras, and capturing such a well-known face?
It was a new experience for me. I tried to ignore the cameras and focus on the painting and it worked as long as I wasn't interrupted by questions or the cameras weren't parked between me and the sitter. I do understand that it is a TV show and the cameras need to do their jobs but it's not ideal conditions for the artist. Ken was incredible, before we started he asked us the artist what should we expect from him. I told him that I would appreciate it if he can find a spot and stay still for as long as possible. I know that it is very difficult even for a professional model to remain still and not lose their position. I have to say that ken did amazingly well.
Can you tell us a bit about your journey as an artist?
I grew up in an industrial town in west Macedonia Greece. My Father was the owner of a frame shop that also used to sell commercial paintings and prints. I was quite good in drawing from early age but I was more interested in sports and played volleyball semi-professionally. When I was about 17 I asked my father to give me some money to go on holidays. He said to me that he will pay me if I painted a decent painting that he could potentially sell. This is how I started, a couple of years later I was accepted in to the school of art in Thessaloniki. I continued to play volleyball to help pay with my studies. When I finished I received the Greek national scholarship and moved to London were I live and work to this day. My work in Greece was mainly painting but when I arrived in London I moved away from it because it wasn't fashionable and I wanted to try other things. Life after my studies wasn't very easy and I had to find other way to make a living like renovating houses. About ten years later I managed to get myself a studio and started painting again.
Watching you paint at times was as if watching a fencer! You held your paintbrush en garde and slashed away at the canvas with your palette knife to draw the image across the surface. Could you talk a bit about your dynamic painting style - could you also expand on your use of texture in your paintings?
I have developed my technique and style over the years sometimes I have to be very focused. In this case I have someone sitting for me and I am trying to paint what I see, it requires huge concentration. Sometimes I scrape the paint so I get rid of areas that I am not happy with, but that doesn't mean that I start from the beginning because the scraper doesn't remove everything, it softens and unifies the colours and because I work with oils I get a dryer surface to start the drawing process again. In my studio I am more dynamic especially if I am not working from life I feel freer to do anything I like. I use my hands, I throw paint on the surface, I use my feet, I walk on the painting and leave footprints, I scream and throw myself on the canvas among many other things. This is my way to escape repeating myself and how I try to find and explore the possibilities of painting through destruction.
Do you have any particular materials you love to use? Are there any brands you always return to?
My favourite materials are oils but I also use anything that makes a mark like any paint, spray paint, acrylics charcoal, and non-conventional like coffee or dirt. I do like the quality of professional oil paint like Michael Harding but I will normally use the cheaper Winsor and Newton student paints if I am building a thick surface.
TOBY MICHAEL
---
Congratulations on winning Heat 8 of Sky Arts Portrait Artist of the Year Series 6! What was the experience like painting in front of the cameras, and capturing such a well-known face?
I enjoyed it! Competing the previous year certainly helped as I knew some of the crew and had met the judges and presenters so it actually felt quite comfortable. I'm used to painting in front of people and having them ask about how my work is going having been formerly part of a studio environment.
Can you tell us a bit about your journey as an artist?
As children my twin brother Miles and I were always drawing whether it be pausing the tv during episodes of Thomas the Tank Engine to sketch whatever frame occupied the screen, trying to copy dinosaur illustrations from books or designing our own Pokémon monsters. I never really thought of it as art, it was more a way in which I was interpreting the world around me; I saw something I found visually interesting and I tried to record it as best I could.
I think my first encounter with paintings came from reading Tudor history books containing Hans Holbein portraits. It was strange to me how realistic they seemed, I knew they weren't photographs but I didn't really understand that they were paintings either, the ambiguity was visually interesting to my untrained eye.
I studied at Winchester School of Art which was a great environment to be in as for the most part they didn't really like or encourage painting. That may sound slightly strange and counter intuitive but having something to push against really hardened my resolve and pushed me into developing the technical aspect of my practice broadly by self-direction. That also coincided with me interning on numerous Florence Academy courses as a workshop assistant for artists Toby Wright, Joe Altwer and Amy Florence Moseley, which gave me a massive reality check in that if I wanted to get as good as these guys, I have to work an awful lot harder!
Following graduation I have completed numerous commissions and continuing with projects in my self-directed practice that I will hopefully be able to exhibit in the coming months.
The judges described your work as a wonderful likeness and compelling work of art. How important do you think it is for those two things to sit alongside each other in portrait making?
I think the best way to answer that question is to refer to what I would call the technical and conceptual narratives and their relation to one another. The technical narrative being the techniques used and the conceptual narrative being what you are trying to say. For me the technical narrative is subordinate to the conceptual narrative in that you use your materials as best you can to inform what you are trying to say with the work. For me a good likeness is what I look for before worrying about anything else, once you have established it then it gives you the foundations upon which you can experiment more freely. That being said however there are plenty of portraits that capture a likeness that have nothing to say and portraits that show a weak grasp of observation and technical facility that are indeed compelling works of art.
You introduced a very dark background to your portrait of Wunmi – it gave it an almost other timely quality. Could you talk about background as a device in portraiture, and why you decided to almost envelop her in such a way?
It was probably about halfway in; I had a decent likeness and I thought that the subtle value and hue shifts in Wunmi's complexion were being lost as her head was contrasted so boldly against the stark yellow background she was set before. Applying the black background drew the focus away from her silhouette and more towards her face. Backgrounds play an important role in portraiture as they give the figure something to contrast against and establish the focal point.
Do you have any particular materials you love to use? Are there any brands you always return to?
I am a huge fan of Michael Harding oils; I cannot recommend them highly enough. I work with a limited palette of Warm White, Yellow Ochre, Napthol Red, Ultramarine Blue, Ivory Black and Burnt Umber. You can mix the most wonderful flesh tones with just white, ochre, napthol and black, from the pinky orange hues in the light shapes and mid tones to the cool greenish darks in the shadow shapes.
Feeling inspired?
---
Dust off those paintbrushes and wipe off those palettes and get painting! If you need to top up your materials before you get going you can shop with us in-store or online, we have everything you need.
Entries for Sky Arts Portrait Artist of the Year and Landscape Artist of the Year open on Thursday 15th October 2020. Find out more here.
Image credits: Photography © Sky Arts, paintings © StoryVault.