Posted by Cass Art on 21st Dec 2020
We caught up with Sky Arts Portrait Artist of the Year Series 7 winner to find out all about their experience of being on the show.
... SPOILERS BELOW
CURTIS HOLDER - WINNER OF SERIES 7 SKY ARTS PORTRAIT ARTIST OF THE YEAR
Hi Curtis! Firstly, congratulations on winning this year's Sky Arts Portrait Artist of the Year!
Wow, thank you so much! I can hardly believe it. When I entered my self-portrait, I never dared to imagine that I would win, so moving through the stages of the competition has been one fantastic surprise after another. I'm very grateful for the whole experience.
Your partner Steve and number one supporter (Freddie the dog!) were on set with you for the final. Did it make a big difference having them with you?
It made a huge difference to have Steve and Freddie with me. The filming took place during the summer when social distancing rules were in place, so friends, family and the general public weren't able to attend the heats and semi-final. Having them both there at the final cheering me on and taking part in the experience was just what I needed at that point, as the filming schedule had been quite intense. Plus, Freddie is always good for a cuddle and I needed one of those on the day.
Steve and Freddie sat for your commissioned work – do you find there's a big difference in the process of depicting someone you know so intimately?
Yes, there is. Familiarity can sometime be a barrier to seeing the person with fresh eyes. You need to balance your memories of what they look like, and what they mean to you, with the desire to capture a moment in time. I wanted to portray an intimate family moment, but also an air of claustrophobic tension because of what was going on with Coronavirus at the time. So, I chose to draw Steve and Freddie in a position I have seen many times, but never drawn before. Observed from above as they lay together, it's a window into domestic life at a time when the world outside felt frantic.
You said 'you need to find something you fall in love with' in the piece before you can really get started. Does this process ever pose difficulties for you, is there ever a time you can't find that hook?
We live in an amazing, diverse world and I've always found something to love about the people I draw. It could be their smile, a look in the eye, a story we've shared, an item of clothing or the way their body moves or rests. Whatever the hook, that's my way in to producing their story on a piece of paper.
Eddie described your portrait as sombre; do you think this reading reflects the tone you were searching for in the piece? And how did it feel when your portrait was chosen to be taken home?
When I was doing the initial drawings of Eddie we talked a lot, and the conversation we had at times touched on some serious issues such as gender identity and navigating a career as a creative person. Although Eddie was full of fascinating anecdotes, she also shared stories of challenging times, so I wasn't really surprised to hear her describe the portrait as sombre. It was a real thrill having my portrait chosen, as throughout the competition I'd been able to correctly predict which artist's portrait each of my sitters would choose. In the final I really couldn't tell who it would be, so it was a surprise and an honour to hear Eddie had made an emotional connection with my portrayal of her.
Tender, powerful, loaded and rich – just a few of the words used by the judges to describe your work. What does it mean to hear your pieces described in such a way?
It's heart-warming, surprising and a relief to hear the judges use such words to describe what I do. Drawing for me is something that helps me to understand the world and my place within it. It's something that's always been an innate part of who I am, and a way for me to communicate a whole range of emotions. So, it's comforting and reassuring to know that the judges have seen that complexity in my work and that they genuinely appreciate it. I think those words the judges use to describe my work are also a response to the brilliant sitters I had honour of drawing during the competition: The Vivienne, Bernardine Evaristo, Eddie Izzard and Carlos Acosta. Each of them is a pioneer in their field, striving against the odds for visibility and recognition for their talents. I found them all inspiring.
What was going through your mind when the judges announced your name?
It didn't register at first. There was a lot of clapping. I had a frozen smile of disbelief. Then a sudden sense of the weight of responsibility towards Carlos Acosta, the museum and everyone who had been cheering me on.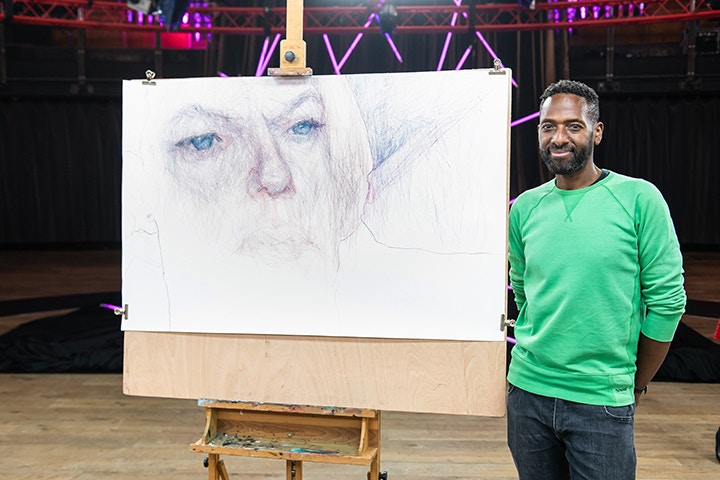 Do you have any advice for future budding portrait artists, or those looking to enter the competition themselves?
Throughout the competition Steve had given me a mantra to focus on - be yourself, trust yourself, enjoy yourself. I worked for me, so that's what I'd pass on to anyone creating portraits or thinking of entering the competition. Deep down I never really expected that someone who draws would win – but look what happened! Also, don't be too hard on yourself. There will be enough people in the world who will judge and critique your work. That's fine, but remember you'll probably be your harshest critic, so remember to be kind to yourself, enjoy your successes and learn from your own process.
And finally - now we know you're the winner! What's next?
I'm going to take stock and gather my thoughts – it has been full on (in a good way). I hope to build on the momentum and excitement of the competition. It has accelerated my experimental process and I'm already creating new works to push my drawing further. The competition has also allowed me to meet other artists who use drawing at the heart of their practice, so as well as doing my own projects, I'd like to continue sharing ideas and explore collaborations. I have a new website www.curtisholder.co.uk and I'll be keeping folks up to date with my drawings and projects on my Instagram @curtisartist. I hope 2021 is going to be a busy and fun year, so let's see what happens.
Feeling Inspired?
---
Dust off those paintbrushes and wipe off those palettes and get painting! If you need to top up your materials before you get going you can shop with us online, we have everything you need.
Image credits: Photography © Sky Arts, paintings © StoryVault.