Posted by Cass Art on 1st Nov 2019
Online art marketplace Artfinder is working with UK-based green energy company, Octopus Energy on a project called 'Portraits from the Precipice,' which will use art to raise awareness of climate change in the run up to the UN's COP26 summit in Glasgow next year.
The project will culminate with in an annual climate change art prize taking place in February 2020, which will award £10,000 as a first prize to the best entry.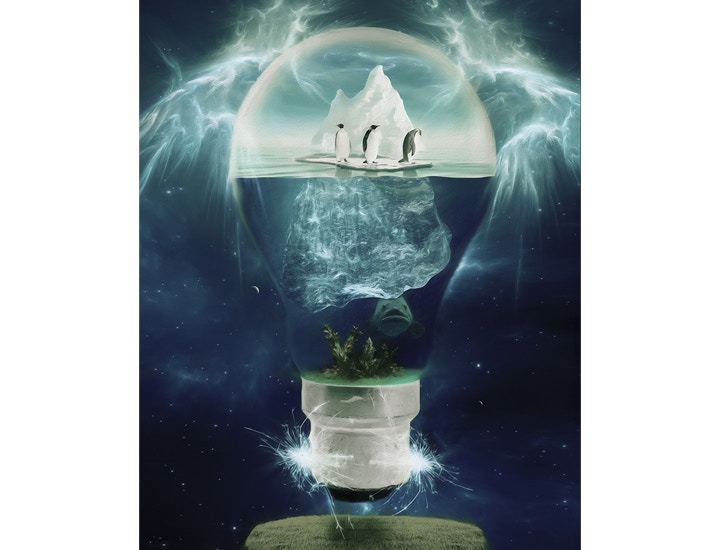 Promoting renewable energy
COP26 (the UN climate change conference) – held in the UK at the end of 2020 – will be the moment the world will see which political leaders are willing to take the positive action needed to fight climate change. Octopus Energy wants to ensure that every leader at COP26 understands the strength of popular support.
The world's largest outdoor art exhibition
Selected artwork submitted to Portraits from the Precipice will feature in the world's largest outdoor art exhibition in advertising space, helping to raise awareness of the impact of climate change.
The exhibition, beginning November 2019, will feature on Octopus' outdoor billboards in train stations, tubes, and public places across London, representing a public display of support for action against climate change.
Book & donations to Renewable World
Octopus Energy will also publish a book featuring a selection of the work, chosen in conjunction with Artfinder's lead curator, Alice Phillimore, which will be made available to buy online.
Artfinder will donate our entire commission on all artworks sold from the collection and Octopus will donate all proceeds from the book to Renewable World, Octopus' charity partner, who tackle poverty around the world using renewable energy.
Michal Szczesny, CEO of Artfinder, commented: "We want to create a world where art benefits everyone. That's why we're honoured to partner with Octopus Energy on this very important project. We're bringing the power of art and our artists to advance the climate change debate and drive real action. With art's unique ability to change perceptions we hope to convince more of us to take steps, however small, to start changing the tide on this issue and avert a genuine threat to our fragile ecosystem."
The brief
The planet's average surface temperature has risen almost 1 degree since the late 19th century, a change driven largely by increased carbon dioxide and reliance on dirty fossil fuels. This has devastating effects on the planet, causing extreme weather and the loss of polar ice caps which are presenting planetary issues humans have never faced before.
Now is the time to act. Octopus Energy and Artfinder are intent on increasing awareness of climate change and renewable energy. We invite you to:
Create a piece of work which engages with or comments upon the current climate emergency:
DEADLINE: APPLY BY NOVEMBER 17TH
We encourage you to think about the debate around climate change and how your style of work could reflect that.
Your art can be any format or medium, as long as it follows the usual guidelines of what you can sell on Artfinder
We've intentionally left the brief wide and open to interpretation, but we will only allow artworks that clearly relate to the theme
We are happy to accept pre-existing artwork, but it must fit the brief and be available for sale
We will include as many artworks as possible in the collection, but our curatorial board will have a final say on quality
Maximum of three entries per artist please
Please share your work on social media, using hashtags #PortraitsfromthePrecipice #ClimateEmergency #Artforclimate and tagging Artfinder and Octopus.
Facebook: @Artfinderfb / @Octopusenergy Twitter: @Artfinder / @octopus_energy Instagram: @Artfinder_com / @octopus_energy
Interested in entering? If you're already an Artfinder artist, please head over to the Artfinder forum to enter.
If you would like to join Artfinder to enter the prize, email media@artfinder.com to apply, stating 'CLIMATE ART PRIZE' in the subject line.
Header image c. Erik Brede, 'It's the End of the World as We Know It'