Posted by Cass Art on 25th Apr 2019
"COLOUR... BUGS ME AND I BUG IT" - LEE KRASNER
---
Over the course of five decades, the pioneering abstract expressionist, Lee Krasner, found that her approach to colour changed as her style evolved. The Barbican's landmark exhibition – the first retrospective of her work in Europe for 50 years – shows in fascinating detail the breadth of her practice. Here, Exhibition Assistant Charlotte Flint discusses a number of paintings that showcase her unique ability as a colourist.
Shattered Colour, 1947, Courtesy: Guild Hall Museum, East Hampton, NY. © The Pollock-Krasner Foundation. Photo credit: Gary Mamay.
In 1945, Krasner and her husband Jackson Pollock moved from New York to Springs, Long Island. Leaving the city, Krasner immersed herself in her new idyllic environment and was greatly inspired by the bright colours found in nature, explaining: 'In 1946 what I call my "Little Image" began breaking through this gray matter of mine.'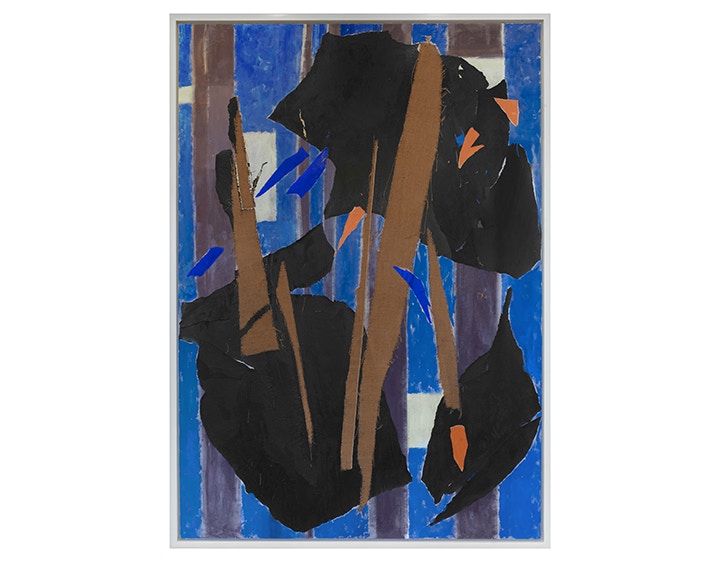 Blue Level, 1955, Private Collection. © The Pollock-Krasner Foundation. Photograph by Diego Flores.
Krasner worked across a wide range of mediums and made a series of radical collages in the early 1950s. Presented in an exhibition at the Stable Gallery in New York in 1955, the show was a critical success with Clement Greenberg later heralding it as 'a major addition to the American art scene of that era'. Stuart Preston, a critic from the New York Times, described the exhibition as a 'dense jungle of exotic shape and color', referring to the raucous fuchsia, blue and orange hues and the blooming biomorphic shapes that jostled for the viewer's attention.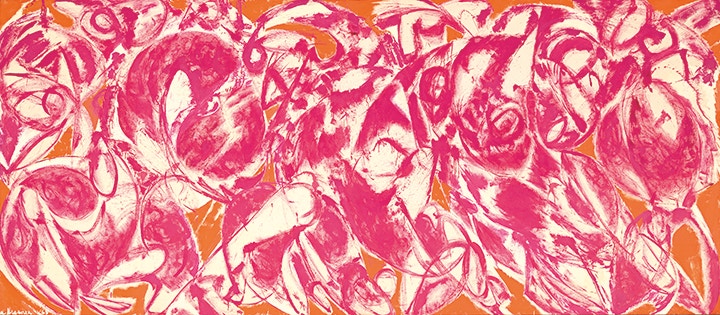 Combat, 1965.
After a period of working with a more muted palette, the 1960s saw colour explode back into Krasner's work with her monumental 'Primary Series'. Combat (1965) marked a new interest for Krasner in dissonant hues; the fierce combination of crimson and orange demonstrating an experimental relationship to colour shared with few other painters. The title could connect to this wrestling with paint, and to the two colours which violently combat across the canvas.
Krasner had a reputation as a 'good noisy colourist', and her relationship with different colours played a significant role in her artistic practice – she explained: 'Let us assume I want to paint a blue picture. But instead the picture comes out alizarin or yellow. This is really the aspect of painting which interests me the most. Naturally, if I pick up a tube of blue paint, the painting will be blue, but that is not what interests me in a painting. Then I would be forcing it. The mystery in painting which I try to stay with, is the alizarin which comes out.'
ABOUT LEE KRASNER - LIVING COLOUR
---
Lee Krasner: Living Colour celebrates the work and life of Lee Krasner (1908–1984), a pioneer of Abstract Expressionism. Explore nearly 100 works, many of which are being presented for the first time in the UK. This exhibition tells the story of a formidable artist, whose importance has too often been eclipsed by her marriage to Jackson Pollock.
Lee Krasner: Living Colour
30 May – 1 Sep, Barbican
BECOME A YOUNG BARBICAN MEMBER
---
Find out more about the unmissable forthcoming exhibition Lee Krasner: Living Colour at the Barbican, and find out how to join the Young Barbican scheme which gives 14–25 year olds discounted access to unmissable art and entertainment.
FEELING INSPIRED