Posted by Cass Art Staff on 1st Jan 2019
Over the last year, we've been working with the talented illustrator and artist Nina Cosford to create the Cass Family Timeline. Her colourful, cut-out style illustrations have truly brought our history to life - from bringing Impressionism to Europe in the early 1900s to opening the first Cass Art store on Charing Cross Road in 1984.
Based in the Southeast of England, Nina has a collaborated on many impressive projects including a longstanding relationship with HBO series GIRLS. She has also illustrated a series of Life Portraits books written by author Zena Alkayat, with subjects including Frida Kahlo and Virginia Woolf.
We caught up with Nina recently to talk about her experience during the project and to gain an insight into her creative process and life as a freelance illustrator.

Image: Nina Cosford's illustration of the Cass Art Family Timeline
Hi Nina! Can you tell us about the journey in creating the Cass Art Family Timeline?
Earlier last year, I was asked by Cass Art to create some artwork for a history timeline of the company, which was to be released in the autumn. The aim was to portray the early days of the Cass Family business; their influential and pivotal involvement in the art world, supplying materials to artists at affordable prices and to highlight how much the company has grown since then. It was interesting to go through all these archives (old photographs, diagrams, illustrations) from paint factories to the very first art shop that opened in Charing Cross. I had some creative license to adapt the imagery and offer my own imagination and interpretation too which is always nice to work with! Once the timeline illustrations had been painted, it was time to add the type - half of the timeline is written in my handwriting, which I think ties in well with the images.
I then had the task of painting all 12 Cass Art shopfronts from around the country, using photographic reference. This was the most enjoyable part for me as I absolutely love to paint buildings! I'm constantly observing them and trying to work out which era they were built or adapted in. This was a great opportunity to draw a range of different architectural styles (from the Georgian building in Bristol to the Modernist building in Hampstead Heath), and bring out the individual character of each building. I think it's a fun idea for the reverse of the timeline and people seem pleasantly surprised to discover a poster when they open it all up!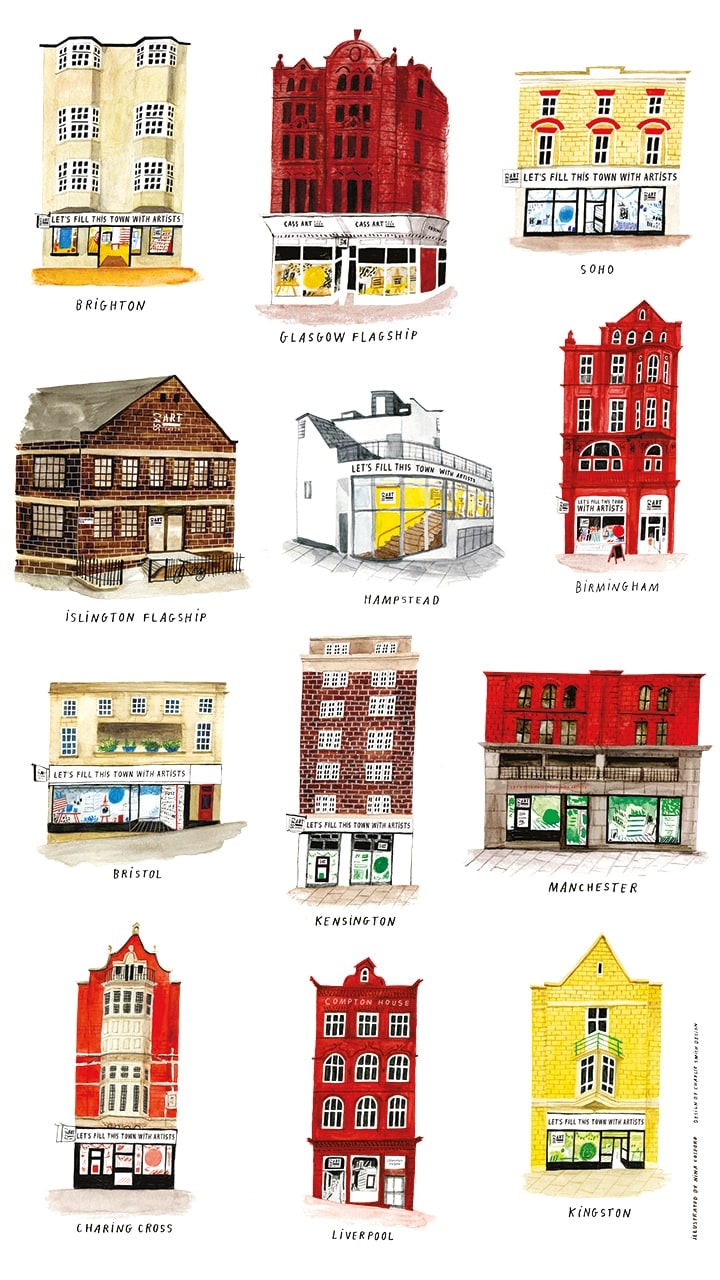 Image: Nina's illustrations of the 12 Cass Art buildings
Your cut-out style and vivid colours give your work a really unique aesthetic. Do you think it's important to 'stand out' when pursuing a career as an illustrator?
Thanks! I think this could be argued, but I personally feel that a unique style - and above all tone - to your work can be super important when entering or working in the creative industry. It's what can set you apart and get your work recognised for being yours, which, in this day and age of mass content creation available on the internet, can be very important. As a graduate, I tried to be as consistent as I could with my portfolio, showing my angle and viewpoint on subject matters and restricting my aesthetic to certain composition styles and limited colour palettes, which I guess I still do now. Obviously, this doesn't always work for everybody, and some creatives enjoy the chance to adapt to each project, in whichever style they feel is most fitting or appropriate. But for me, it has really helped to carve out my own niche, both stylistically and with regards to the type of subject matter I tend to focus on.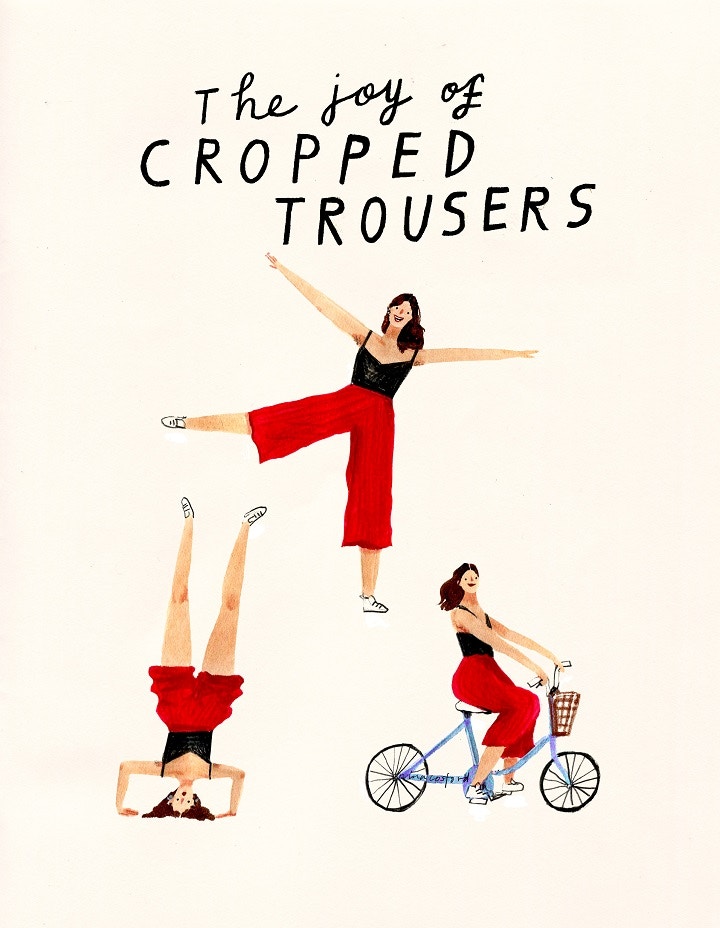 Image: One of Nina's illustratations - The Joy of Cropped Trousers
Can you give us an insight into the creative process behind your illustrations?
It always starts with research - research into the client, their brand, their audience and the subject matter I'm drawing. I make a lot of written notes in my sketchbook and then lots of tiny scribbly thumbnails to start mapping out potential elements and compositions. Once these have been decided on, it's time to build a colour palette. I often use pens and coloured pencils to make more thumbnails, adding in more detail and getting a clearer feel for the piece. This then gets blown up to scale and work begins on the final piece.
The materials I use depend on the brief, but most commonly I use brush markers pens which are great and immediate and offer flat and consistent colour. I also use coloured pencils in some areas to add a little more texture and vibrancy to the image, and work in watercolour perhaps if I am creating something more scenic. I sometimes work purely digitally as well, using my graphics tablet to draw and combine this with bits of scanned type and textures. I like to vary my working methods to mix it up a bit between projects.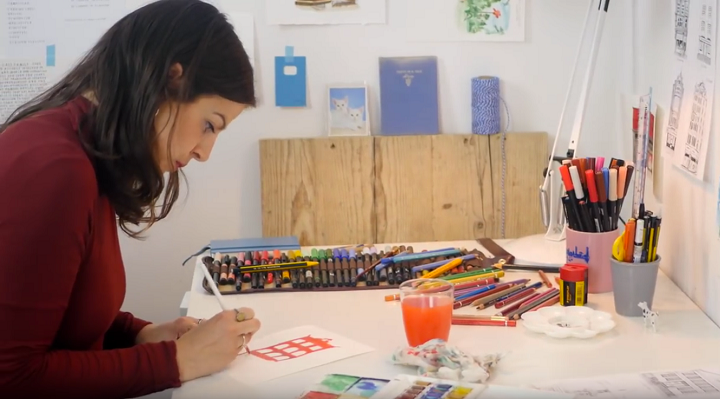 Image: Nina Cosford in her studio
Looking at your portfolio, you've worked with a wide variety of subject matter – feminism, food, TV Shows to name a few! Are there any themes or areas in particular that you like to engage with?
I'm always interested in learning about new things, which is a great part of being an illustrator as it often involves lots of research into an endless array of subject matters. However, in the past few years, my work has gone in a very female-orientated direction. This mainly started with the work I did with HBO on the TV show GIRLS which really shone a light on that strange interim period between teendom and womanhood. I enjoy focussing on female narratives, depicting the everyday ups and downs of being a young adult trying to figure themselves out and make sense of the world around them. Humour is a key element of my work along with relatability and a light, celebratory approach to everyday life.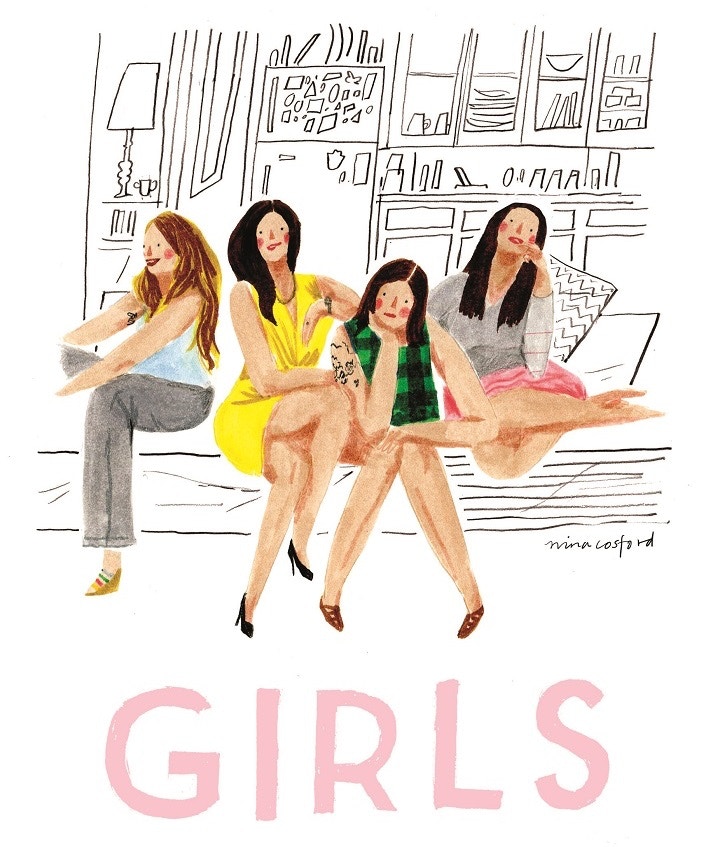 Image: Nina's Illustration for the HBO TV show GIRLS
You have some really impressive collaborations in your portfolio. What are some of the highlights and challenges of working with clients and being a freelancer?
I enjoy working with clients and it's always better when the brief is clear from the start and both the client and I know what we are expecting of one another. I often work alone but enjoy collaborations here and there, especially with my partner Ali Graham who is a brilliant creative and animator. He makes my work move! I used to think I could only work with briefs set by other people and used to struggle with self-initiated work. Now, however, thanks to the internet and the many platforms through which to share content, I find it much easier to make work spontaneously and am able to respond to things quicker and with more confidence.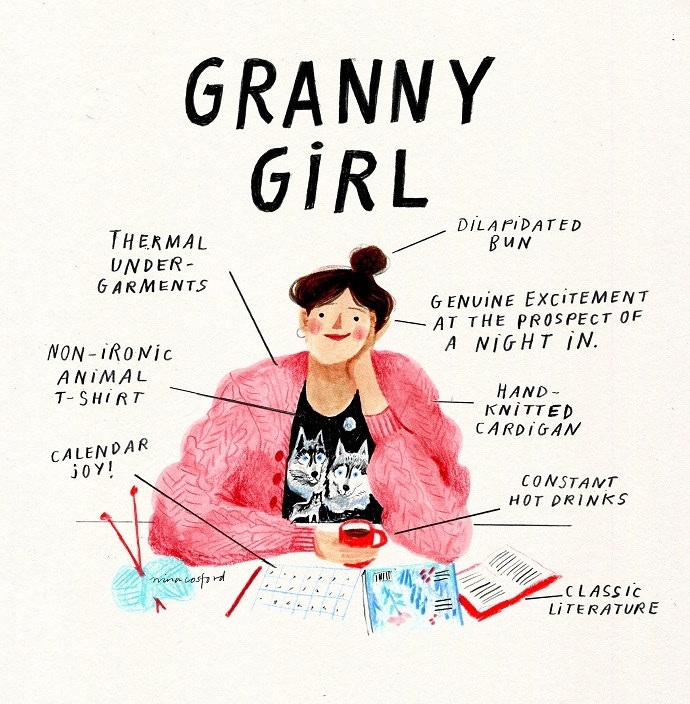 Image: One of Nina's illustratations - Granny Girl
As a freelancer, there is the almost-constant pressure to make great work - for the next illustration to be better, funnier, more attention-grabbing, more stylish or more relevant than the last. I have to wear many hats for my job - managing all of my projects, my time, my accounts, my progress, my promotion and my career path. Fortunately, I'm a natural hard worker and can work well under pressure, but when you've worked a 12 hour day, have an aching back and stiffening RSI in your wrist it can be quite challenging!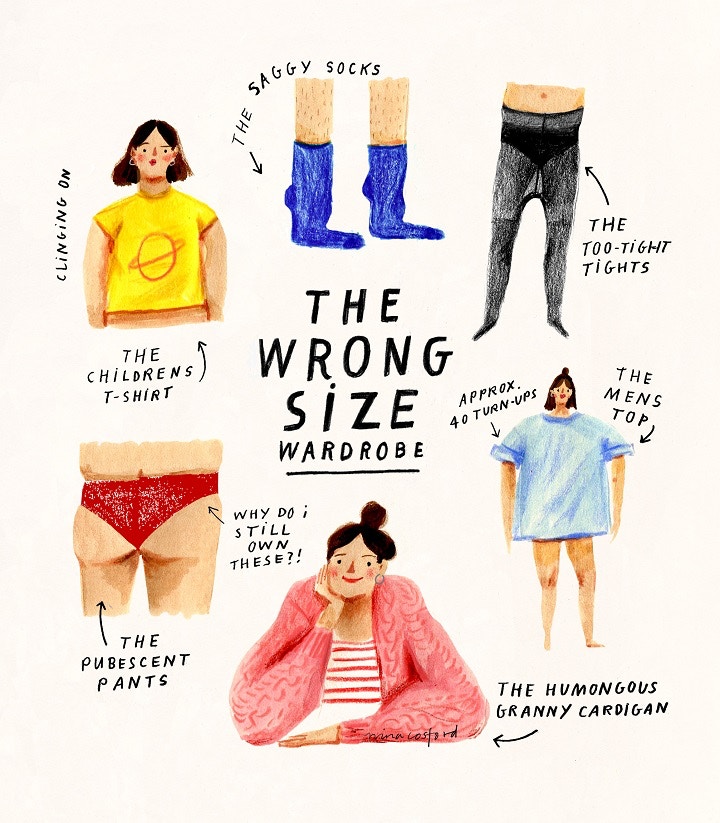 Image: One of Nina's illustratations - The Wrong Size Wardrobe
What first inspired you to become an illustrator?
I drew for most of my childhood, without really thinking about it. I was lucky to have grown up in artistic family, with my Dad being a successful commercial artist and someone who shows an enormous amount of commitment and seriousness towards their work. I think I inherited, or at least was inspired by, that work ethic. It was only after completing my art foundation course that I began to show an interest in illustration. It wasn't quite seen as such a standalone subject back then, only by some people at some universities. I researched a lot as a student and greatly admired the work of Miroslav Sasek, Charlie Harper and Mary Blair, who showed such a skill at breaking subjects down into simpler forms and making the process seem so enjoyable to both artist and audience. As soon as I realised that a realistic drawing style didn't define a great one, I felt liberated and excited to share a more unique way of illustrating subjects and develop a style that I could call my own.
Thanks Nina!
Feeling Inspired?
To find out more about Nina Cosford and to see more of her illustrations check out her website and Instagram