Posted by Cass Art on 3rd Mar 2019
Sky Arts Landscape Artist of Year 2018 finalist Greg Mason has taken some time out of his busy scheduele to share his expertise on painting with us, and give his top five tips for landscape painting. Greg is an Academician at SWAFAA (South West Academy of Fine and Applied Arts) he graduated from Saint Martin School of Art, and was a semi-finalist on Sky Arts Portrait Artist of the Year in 2017 and is the Cass Art Professional Ambassador for Oil Painting. He lives and paints in Devon, creating a mixture of figurative and landscape art.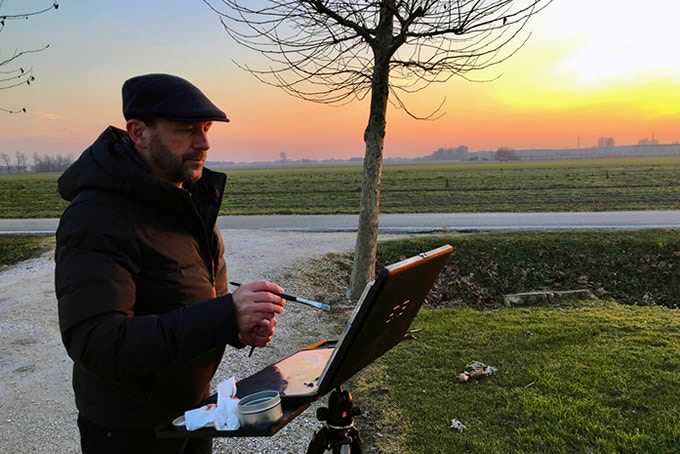 TIP 1: ALWAYS PAINT SOMETHING YOU CONNECT WITH
My landscape painting journey started in the Outer Hebrides about 10 years ago with a series of views that were all about experiencing the moment – big cloud-filled skies with heather, hills and lochs as far as the eye could see. It's so important to start from a place of connection, and there are a few useful questions you can ask yourself before settling down to paint, such as, 'What is it that I find compelling about the view' and 'Is there a hero element in my landscape that can become the focal point of my painting'. I also check in with myself so that I'm not picking something too cheesy or obvious – to make sure I've looked hard enough, beyond the obvious and that am actually going to say something interesting.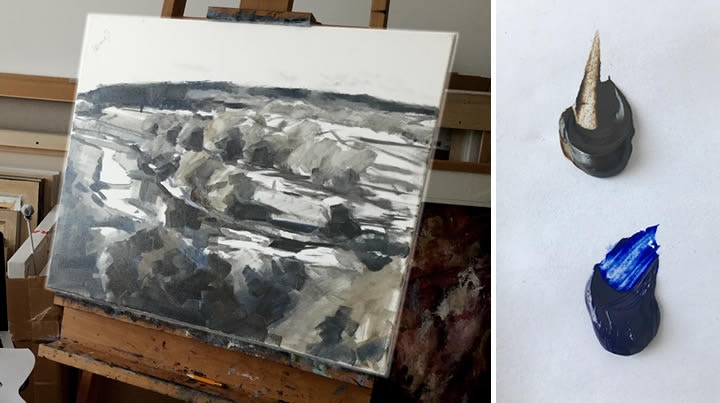 TIP 2: UNDERPAINTING TO ESTABLISH THE COMPOSITION
Once my subject is chosen, I'll set up my easel and lay down my composition. This might be a pencil drawing or a brushed sketch, but it quickly develops into an underpainting using my go to oil colours of Cass Art Ultramarine Blue and Raw Umber. The reason for this is twofold. Firstly, I work in layers, and my initial layer is always quicker and rougher than others as it's a sketch and I know it will get overpainted. I work quickly and with bigger brushes and sometimes this gives rise to great passages of paint that might even remain in the final piece. Secondly, the Raw Umber and Ultramarine Blue allow me to hint at areas where colour is either warmer or cooler – and at the same time I'll define the basic tonal range. After the underpainting I step back and take a time-out to check tonal accuracy and ensure I've captured the energy of what's in front of me.
TIP 3: USING THE SKY TO CREATE DISTANCE
When we look at a landscape we have an almost immediate sense of distance as fields give way to hills and hills become a horizon. However, don't forget to think of the sky as something that can also contribute to our experience of space in a painting. You just need to look hard enough to see how the clouds are making you experience distance. Once you've seen it, you'll know what I mean. Constable is a wonderful example of an artist who endlessly sketched clouds in order to understand how their structure and layering could benefit his composition. If you are painting en plein air, there might be just one moment where the sky comes together and gifts you the perfect solution – so watch out for this and don't miss it.
TIP 4: LAYING DOWN A COLOURED GROUND CAN SET THE MOOD OF YOUR PAINTING
Something I've been experimenting with recently is laying down a coloured ground on my canvas or board before I begin. You can pick any colour to do this – just brush it on roughly to give texture and cover the majority of the white surface. I use Cass Art Acrylics as they dry quickly and have good vibrancy. What does this achieve? Well, any colour underneath my oil layers is going to add a cast to my overall painting. I've noticed that a blue ground works well as a 'shadow' base when painting trees and fields – it also gives an early morning feel of light hitting the landscape. Conversely, a reddish-pink ground will give more of an evening or twilight affect. Try it out for yourself, the possibilities are endless.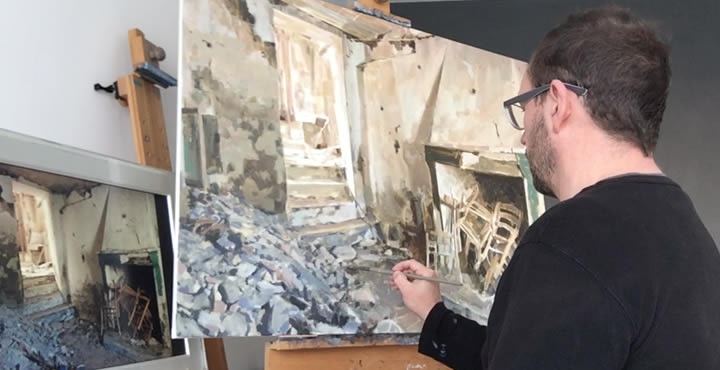 TIP 5: FINISHING TOUCHES
When you feel yourself reaching the end of a painting it's important to hold out for those make-or-break finishing touches that will make your work something that you are proud to look at, put on a wall or sell. Being blinded by familiarity is all too easy – especially when we've put in long sessions and have run the creative gauntlet of being excited, frustrated and hopefully satisfied with the result. I always walk away for a day or two and then come back to take a final, hard look at the work. I'll ask myself some key questions such as, 'Have I captured the mood of the moment', or 'Has my hero area come good'. Sometimes there will be small tweeks that make an object come alive or create subtle relationships between passages of paint. I also look for rhythm in the painting – and this is more of an instinctive thing. If I can look at it for a while and still find it interesting to be with – then I know that it deserves to be sold because there will be someone out there who will find it compelling enough to have it in their home.
FEELING INSPIRED?
Don't forget to hashtag #cassart on social media to show us your creations.