Posted by Cass Art on 11th Mar 2021
The world might have looked very different in 2020, but one positive thing remained the same, Sky Arts Landscape Artist of the Year came to our screens again. Talented artists from across the country donned their aprons, opened their paint boxes and stepped into their artists pods. The sun shined down on the artists this year as they captured scenes of urban waterways, country parks and stately homes. We caught up with the heat winners from this season of Landscape Artist of the Year, discover the materials they love to use and their experience of the show.

Heat 1 Winner Shelagh Casebourne
---
Congratulations on winning Heat 1 Sky Arts Landscape Artist of the Year Series 6! What was the experience like?
Thank you Cass Art! It was a wonderful day, weather-wise, so although it was very hot, we didn't have wind or rain to contend with, so that was a bonus. It was an early start so it felt like quite an adventure getting up and setting off for Kent, and when we arrived at Chartwell, the wonderful team at Storyvault Films were very organised and we were quickly set up and ready to start. Although we were painting most of the time, it was good in the breaks to have the chance to talk to the other artists - we all had such different back-stories, it was really interesting finding out about them. I don't think you really get used to answering all the questions in front of a camera, while also trying to produce something reasonable at the end of the four hours, but actually, having to break off and stand back occasionally is very helpful in terms of seeing where to go next, or what could be going wrong.
The judges loved the way you used the structures within Chartwell house to draw the viewers eye through the piece – particularly the stairs! Do you look for these moments in a landscape where you can guide the view specifically through your piece?
Chartwell was such a good location for the artists as we had a good ratio of building to landscape, so finding an inspiring composition wasn't too difficult. The pods were positioned below the house, which looked really imposing on the hill above us. The house was the focal point and of course you need to find ways to lead the viewer's eye to the focal point. The man made structures, such as the steps, were a gift in this regard. I used my viewfinder until I was able to frame a view that I wanted to paint and a composition I was happy with. I find it's really worth spending time on this aspect of a painting, as, however well the paint application might go, if the compositional framework isn't there, you're really wasting your time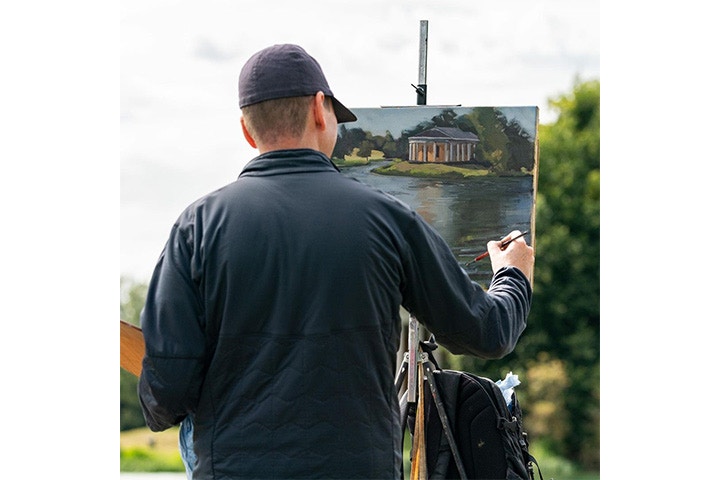 Heat 2 Winner Dougie Adams
---
Congratulations on winning Heat 2 Sky Arts Landscape Artist of the Year Series 6! What was the experience like?
I've been a big fan of LAOTY for many years and to get a phone call to say I've been offered a place in a pod was very exciting. The experience as a whole was very surreal. To be in the company of the presenters and judges was very cool and inspiring, my favourite part was talking to Joan, it really put a smile on my face!! Winning the heat was very unexpected, the other contestants and shortlisted artists were very strong so I had no idea what was going to happen.
Your composition was described as ingenious by Tai! Could you talk us through your decision-making process here, what guided you to elevate the building to the top of the canvas in that way?
On my initial arrival to the location i was taken back by the view and the water reflecting the muse was really interesting to me. Using the Sight size method to paint my landscapes which suited this landscape I was able to keep track of my proportions very easily and I put reference points at the edge of the canvas so I could walk away from the canvas and line the marks back up. For me when I'm composing the painting in my head initially, I'm asking myself, do I want lots of foreground or do I want lots of sky.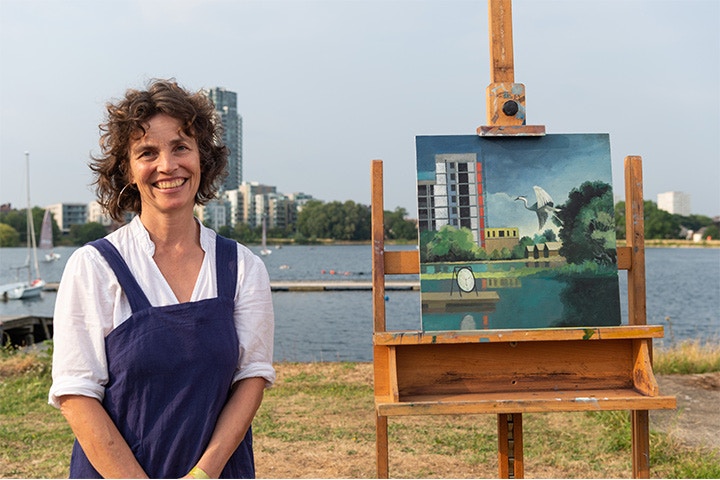 Heat 3 Winner Ophelia Redpath
---
Congratulations on winning Heat 3 Sky Arts Landscape Artist of the Year Series 6! What was the experience like?
Needless to say it was wonderful, and is still taking time to sink in. The final presented us with the challenging project of portraying the Millenium Dome and its accompanying landscape of high rise blocks, warehouses, boats and cranes lining the busy river Thames in only 4 hours. By the end of the day we were all exhausted and desperate for cups of tea. When my name was called out as the winner of Landscape Artist of the Year, I felt at once amazed, and wrapped in a warm glow of support, coming from the judges, my family and the very professional crew at Sky.
Tai described your work as almost film noir, how do you view this reading? And could you talk us through your use of surrealism in your work?
I remember Kathleen describing some of the atmospheres in my work as reminding her of a film noir, as if something mysterious were about to happen. My work has never been described that way before, so I am intrigued. Hers and Tai's comments might have something to do with the fact that for the competition I decided to prime my canvases with a low-toned grey base before starting, giving them a deeper, more mysterious tonality. Perhaps the judges picked up on the fact that I like to convey a subtle narrative within a painting, even if there is no obvious plot. I don't automatically think of myself as a surrealist painter, but I do like to include elements in my work which suggest that life and stories exist within them even though we might not overtly see them going on, almost as a cameraman would, stumbling on a scene in which events have happened, or are just about to happen. Some events might be quite undramatic, like a dance under the willows, or a dog deciding that spring has arrived, and he wants leap high in a classical landscape. Others may be more symbolic of where our natural world might be heading, what species are endangered, and the dilemma between the human world and the wilderness, in which case I use particular archetypes as symbols to make sense of what is happening on a larger scale. I like the subjects to have their own identity, and their say, as if they wish to live independently of what is consciously expected of them.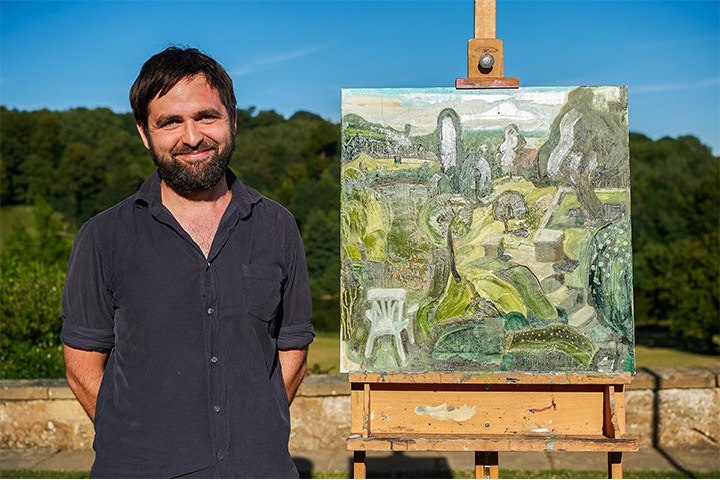 Heat 4 Winner Ben MacGregor
---
Congratulations on winning Heat 4 Sky Arts Landscape Artist of the Year Series 6! What was the experience like?
The experience was obviously quite unusual, and I laughed a lot with the production crew which was fun. You are laying yourself on the line as an artist as there's absolutely nowhere to hide if you produce rubbish. To render a decent picture in 4 Hours under those conditions whilst being bombarded with questions and visual stimulants is a huge challenge and quite an intense high-pressure situation to navigate through. Needless to say, it was exhausting, and my brain was utterly frazzled by the end of it, you could probably detect a kind of delirium it in my eyes during the final interview! Winning was obviously a huge honour and very exciting given those kinds of emotions are hard to come by in current times. Winning something is always quite nice but I did particularly relish the recognition that comes from a piece of your work being acknowledged in such an unprecedented way.
I love the way you described creating a flow with paint before 'filling in the gaps' with brushes. Could you take us through this rubber palette knife technique?
To be honest it's hard to know what to say in the heat of the moment so it just rolls off the tongue. I guess I was attempting to suggest that I try to create a liquidity to the landscape with sweeping paint marks which I hope gives my paintings the 'flow' I mentioned, a bit psychedelic I suppose. I do like my paintings look as strange and confusing as I can in an attempt to make them interesting to look at. I use big, bold paint marks which you can't achieve with a brush in the same way which is why the silicone tools work so well with my style. You also have limited control over the outcome, so each mark comes with an element of uncertainty which is quite exciting when painting and can produce some decent effects. Once I've laid down the marks with the silicone tools and I can see that they could work within the painting I use brushes, palette knives and smaller silicon tools to build on that, hopefully combining everything in a coherent way.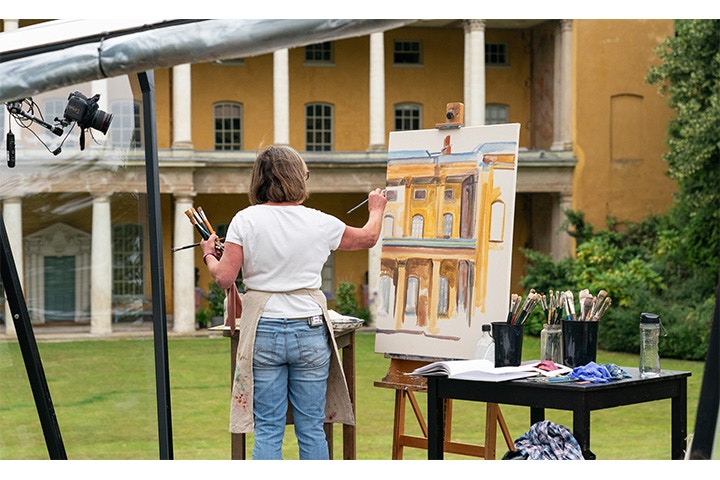 Heat 5 Winner Clare Lord
---
Congratulations on winning Heat 5 Sky Arts Landscape Artist of the Year Series 6! What was the experience like?
The day at West Wycombe with Landscape artist of the year started early as we had to be on set at 7am. The first sight of the pods was a reality check as all of a sudden I realised I really was going to be in the tv show I have enjoyed for years! The view presented from the pod was also a startling reality as the building filled the vista . I did consider turning right round and painting the gentle landscape behind the house but told myself not to panic and to use the time I had before we were allowed to start painting to consider how I was going to represent the view. I decided not to paint the building full on but to focus on the right hand end which presented interesting compositional values.
The judges spoke about the parallels between your submission piece and the heat painting. They spoke of your paint application but particularly your framing of the piece – they spoke of your use of banding across the work and the 'breathing space' you allow your viewer. What did you think of their reading, and could you talk a bit about your choice of framing in your paintings?
Once I was able to start my first decision was which canvas to use. I had brought three canvasses of different dimensions [all quite large] – one was 3x4 one 3x2 and one 6x5 and had viewfinders with the same ratio. I experimented with all the viewfinders to choose the one which best framed the house and made a very quick sketch of the key elements.
It was the way the three horizontals – the roof, the central balcony and the ground, worked with the three verticals created by the pillars that caught my eye. Both created the banding which the judges spoke about. I often find I am drawn to views which lead the eye into a painting whilst also creating barriers – I like the way this is demanding of the viewer and also how it frames the reality behind. The Blue Bucket submission piece had these same values. The layers lead the eye through to the blue bucket and give it a dynamic status it might not have expected. Whenever I start a painting I begin by asking myself what I am drawn to and then choose the canvas dimensions which best frame that element as the focal point. Its all about drawing the viewers eye!!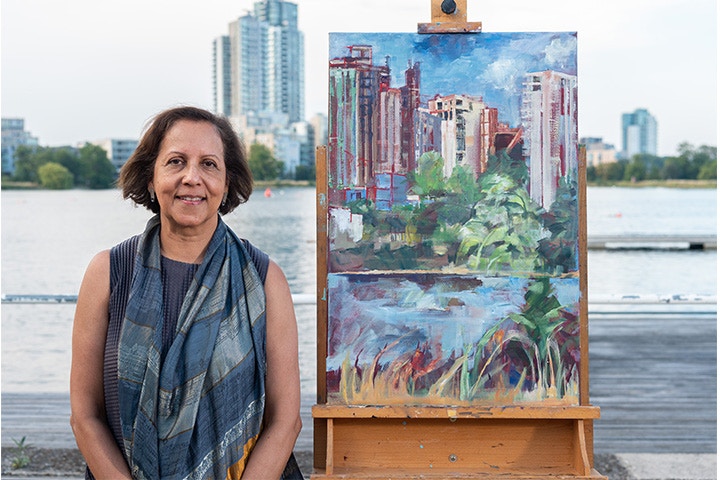 Heat 6 Winner Kalpna Saksena
What was the experience like?
I was nearing the end of a master's programme, in charity accounting and finance at Cass Business School, when I received the call to say that I had been chosen as a pod competitor. It was unreal! I had to carve out time to prepare for the competition and analyse the style I would apply to do so in four hours. I was happy and relieved to be offered the site of West Reservoir, with a choice of views to include built structures and nature, a combination I always try and include in my paintings. I am incredibly grateful to my sisters, who put me through my paces to practice painting sky, cloud, water and green stuff! A big thanks also to Sky Producer, Glen Bartlett, who made me consider the painting style I would employ.
Arriving at 7am and shaking with nerves, it took me some time to take in the number of people, equipment and instructions not just for filming but also for COVID social distancing. I fudged my words incessantly! Meeting Joan Bakewell was a high point- she virtually sparkles, she is so full of life and fun but still never misses a grain of injustice! Looking around the reservoir, I chose a sliver of the view in portrait form- with the long grasses on the bank nearest to me at the base, rising up to the water, far-side bank and buildings under construction. Once that was decided, there was no holding me back!
The heat was so intense, reaching over 40 degrees inside our greenhouse-pods! I had to be asked to wipe the sweat pouring down the front of my face that I was unaware of when they came to film. Normally intolerant of direct sun and heat despite having spent my early childhood in India, I got into 'the zone' and relied on methods from my eight four-hour practice sessions. The visor and sunglasses helped cope with the glare however any idea of using the Ipad had to be ditched.
You spoke about the way you use drawing in your work, and also a warm ground. Could you expand a bit more about the way you approach a new painting?
I had prepared three canvases with imprimatura - one in yellow ochre, another in orange and a third in a deep crimson mixed from cadmium red, ultramarine and a touch of raw sienna. I chose the crimson canvas to add impact and drama and blocked in the main shapes in acrylics. I had to hold back from going too far with putting in detail, as I wanted to do so later with oils. The second stage was to draw on top with paint, in pure cadmium red so it would show up. I also like to leave some lines showing to show the process. I was happy to leave certain areas less finished to retain the immediacy of plein air magic. The final stage involved selecting the areas to repaint in the final layer with oils.
The difference of texture and finish, with the underlayer of crimson leading the eye and acrylic blocking, drawing and oils all evident in the finished piece, is something I am happy to have. My approach to painting depends very much on the image I am to paint. For a busy scene, I decide how much to exclude and select to paint in my draw-with-paint style (such as my 'Vietnamese Salt-fields' diptych) or in layers of colours picking out shapes as light hits them (as in my submission work 'Southbank Construction').
I feel as artists we need to free ourselves from painting a 'camera view'. I am therefore happy to move things I see what achieves a good composition or to repeat shapes at different scale. I am interested in presenting multiple views on a single canvas as those produced in photo collages and as retained in our memories. Deconstruction practices are thus a recurring theme in my work.
FEELING INSPIRED?
---
Dust off those paintbrushes and wipe off those palettes and get painting! If you need to top up your materials before you get going you can shop with us online, we have everything you need.