Posted by Cass Art on 2nd Aug 2018
The BP Portrait Award is back for its thirty-ninth year at the National Portrait Gallery. The prestigious painting competition brings us the very best in contemporary portraiture today; showcasing a breadth of approaches to portraiture this year's award includes the unusual, the beautiful and the uncanny. The top prize of £35,000 was awarded to Miriam Escofet for her ethereal portrait of her mother: An Angel at My Table, with Ania Hobson winning the Young Artist Award for her painting A portrait of two female painters.
This years exhibition has ranged from self-portraits, to portraits of friends, family and strangers - with the occasional famous face too! This year's group of artists truly express the breadth and diversity of contemporary portraiture, from detailed hyperrealism to bold blocks of colour. They push the boundaries of figurative painting and show us that portraiture is still very much present in painterly conversation. Portraiture and figurative painting is as relevant and exciting today as it has been for hundreds of years.
We caught up with some of the shortlisted artists of 2018 for an insight into their process, their must-have materials to achieve their unique approaches to painting and the inspiration behind their works: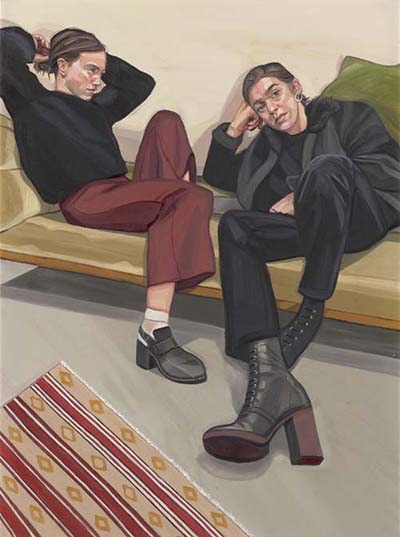 Ania Hobson, A portrait of two female painters (on show at this years BP Portrait Award)
Ania Hobson
---
Ania undertook a diploma in fine art and design before completing a BA (Hons) degree in fine art at the University of Suffolk. She has exhibited in group exhibitions across the UK including the Royal Society of British Artists. She was also selected for the BP Portrait award in 2017.
Congratulations on winning the young artist award at this year's BP Portrait Award. Your work is indeed a celebration of the strength of the young female painter, with your bold use of colour, fierce shapes and angular perspective. The subjects are powerful but distant, unfazed and indifferent to our gaze as the viewer. Do you find that it is still challenging to be a young female painter today?
I don't think it is difficult being a female artist today, but that's how I like to see it and refuse to think it should be difficult, especially that times are changing and more and more women artists are being celebrated. It all depends on how you tackle it. Some may disagree with me and have probably experienced different situations, but certainly in history it was very difficult for young women to achieve any sort of recognition.
The more I do my research the more I realise there are so many successful women artists out there! It takes a lot of persistence and determination to push yourself out there and there will be times where you think others may have it easier. I have learnt in the art world you definitely have to have a hard nose for criticism but it is something that you have to take on board and turn it into something positive. I like to think that in the future there will always be an equal playing field for us female artists.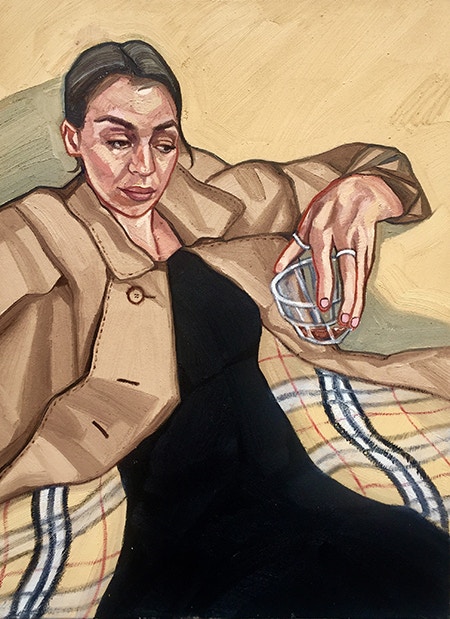 Ania Hobson, Self Portrait
The surfaces of your paintings teeter between great depth and a stark flatness. In particular the bodies and environments that surround your subjects are created with broad strokes of colour. Could you expand on the technical way you achieve this aesthetic, and the materials you use?
I enjoy the use of paint and the textures it creates. I don't like to over complicate my work and I refuse to focus on minor details. I plan out my paintings in such a way so that the figures interact with the interior, making it more of a composition with interesting and geometrical shapes. I work on the faces first and then block in the background with flat planes of colour, and then deal with the figures later.
Using a distorted perspective then joins up with texturised mark making, that with the flat colours can give the illusion of the viewer being in the same space. I paint with large bristled brushes using Michael Harding paints mixed in with a clear medium impasto paste. I tend to work quite fast as I find spending too much time on a painting can lose the passion and freshness of the work. I'd like to continue making this my style especially since winning the Young Artist Award with my latest painting.
See more of Ania's work on her website
Meghan Cox, Shelter
Meghan Cox
---
Meghan undertook a BFA in painting and a BA in art history at Indiana University followed by an MFA in painting at the University of Pennsylvania. She has exhibited across the USA including galleries in New York, Philadelphia and Williamsburg.
Your painting Shelter is quite unusual, as it's a portrait without a body; three quite limbs hang loosely from a chair, torso and face covered by a pile of cushions. Despite this, the portrait holds great personality and emotion, the slump of the shoulder and dangle of the arm. Equally the anguish you convey in Shelter Squeeze brings a tightness to my chest! How do you find painting portraits without bodies as it were?
I don't consider myself a particularly political painter, however, I have found it increasingly difficult to use the figure at this point in time without some kind of political implication. Shelter, Shelter Squeeze, and several of my other paintings containing figures (or objects) use temporary provisional structures for a false sense of security, protection, and of course as a place to hide. The structures, whether pillows, cardboard forts, or otherwise are as much of the body as a traditional head or torso. The light source, typically a pleasant natural light, is often used frontally to increase a feeling of harshness within the compositions. In addition to the search for temporary safety, there is a subtext of the figure being watched, maybe even a projected sense of paranoia. There is evidence of this in the painting of Miranda (included in the BP). Although not stated in the didactic - Miranda's red ear is meant to emphasize a discomfort at being seen.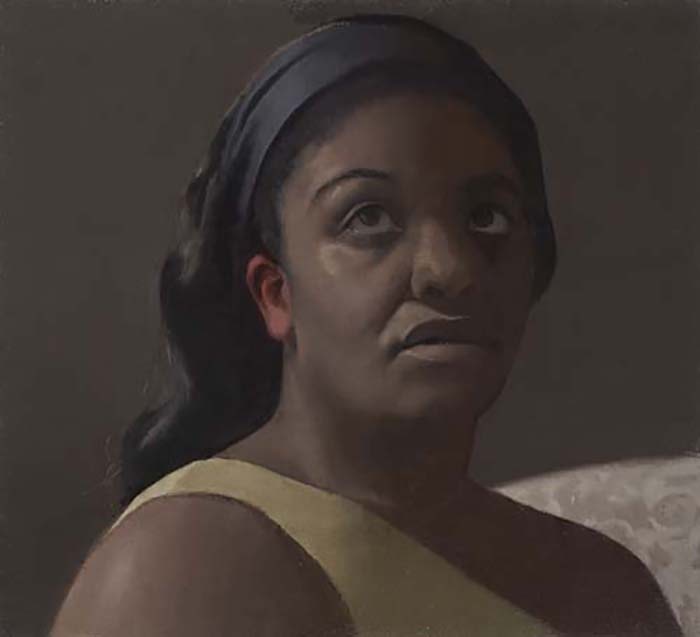 Meghan Cox, Miranda (on show at this years BP Portrait Award)
Your submission to the BP portrait award, Miranda, is a friend and subject you've painted on many occasions throughout the years. How do you think your relationship as sitter and artist has affected your relationship as friends? Does painting someone's portrait allow for a new window to understanding them as a person?
Yes, I have painted Miranda many times over a decade and this becomes a very specific type of relationship. I am always so grateful when she agrees to model for me. I prefer being behind the easel, and not seen. A studio sitting between artist and model is such an intimate and slow paced experience and a relationship develops as such. We don't see each other much outside of that experience, however, our conversations are much more intimate and personal than the occasional meet up at the pub with buddies. We talk a lot about our feelings about relationships and friendships. We also talk a lot about our creative ideas and pursuits.
See more of Meghan's work on her website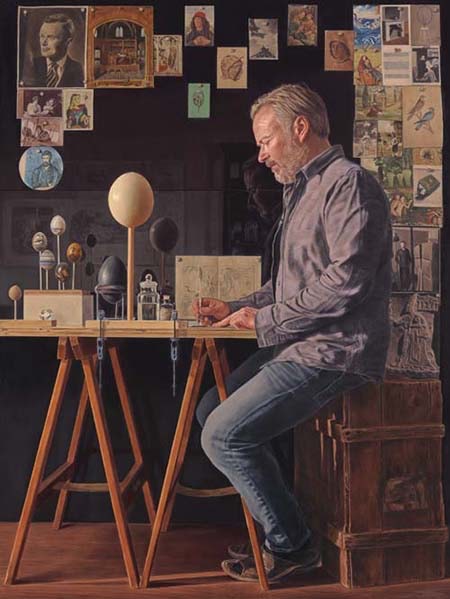 JJ (Jeremy) Devline, The Oolographer (in his study) (on show at this years BP Portrait Award)
JJ (Jeremy) Delvine
---
J.J. Delvine studied at the University of East Anglia and London Guildhall University. His work has been exhibited in London, Berlin and Rotterdam, and was previously included in the BP Portrait Award in 2006 and 2011.
The Oolographer (in his study) is incredibly rich in subject matter. I can spot a couple of well-known paintings; Portrait of Dora Maar by Picasso and St. Jerome in His Study by Old Master Antonello da Messina. Could you talk us through a couple of the stories behind your reference images?
The images are a kind of memoir of the different stages of my life as an artist. The stories tend to float across the images and objects linking one to another and trace journeys to and from points of reference. It is not a narrative of triumphs and achievements but more about the entanglement of complex narratives that link the personal story to larger cultural histories.
Antonello da Messina is one of the more elusive artists of the Renaissance. He doesn't quite fit into any box and this painting, both deeply realistic and allegorical, shows you why. Vasari - the earliest biographer of the Italian Renaissance - concocts a story about Antonello that made him the one who introduced oil painting to Italy. Vasari tells us that this young Sicilian saw a small panel painting in oils of St Jerome in Naples and promptly went to Flanders to see the ageing Jan Van Eyck where he wangled the secret from him. The only problem with this account is that Van Eyck was certainly dead before Antonello reached his teens. But is there a kernel of truth in it? You can pop into Room 55 of the National Gallery and judge for yourself if it looks quite like anything around it or more like the Van Eycks in Room 63.
I have an Anglo-French background and when I was eight my family moved to Paris and it was in France that I really began to take an interest in painting. The Portrait of Emile Zola by Manet (second postcard down top right) was one of the paintings that engaged me at this period and that I can now see is also a subliminal source for my composition. I collected this postcard when the painting travelled to the Royal Academy in 2013 and seeing it again was reminded of my formative attachment to it.
You paint on many different surfaces, from panel to canvas, and even egg shells. Indeed on the desk in The Oolographer there is a render of your work Quincunx, a sculpture of five painted duck eggs. You must have to be very versatile in your approach to painting when using such different surfaces? … And with these adaptations in application process, do you have a particular brand that you can always rely on?
In my view versatility is worth cultivating as a painter - the challenge of adapting to different circumstances improves your skills and critical evaluation. Getting an image to work from different distances is important if you plan to exhibit and changing scale also helps to develop brush skills, and improves flow and movement. Different surfaces present different challenges, and non-flat surfaces in particular where you have to marry form to things like the curvature of an egg. I like to use single pigment paints and I am very particular about which pigments work best for my palette - I avoid many modern dyes like Phthalocyanines because they overpower subtler colours. For oil painting I use Michael Harding for historic pigments like Vermillion, Naples Yellow and Cremnitz white, Blockx for its Mars Browns and Flake White, Williamsburg for its range of earths.
See more of JJ's (Jeremy) work on his website
Rebecca Driffield, Close up Claire Tomalin (on show at this years BP Portrait Award)
Rebecca Driffield
---
Rebecca studied at Swinburne College of Art and Melbourne State College, Melbourne. She has exhibited across Europe and the USA, in 1999 she exhibited in the BP Portrait Award, winning second prize.

Left to right: Finding a position, First sketch: charcoal on linen, Building the painting, Detail of finished portrait
Your final portrait of Claire Tomalin was completed after creating initial studies from life. Could you talk us through your process, how does working from studies differ from painting or drawing from life?
Working from life,one observes the sitter in the present, in a context, and the intention is to accurately record what one sees; working from gathered material, the process is a more intuitive exploration of the psychology and the dominant preoccupation(s) expressed in each particular face, a process I find intensely interesting and powerful.

What are the vital tools in your studio?
The vital tools in my studio are good light, my books and a collection of images I've collected over the years from newspapers etc which help to trigger ideas and inspiration. I paint on Belgian linen, size my canvases with animal skin glue and paint in oil paint mixed with linseed oil. I am very fond of my palette which is a large white porcelain plate from Melbourne; and my brushes which are hog. I work on an easel, I have 3 easels. My studio is in the South East part of Paris.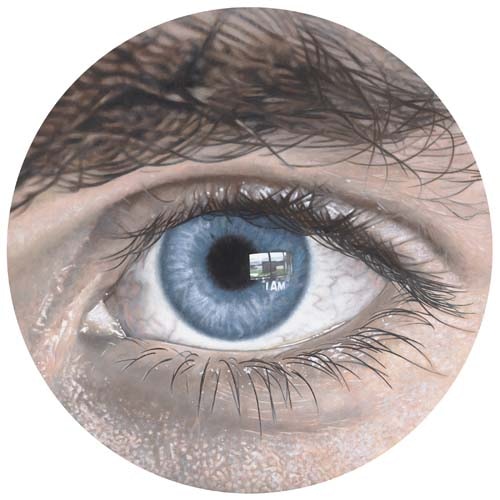 John McCarthy, Derek (I am) (on show at this years BP Portrait Award)
John McCarthy
---
John studied at Central St Martins College of Art and Design. He has exhibited in solo and group exhibitions in London including Discerning Eye (2002) and Art London (2003. In 1999 he was selected for the BP Portrait Award, winning the Visitor's Choice prize.
Your painting of Derek is unusual for the BP portrait award, as it focuses solely on your sitter's eye. Through such dramatic cropping our gaze as a viewer has nowhere to hide, we have to look Derek directly in the eye where we find the defiant statement: I am. What are the challenges of painting a subject without showing their face?
I thought long and hard about how a portrait could be unconventional. I experimented with extreme close ups and eventually just ended up with the eye and discovered that each eye represents an individual in a way that is almost unmistakable.
Looking into an eye, you see more than just the eye, you see all that is reflected in it - including the person's surroundings. Derek is a year eleven student at a special needs school who is finding his way in the world after experiencing difficulties as a young boy. He has definitely emerged as a confident young man, ready to face the world as a worker, and the words 'I am' represent that determination. I hope it gives anyone with similar difficulties inspiration to move forward.The real challenge with this painting, I guess, was the decision to paint it on a circular panel - something I hadn't done before. Obviously, you have no corners to work from, so positioning is both crucial, and very difficult. When it's right, it's right - but discovering where that is another thing!
Your paintings are incredibly detailed, how do you achieve such a precise application?
Thank you! My interest in painting stretches from hardcore hyper realism to impulsive expressive brushstrokes. I decided a long time ago that I wanted to paint and draw in precise way though, something labour intensive, something that requires a lot of practice and commitment. I do loosen up sometimes, but detail is my thing, I think. I enjoy the hard work.
Skills with a brush can't be overstated! Over the years, my brushes have become smaller and smaller, and the work has become more detailed. Plus, materials are important. Right brush, right canvas and right focus! I couldn't imagine not painting; it's something I have to do. I use Pro Arte Acrylix brushes for detail most of the time and I also used to use Kolinsky sable.
See more of John's work on his website
Shawn McGovern, Laura (on show at this years BP Portrait Award)
Shawn McGovern
---
Shawn gained a BA (Hons) in painting at Wimbledon School of Art with post-graduate studies at the Royal Drawing School. He has previously exhibited in group exhibitions including the Royal Society of Portrait Painters, winning the Ondaatje Portrait Prize 2017. He was previously included in the BP Portrait Award in 2015.
What colour! There is a wonderful vibrancy in your painting of Laura; could you expand on your use of colour in your portrait?
My choice of colour usually is chosen in the first sitting. I have an ever growing collection of different coloured/patterned fabrics. I like to discuss with the sitter the colours that stand out to them – the same discussion is had regarding the clothing of the sitter. Colour and pattern are very important to me; I always try to use them to help portray the sitter's character. I often have a preconceived idea of the colours and patterns that I want to include in the painting but this can be changed or adapted during the first sitting if I feel that the vibe or essence of the painting has taken a natural digression whilst getting to know the sitter in more depth. I always knew I wanted bold and vibrant colours in Laura's painting. From listening to her music and following her career, I felt Laura had a very unique, strong sound and I wanted to capture this through the use of striking colours and patterns.
Her pose is quite striking, with her crossed arms and fixed gaze. Your sitters often have a defiance and strength about them – whether in a strong gaze, or lifted chin. What do you find is important when trying to capture the essence of a person's character on a canvas?
I like to spend as much time as I can with the sitter learning different qualities about their personality. I always take a series of photographs during the sitting. This way, I have a number of different facial expressions to choose from. Once I am able to identify the expression and body language that I feel best captures the subject, I am able to start the portrait. I often find that after finishing the portrait, I am able to look back and see how the gaze, body language and composition of the portrait have been hugely influenced by my impression of the sitter. I usually work on a single portrait for over 3 months – in this time the gaze of the sitter changes continuously through the building up of different layers and glazes. I know when the portrait is complete once the gaze is fixed and the character of the sitter is present.
See more of Shawn's work on his website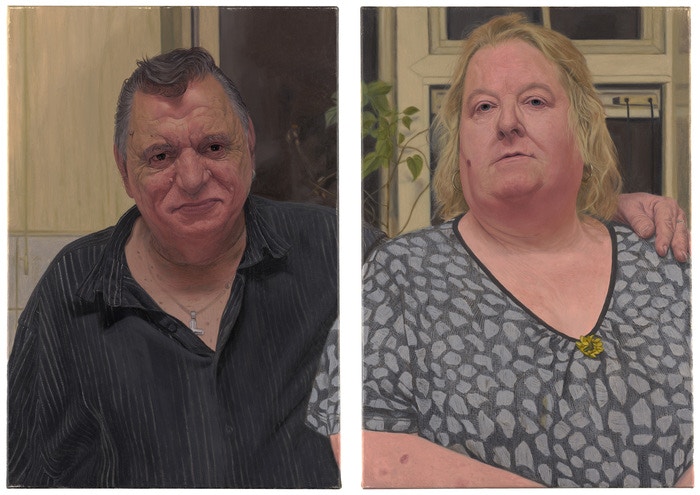 Mark H. Lawrence, Mr & Mrs Cooper, seperated (on show at this years BP Portrait Award)
Mark H. Lawrence
---
Mark undertook a BA (Hons) degree at Grays School of Art, Aberdeen and an MA in fine art at the University of East London. He has exhibited in shows in Glasgow, Edinburgh and London, including the Lynn Painter-Stainers Price and the open exhibitions of the Royal Scottish Academy and the Scottish Portrait Awards.
Your paintings are highly detailed, from the glint of silver from a subject's jewellery, to the slight blemish on the skins surface and crease of a forehead. Do you find working in oil essential for this style of painting, with its translucent nature and slower drying time? Which Oils in particular are always within arm's reach?
The translucence of oils allows me to create works of realism through the layering of colours, and its versatility means I can employ various techniques within a single work. It is also a very forgiving medium, given its slower drying times, and one that allows me to work in a detailed, methodical way. All essential for my way of painting at present. Michael Harding and Old Holland oil paints are always within reach.
As an artist you work a lot with the disabled community supporting marginalised and vulnerable adults – indeed you were the outreach worker for Mr Cooper, one half of your painting in the BP award. How do you navigate the relationship of artist and outreach worker, or indeed do you believe them to be constantly interchangeable?
In my role as an Outreach Worker, being an Artist guided my work in that I made space within my job to facilitate artistic experiences for the people with whom I worked. Simultaneously, being an Outreach Worker influenced my Artistic work - through my experiences working intensively one-to-one with individuals I became drawn to portraiture as I felt compelled to document and to represent the people I came to know very well. Owing to this, I believe the 2 roles were complimentary: the job allowed me to continue my artistic practice and to create artistic experiences for others, and as an Artist I was influenced creatively by the social nature of the job.
See more of Mark's work on his website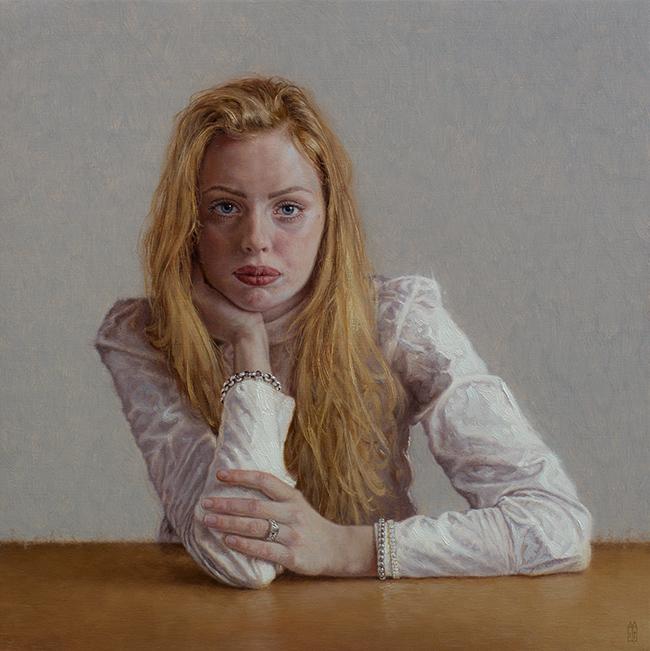 René Tweehuysen, Mara
René Tweehuysen
---
René studied at the University of the Arts, Utrecht. He has exhibited throughout Europe, including the annual exhibitions of the Royal Society of Portrait Painters.
There is a great texture to your portrait of your son Finn, in the fabric folds of his hoody and rough plasterwork behind him. Could you talk us through the importance of texture in your work?
My goal is to express the essence of human nature in my portraits and to embody something of the soul of the sitter. I like to see the brushstrokes and to leave marks as they are and not to overwork them. The study of old master's paintings and manuscripts opened a new world for me. A face is a combination of subtle contrasts, colours and tones. I aim for a rich paint surface with depth and texture. That's why I work in layers with rich mediums. Medium: Sun thickened oil, egg and chalk. I use it to make the oil paint thicker. It will affect the consistency of the paint and make it more mobile also (thixotropic).
Painting process: the under painting of the portrait of Finn is painted with expressive brushstrokes. I always work with a monochrome underpainting to set up the design of the painting as a tonal unity. In the 17th century this phase in Holland was called 'doodschildering' (dead colour). Later in the actual finishing in oil paints: where the oil paints are transparent or half transparent the underpainting will show through. This way I will get a paint surface with depth and texture and the translucent nature of skin can be recreated. Lead white is great to use for texture and mixing skin tones. This can be seen in my portrait of my son Finn, in the fabric folds of his hoody and rough plasterwork behind him. While working ideas come up and choices are made. I take my time to get everything just right, doing one brushstroke and thinking about the next one. I think this economical way of working is still relevant in contemporary painting today.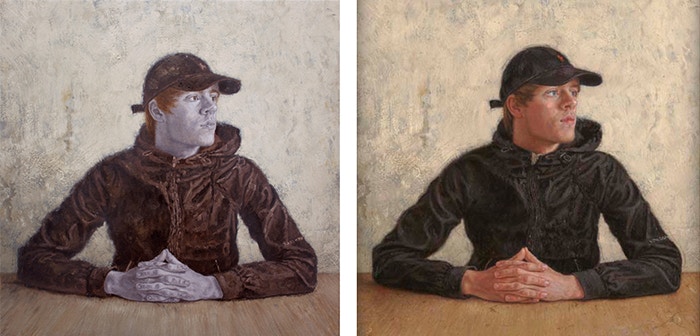 René Tweehuysen, side by side: Finn (Underpainting) and Finn (Completed painting on show at BP Portrait Award)
What are the vital tools in your studio?
I use Belgian Claessens linen prepared with layers of lead white (if necessary with texture), wherein the final layer is a coloured layer (imprimatura) - this could be, for example, in light grey, beige or pink.
For the paints I use: Old Holland, Winsor & Newton Artist's and Talens Rembrandt
For the brushes I use: Talens Series: 245 red sable hair, cat's tongue (for fine details). Rosemary & Co: long Chungking, Mongoose hair filbert's, round's and long flat's. Da Vinci: Chungking long filbert's and round's.
See more of René's work on his website
---
Feeling Inspired?
Want to try your hand at your own portrait? We've got everything you need - from paints, brushes and canvas. Take a look online or pop in-store to talk to our staff artists who'd be happy to help with any questions you have about getting started. Don't forget to hashtag #cassart on social media to show us your creative endevours!
Our annual exhibition Face to Face at Cass Art Islington brings together the works of artists exhibiting in the BP Portrait Award 2018 at the National Portrait Gallery. An insight into their practice beyond the award, this show celebrates portraiture and figurative painting in its many forms.
Face to Face is opening on the 14th of August and runs until the 9th of September. Join us for the Private View on Thursday the 16th of August: Find out more
Lead Image: Ania Hobson, Self Portrait