Posted by Cass Art on 7th Apr 2020
We are excited to host our first artist residency at Cass Art Islington, as part of 'Work In Progress' artists Andrew Szczech and Suzon Lagarde will spend two weeks between the 4th and 17th of February in our store working on their practice. They will transform the gallery space in a working studio, engaging with Cass Art's customers and talking about their practice. They will also run a structured programme over the two weeks, which will include tackling the major genres of figurative painting including portraiture, self portraiture and still life, as well as looking at ways of finding inspiration.
Hello both of you, and thanks for taking the time out of our busy preperations for a quick chat! We're very excited for the two weeks you'll be spending with us during the Cass Art Islington residency, a first for us! What are you both hoping to achieve during the time?
Andrew: Suzon and I are so excited about the residency. It's a first for us too! I'm really going in to it with an open mind. We have a strong structure to the fortnight and I'm hoping that on the back of this I will produce some interesting work. The main point for me is to really to engage with customers and exchange ideas with them about process and approach. I'm looking forward to learning a lot and, hopefully, inspire a few people.
Suzon: Andy and I share the same passion and enthusiasm for what we do, and yet our practice can be quite different, which is what I love about it! I feel really lucky to be surrounded by so many artists in my daily life, and the treat is to be able to see how diverse everyone's approach is. By showing Cass Art's visitors all the facets a day in the studio can have, by demystifying what it is to create work, our aim is to make this residency highly inspiring. It will definitely be such for the two of us, and to be honest I just can't wait to start!
ANDREW
---

Pillheads, Andrew Szczech
You work primarily in oils, what is it about the material you love and do you have any particular brands you enjoy to work with?
I really like the versatility of oils, the different ways you can apply them. The slow drying time is really helpful as it enables you to work with them for longer. It might sound a bit strange, but I also just love the smell of them and the whole weight of tradition that you feel when you use them.
I've got a split personality when it comes to brands. The Michael Harding range is superb with brilliant coverage and intensity of colour. But I also really like using products aimed at students such as Winton by Winsor & Newton, the price point of these is such that you feel less inhibited about using large quantities.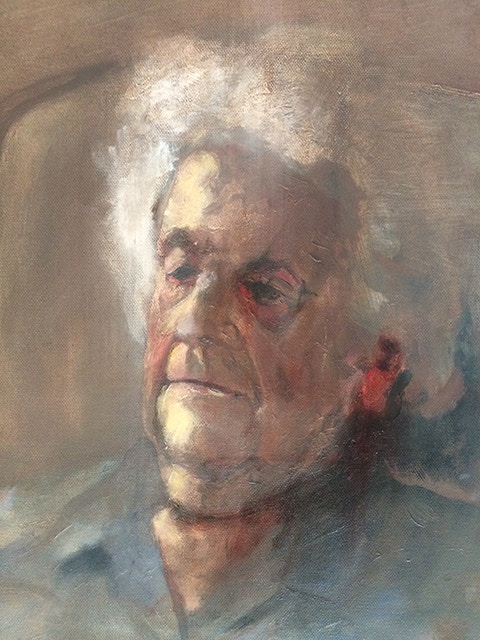 Paule, Andrew Szczech
I just love your expressive brush strokes in your works – could you talk us through your process and the types of brushes you use?
Thanks! I'll always start with a ground and then quickly block in some basic tones and colours. Obviously, a mid tone ground is helpful as you can easily add a limited number of lighter and darker tones and start to develop an image quickly. I work quickly, giving equal attention to the whole canvas – however, it may take me months to complete a painting (I work on several concurrently). As the painting progress. I'll often add a grisaille (a thin coat of grey, which you rub away using a cloth in order to reveal lighter and darker areas) – this is really helpful to make the image more coherent.
I'll use a variety of brushes, but generally favour mid to large size filberts. Using a large size brush prevents you from getting too caught in the detail.
Rush of Blood, Andrew Szczech
Your painting style has quite a range, would you say that your aesthetic choices are primarily guided by your subject, or is there a more abstract and loose decision making process?
Great observation, thank you. One of the reasons for taking a diverse approach is definitely down to the subject I am tackling. But also, I think it's really important to make a conscious decision to continually push yourself down new avenues. Some of these may work and some may not, but unless you try and push yourself, you won't make progress and you will get stuck in a rut. It's all too easy to find an approach that works and then to just to stick with that.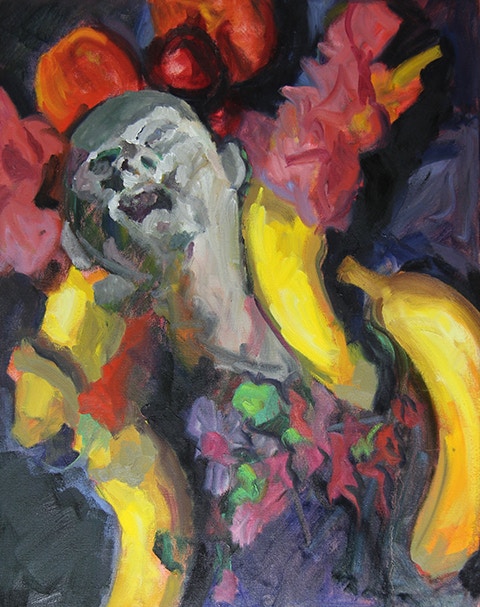 Bananas, Andrew Szczech
Humour and absurdity seem to be a present theme in part of your work, of course the Jester hat points very strongly to this – but could you expand further for us?
We are living in strange times. Sections in our society have never been so polarised and I am conscious of a growing sense of conflict all around. Much of my work tackles these issues and I won't shy away from them. However, I think at the same time you need to hang on to humour and comedy as an effective counterpoint to this.
You've exhibited your work in the Oxo Tower in London and at the Mall Galleries for the Discerning Eye exhibition, what plans do you have for your work this year?
I'm in the second year of the Fine Art BA at City & Guilds of London Art School, so there is a lot of work involved in that. Being at art school gives me a fantastic opportunity to push and experiment with my work as much as possible.
And, of course, the high point of the year will be the residency at Cass!
SUZON
---

You have many causes close to your heart, including animal rights and veganism. How does artwork help you express your 'voice for the voiceless'?
Animal Rights are indeed an important subject to me, and because it goes straight to my heart it is sometimes hard to communicate with words about it. I began to engage with it through my artworks about a year ago, and it has been a brilliant way to start conversations. I'm very lucky to be a member of the art collective Art of Compassion Project : using our art to raise funds for various charity internationally. I have to admit such works are difficult to produce, they're very emotionally involving and it'll be a whole journey in itself to find 'the right voice' to speak out for animals.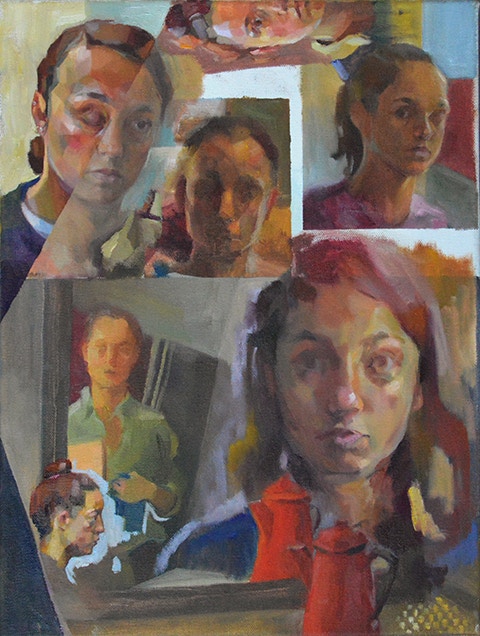 Sketch Book, Suzon Lagarde
Many artists like to keep their sketch books very close to their chest – you love to share yours with the world! What about this is important to you as an artist?
Sketch books are the most important part of my practice: I just love them! They're like diaries, records of my life: what I was experiencing, what was exciting me, the mistakes and progress I was doing... Yet, once I finish one (which, in this format, takes me around two months) they suddenly become objects from the past, that I'm very happy to share. I'll take them with me during the residency for anyone curious to flip through their pages!
Could you talk us through your painting process – what goes through your mind when you come to a new blank surface?
Painting is for me a way to engage with the world, and to get to know myself better. Fair to say I'm quite enthusiastic, and I love to start works with this energy. The first marks can be daunting, but I love the magical moment where things start to work together. I love to put the paint down, scrap off, get a bit messy, to engage playfully and surprise myself! Painting is hard work, but such a joy!
And what are some of your favourite materials to work with? Are there any brands you always return to?
I mainly paint with oils but also use gouaches and acrylics in my sketchbooks, as well as charcoal, pen, pencils, mechanical pencil, coffee... I'm always keen to try new materials! Sometimes the work dictates the medium, sometimes I'm purposely forcing my materials so I can wire my brain in a particular direction. An important thing for me is to avoid the preciousness I would feel if I were to use expensive material. I've mainly been using the brand Pebeo and I love it. I also recycle used canvas or buy off-cuts.
Florencia, Suzon Lagarde
2018 was a very busy year for you! With exhibitions with institutions from Somerset House to the Holly Bush Emerging woman paint prize, what else is on the horizon for 2019?
I am so grateful for everything that is happening, and 2019 sounds so promising already! I'm currently producing a lot of new work for a 2-person show at the end of May, and in August I'll be exhibiting at the Mall galleries through the In The Studio project! Some other things I can't share yet...it is all so exciting!
---
Keep up with both artist's creativity
Follow Andrew on Instagram and see more on his work on his website
Follow Suzon on Instagram and see more of her work on her website
Feeling Inspired
Spurred on to create your own works? Pop in-store or shop online for everything you'll need to get you started. Our staff artists will be more than happy to give you advice on materials. Don't forget to hashtag #cassart on social media to show us your creations